—
In Malaysia: Perkasa gives a twist to twisters, tornadoes, freak storms and other natural disasters..
—
THE FLOODS OF 2014 LEFT MANY HOMELESS IN 5 STATES.
Kelantan, Terengganu, Pahang, Perak and Sabah were hit by major floods that displaced hundreds of families, including huge loses to families.
.
—
18 May 2016
…
FLOOD VICTIMS
Do they still live in these?
…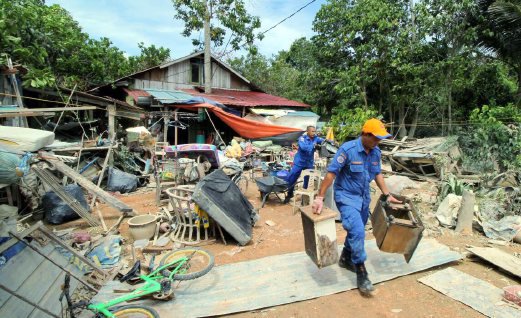 …
KUALA LUMPUR: The Auditor General's report chided the project to build permanent houses (RKB) for flood victims as only 40 per cent or 557 of the 1,395 units have not been completed as of March 30, 2016.
.
According to the AG's 2015 Series 1 report, due to the National Disaster Management Agency's (APBN) failure to complete the houses, 557 flood victims and families in five states who were affected by major floods in 2014, are still living in transit homes, tents and other accommodation initiatives.
.
"So far, 838 (60 percent) of the 1,395 RKB houses have been completed. Audit on the project revealed that Terengganu has a 100 percent record while Perak has only achieved 45 per cent.
.
"Overall performance on RKB is not satisfactory because 557 flood victims are still staying in transit homes, tents and other forms of accommodation," said the report tabled in Parliament today.
.
According to the report, among the main factors for RKB's poor performance was the procedure in land acquisition from the respective state governments and delay in starting the projects due to difficulties in sourcing for contractors who can build houses at the fixed rate.
…
Published on Jan 12, 2014
Flood in Rantau Panjang
…
NST
2 January 2014| last updated at 11:06AM
Flood: Number of victims rises to above 1,000 in Kelantan
KOTA BARU: The number of victims in the two districts affected by flood in Kelantan increased slightly to 1,043 people compared to 897 yesterday.
The number of victims in Jeli dropped to 770 from 832 but in Tanah Merah, it had risen to 273 compared to only 65 yesterday.
http://www.nst.com.my/latest/font-color-red-flood-font-number-of-victims-rises-to-above-1-000-in-kelantan-1.460515
—
NAJIB WILL GIVE YOU AND YOUR FAMILY RM500.

'SPOT THE DIFFERENCE'
The DIFFERENCE between The President of UMNO 'visiting' flood victims, and The President of PAS visiting and ASSISTING flood victims…
…..
RM500? That's not quite enough to cover even a small part of your loss!
https://weehingthong.org/2013/12/02/floods-from-the-monsoon/
—