—
26 March 2016
…
Powerbank explodes inside car glove compartment in Malaysia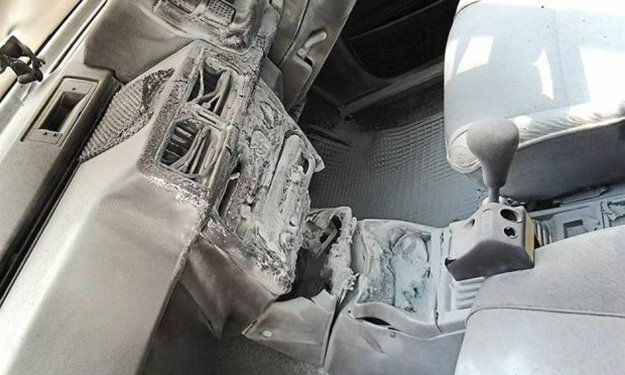 —
Star
Powerbank explodes inside car glove compartment
NIBONG TEBAL: A 72-year-old retired engineer is thankful that he wasn't in his car when the powerbank he left inside the glove compartment burst into flames.
Recalling the incident last Saturday afternoon, Tan Heng Swee said he parked his Proton Iswara at the Old Frees Association in Jalan Sultan Ahmad Shah and went for lunch with my wife Alice Tan, 67, at a nearby restaurant.
"About an hour later, the parking attendant rushed in to inform me that smoke was billowing from my car. I quickly grabbed an extinguisher and put out the fire.
"Later, I found out the fire was caused by the powerbank.
"I believe the hot weather had triggered a small explosion. Luckily, nobody was hurt," he said at his house in Simpang Ampat yesterday.
Tan later posted the incident on his Facebook to warn others of the danger of leaving a powerbank inside a car and it went viral.
"I advise the public not to leave any electrical gadget or powerbank inside their vehicle," he said.
http://www.thestar.com.my/news/nation/2016/03/26/powerbank-explodes-inside-car-glove-compartment/?utm_source=dlvr.it&utm_medium=twitter
—
Left the power bank in my car under extreme heat this afternoon has caused it to explode, igniting fire which destroyed the entire dashboard and other operating apparatus.
Luckily, was notified by our parking attendant, to which the fire was put out before being engulfed totally.
Hope to share this bad experience with all folks and friends alike,…..never to leave electrical gadgets or power banks in your vehicle in view of the present heat generated from the equinoxes phenomenon. ……
—