—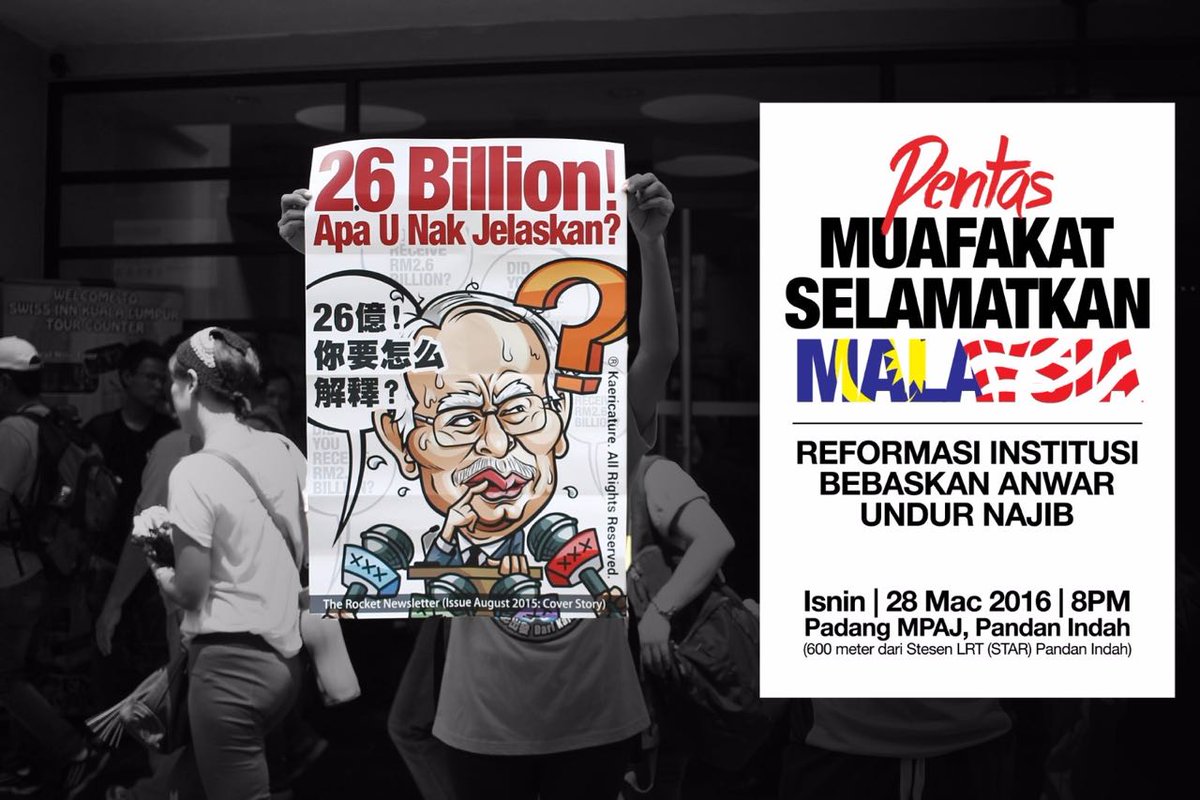 —
Ramesh Rao (PMSP), "Let him (Mahathir) get beat up…Beat him up until the teeth fall out."
Mahathir leaves UMNO ('Untuk Mohd Najib Only') to work with enemies. For the sake of the nation.
Sign the Online Petition in support of 'The Citizens' Declaration'
—
10 March 2016
Zaid makes a plea: Donate RM10 for Save Malaysia fund.
The Save Malaysia movement is seeking financial help from the public to fund its operations, said one its members Zaid Ibrahim.
This, he said, would also help the group break the cycle of corruption in the country, where businesses give financial assistance in return for favours.
"We will not look for financial help from tycoons and the Jho Lows of the world for the simple reason that seeking 'help' from businessmen in exchange for favours is the root cause of systemic corruption.
"(So) I call on the people of Malaysia to make a small personal commitment – even RM10 – to show that they care about our collective future," he wrote in his blog today
He said he will provide more details about this later.
https://www.malaysiakini.com/news/333582
—
The meeting on the night of 9 March was chaired by Dr Mahathir and included leaders from various opposition parties like Mr Lim Kit Siang (DAP), Mr Mahfuz Omar (PAS), Mr Salahuddin Ayub (Amanah), as well as Mr Mukhriz, former MCA president Dr Ling Liong Sik, former UMNO minister Sanusi Junid, and activists Ambiga Sreenevasan and Bersih 2.0 chair Maria Chin Abdullah.
http://www.todayonline.com/world/asia/mahathirs-newfound-support-group-officially-named-save-malaysi
—
Call for Ds Najib to Step Down Yes:92% No:8% vote:50,971 Pilihan belia SaveMalaysia 96% Respectmypm 4% Vote:8,096 RT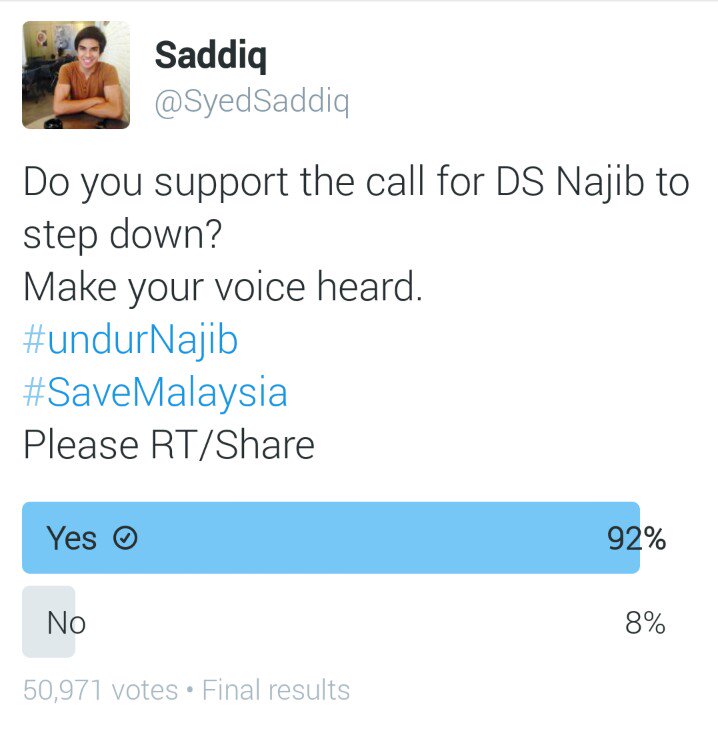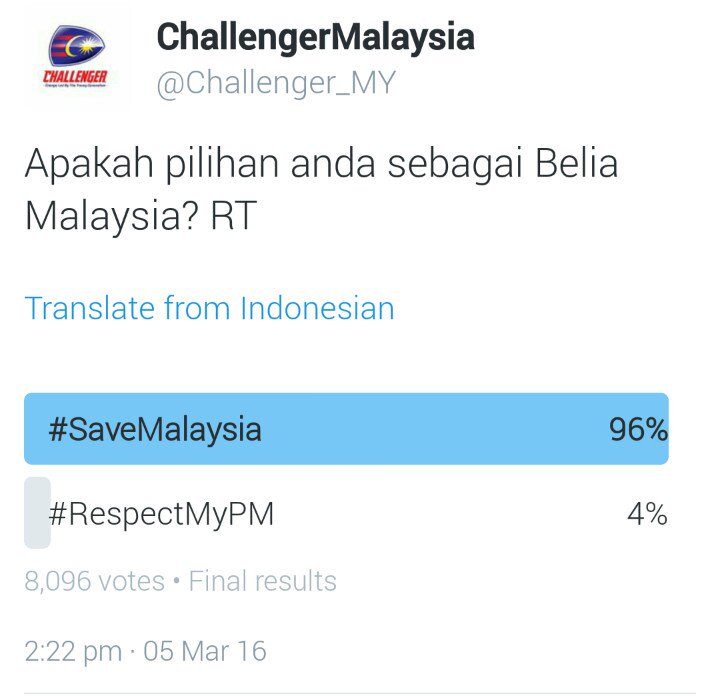 —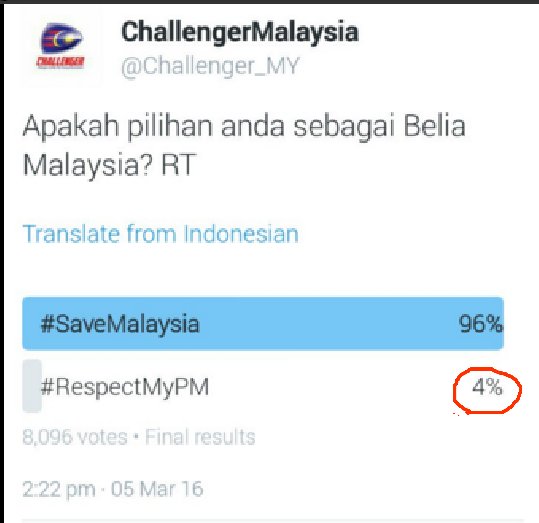 —
10 March 2016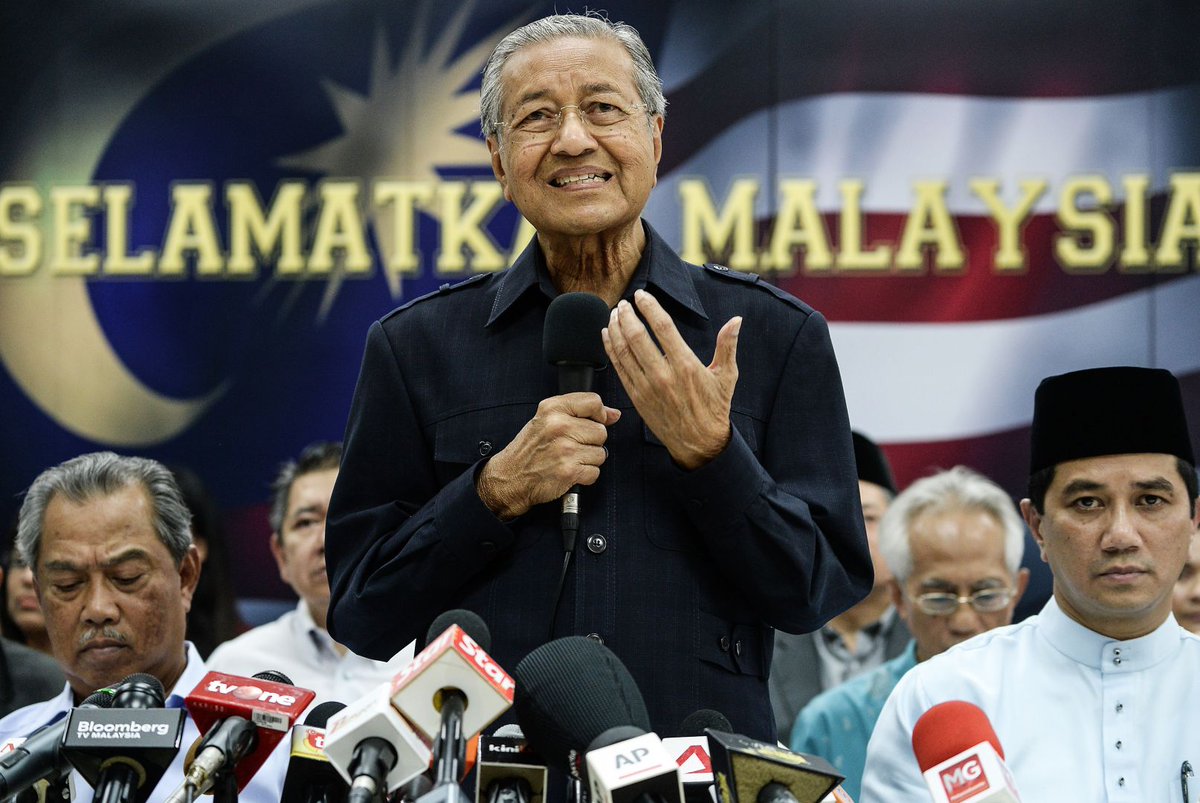 …
KUALA LUMPUR — The Citizens' Declaration group will be officially named the Save Malaysia movement and aims to get at least hundreds of thousands to sign a petition calling for the prime minister's removal.
The movement comprising Barisan Nasional (BN) veterans, opposition leaders and human rights activists led by former prime minister Dr Mahathir Mohamad also decided at a meeting last night (March 9) that a signature drive would be started this month in Johor, Kedah, Sabah and Terengganu, according to PKR vice-president Chua Tian Chang who was present at the meeting.
"There'll be a roadshow around the country and then this collection of signatures will continue," Mr Chua, popularly known as Tian Chua, told Malay Mail Online.
Johor, Kedah, Sabah and Terengganu are key states that have seen dissent within UMNO against the current administration. Prominent signatories of the Citizens' Declaration include former deputy prime minister Muhyiddin Yassin who comes from Johor and former Kedah chief minister Mukhriz Mahathir.
UMNO vice-president Shafie Apdal, who comes from Sabah, has also expressed support for the Citizens' Declaration although he has yet to sign it. In Terengganu where BN holds precarious power, former chief minister Ahmad Said recently tabled at the state legislative assembly a motion of no confidence against his successor Ahmad Razif Abdul Rahman, but it was rejected by the Speaker.
http://www.todayonline.com/world/asia/mahathirs-newfound-support-group-officially-named-save-malaysia
—