—
17 February 2016
…
—
Suspect in busker's wife molest was drunk, say cops
Police report lodged over drunk's molest of busker's wife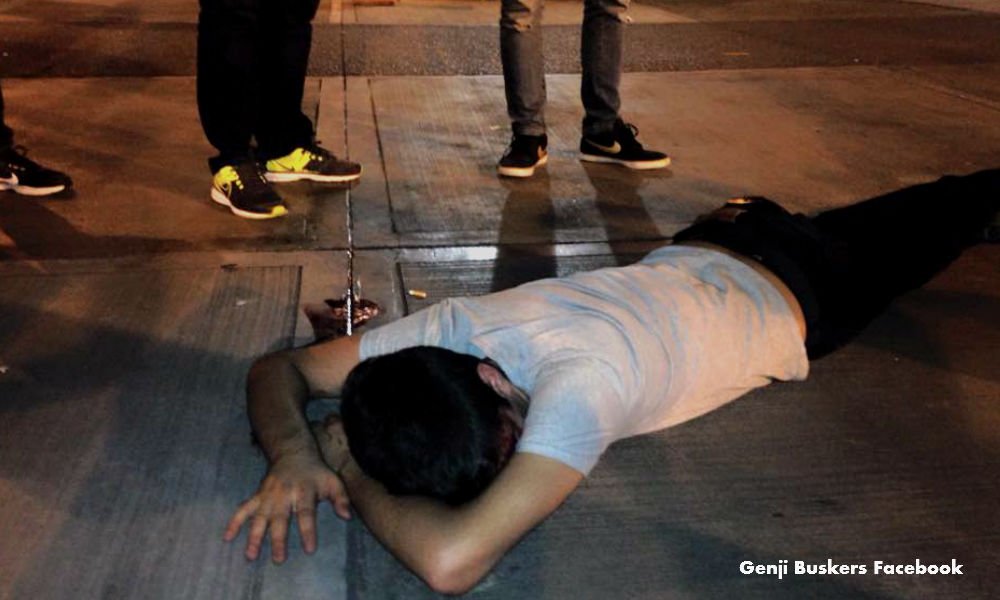 The migrant worker who allegedly outraged the modesty of the wife of Genji Buskers vocalist Mustam Mustapa was drunk, says police.
This was related by Dang Wangi police chief ACP Zainol Samah who confirmed that a police report was lodged in relation to the case.
Zainol said he was informed by the Sogo Shopping Complex auxiliary police that the suspect – who is believed to be Nepalese – committed the act while drunk in front of the mall at around 9pm, prior to being knocked out flat by the busker.
"Sogo auxiliary police officers and a security guard picked up the man and administered first aid. According to the Sogo auxiliary police, the man who seemed to be a Nepalese was probably drunk – based on the way he spoke and the smell of alcohol on him.
"The injuries he suffered appeared to be only to his nose. After the auxiliary cop gave him a bottle of water to wash his face, the man then got up and walked towards Pertama Complex," he told Malaysiakini.
Enraged with the man who had allegedly outraged his wife's modesty, Mustam took a swing at him during last night's incident, and had apparently knocked him out afterward.
https://www.malaysiakini.com/news/330711
—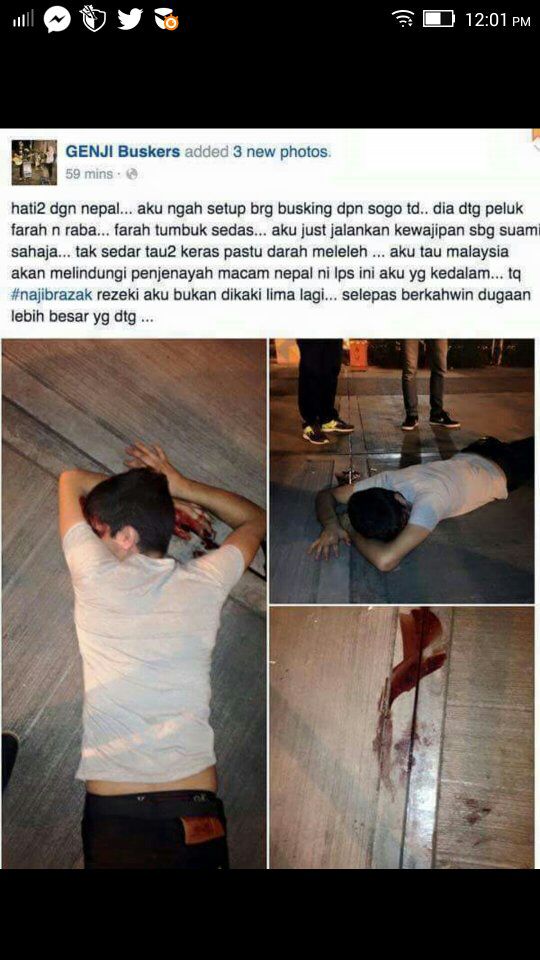 —
17 February 2016
Malaysiakini
Singer bashes migrant worker, says 'molested' wife
The vocalist of popular band Genji Buskers yesterday said he assaulted a man until he passed out, allegedly for molesting the vocalist's wife.
Mustam Mustapa, who got married just five days ago, said his wife was 'hugged and molested' by a migrant worker in front of the Sogo shopping centre in Kuala Lumpur at about 9pm last night.
He said he was so riled up that he punched and kicked the suspect until he sustained injuries to his face and fainted.
Speaking to reporters after lodging a police report on the matter at the Dang Wangi police station last night, Mustam said this is why Malaysians were concerned over the influx of migrant workers.
"My wife was molested, but what do you (ministers) do? My wife wears the tudung and was covered up and still she was grabbed and molested," he said, adding his wife had lodged a police report too.
He added the government should not just think of ringgit and sen when it came to the issue of foreign workers.
"Think of the rakyat. We want to live," he said.
He said policymakers need not worry about such things because they could employ bodyguards.
"But the rakyat can't even walk around safely any more. We can't even make a living safely," said Mustam, who regularly busks at bustling Jalan Tuanku Abdul Rahman.
https://www.malaysiakini.com/news/330669?utm_medium=twitter&utm_source=twitterfeed
—