—
There is great unhappiness among Indian traders over the influx of foreign workers from Myanmar setting up business nearby.
—
21 January 2016
Hundreds of illegal migrants arrested after attacks near wholesale market in KL
…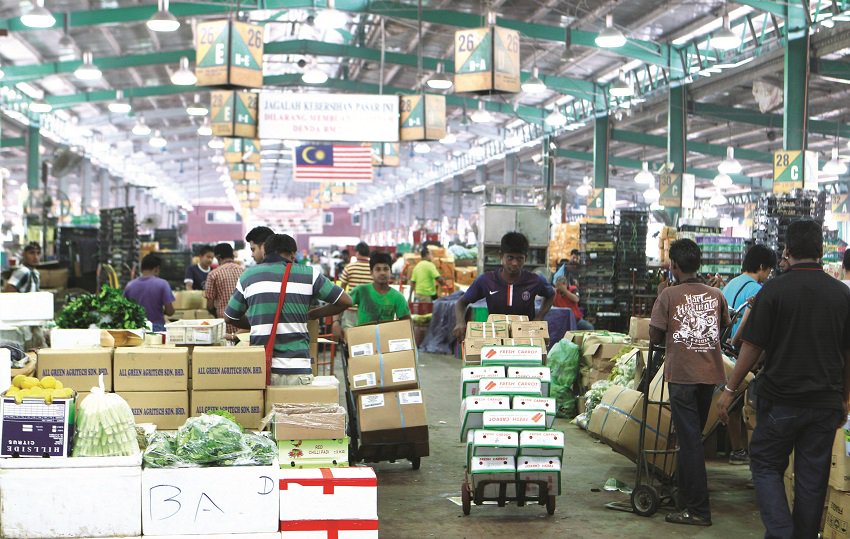 …
Following several violent attacks near the Selayang wholesale market in Kuala Lumpur, the authorities arrest hundreds of illegal immigrants in the midst of a six-day operation.
At 8am, a team of 78 enforcement personnel started to raid two blocks of buildings in Jalan 2/3A near the market.
"We are sending them a stern message, we mean business," said a source close to the investigation.
…
—
19 January 2016
…
Selayang market becoming dangerous with presence of illegal foreign traders. http://fw.to/I2nSahH 
—
Malaysian Insider
Monitor influx of foreign workers at Selayang market, says Saravanan
The government has been urged to establish a special committee to monitor foreign workers who run businesses in the vicinity of the Selayang wholesale market.
Deputy Youth and Sports Minister Datuk M. Saravanan said the committee should comprise officials from the police, local authority and representatives of the wholesale market committee.
"This committee must monitor and control the influx of foreign workers who conduct businesses either illegally, or by renting from traders who have a licence," Bernama quoted him as telling reporters during a visit to the wholesale market yesterday.
—
Seems like loads of gang fights around Klang Valley. Kayu Ara fight…Selayang Wholesale Market fight…what gives??
…
24-hour police security at Selayang market after outbreak of violence http://bit.ly/1RwHbkw  (via @tm_insider)
—
Over 50 Police Reports but "ZERO" police action. Immigration is quiet. But MIC has been deployed to silent the… http://fb.me/4Qr0TTYSz 
…
 Star
18 January 2016 | MYT 11:30 PM
75 detained after attacks at Selayang market
KUALA LUMPUR: Seventy-five people have been detained following attacks at the Selayang wholesale market, according to police.
Sentul OCPD Asst Comm R. Munusamy hoped that there would not be any retaliation as investigations were being carried out.
"We urge the public not to spread false information to the extent of saying that five or six Indians were killed. The rumours would only cause more stir.
"We have detained a foreigner for bringing a weapon into the Selayang wholesale market. And security at the market remained tight at all times.
"The police have stationed two personnel round-the-clock at the police beat in the market to curb violence," he said.
…
Police also rubbished talk of a clash between a group of Indians and Myanmar na­tionals at the market.
Earlier, Deputy Youth and Sports Minister Datuk M. Saravanan together with ACP Munusamy and MIC leaders met traders over concerns for their safety after foreigners attacked a local Indian at the market.
The safety of Indian traders is assured, said Saravanan, while urging City Hall to take a stern action against foreigners trading illegally at the market.
Saravanan called for the Immigration Department, City Hall and the police to conduct raids on illegal traders there.
He also said he would arrange for access passes to be given to traders following the tightened security.
http://www.thestar.com.my/news/nation/2016/01/18/75-detained-after-attacks-at-selayang-market/
—
MeeTing at pasaR borong selayang
—
SENTUL: A couple, traumatised after being attacked by Myanmar immigrants at Selayang wholesale market last Thursday, have called for immediate police action.
Subramaniam Munusamy, 33, was attacked with a metal rod while doing the marketing with his wife. He claimed the immigrant man even threatened to kill him if he set foot at the place again.
"At first it was only one man, then others joined in," he said. "They told me no one is allowed to enter the market, they will kill those who do.
"I was only there to buy goods and I've never make enemies with anyone. I am afraid and disturbed by the case and I hope police will take action soon," he told FMT after lodging a report at Sentul police headquarters today.
http://www.freemalaysiatoday.com/category/nation/2016/01/17/selayang-market-victims-threatened-with-death/
—
Myanmar income in Malaysia.
Total sale perday =rm2,000-rm3,500
Nett profit perday =rm300-rm400
Rent =F.O.C
Tnb/Syabas =F.O.C…
—
On Wednesday night, shots were fired at the Selayang market, two Burmese were hurt. http://bit.ly/1STQ7Qr
Malaysiakini
Shooting of Burmese in Selayang sparks unrest concerns
Concern over safety in Selayang, Kuala Lumpur has arisen on social media following a shooting incident at a market in the area on Wednesday.
"There was a fighting incident at Selayang market. Selayang people and those who pass by that area, please be careful!!" Twitter user @nurain_azzahra posted yesterday.
Others on Facebook said this incident was indicative that Malaysia was not safe any more.
"Malaysia is not safe any more. Make sure to open your eyes to anything suspicious when you're in public.
"Several cases have happened lately. Report it to protect you and your surrounding," advised Facebook user Mohd Amar.
On Wednesday night, shots were fired at the Selayang market which injured two Burmese, a 34-year-old man and a two-year-old child.
According to a police brief, both victims were rushed to the Selayang Hospital and are now in a stable condition.
The incident is believed to be an act of revenge as the suspect, an Indian man, was said to have borrowed RM2,000 to travel to India and had been beaten up two days prior to the shooting.
Meanwhile, Sentul district police chief R Munusamy denied speculation that the incident had racial overtones to it.
"People are spreading information on social media that supposedly there was a fight resulting in murder due to racism in the area.
"The police are strongly warning these individuals who are scaring the public and traders at the market.
"Until now we have not received any report and there is no such case as the one being spread around," he said, as reported by Berita Harian last night.
https://www.malaysiakini.com/news/327107?utm_source=twitterfeed&utm_medium=twitter
—