—
17 December 2015
…
@dapmalaysia @DAPRocket @teresakok @limkitsiang @TeoNieChing @ngakorming @ngehkooham @mpkotakinabalu @mpkotabelud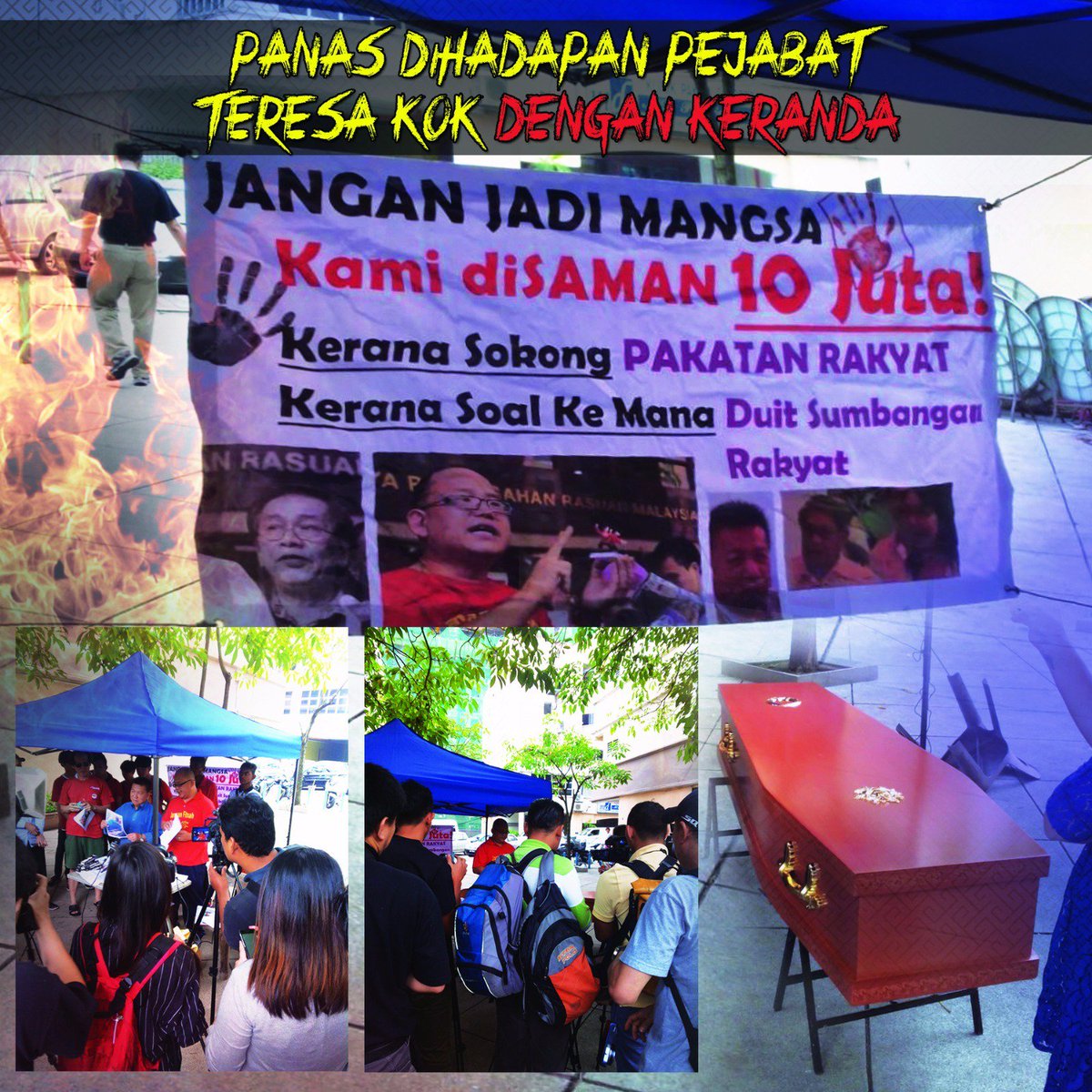 —
Coffin for DAP MP, supporters react with 'RM2.6b' placards
…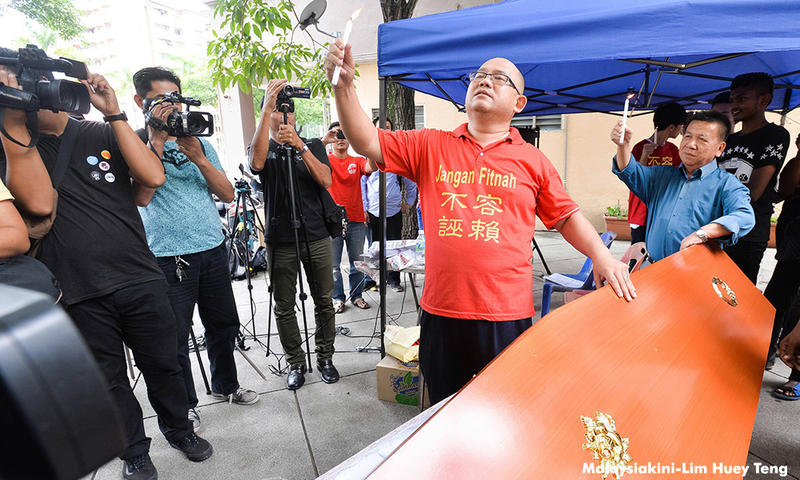 …
A macabre scene unfolded at the service centre of DAP lawmaker Teresa Kok in Kuchai Lama, Kuala Lumpur, this morning.
Some 10 protesters, led by the Seputeh MP's former aide Tan Chee Cheong, brought a coffin to the office and lit candles.
The protesters, who wore t-shirts with the words 'Jangan Fitnah' (Don't slander), demanded answers to the allegation that Kok pocketed RM300,000 meant as donation for the party.
"If she does not come clean (on the allegation), I will send a coffin to her house," Tan told reporters.
…
As he was speaking to the media, a group of DAP supporters arrived and held placards behind him which read, 'Where is the RM2.6 billion?'
…

…
Kok, who has repeatedly denied any wrongdoing, expressed disappointment over the police's inaction to stop the protest despite reports being lodged on the matter last night.
"Will the police keep quiet if they do it outside a BN MP' s office if a report was lodged preemptively?" she asked.
"This shows the desperation of BN," she added.
On the same note, the DAP lawmaker considered the coffin protest as a blessing in disguise.
"In Chinese language, the phonics of coffin means 'promotion to higher level and financial prosperity'. So I consider their action as a BN blessing for me," she said.
https://www.malaysiakini.com/news/323679
—
BERITA DAILY
17/12/2015 03:27 PM
Ex-aide stages coffin protest at Teresa Kok's office
In an ongoing saga, the protesters want the Seputeh MP to be accountable for the public funds made available to her before the last general election.
KUALA LUMPUR: A coffin protest was held outside DAP leader and Seputeh MP Teresa Kok's office at Sri Desa Entrepreneur Park in Kuchai Lama today over unanswered questions regarding alleged misuse of public funds in 2013.
The demonstration was held by former DAP members led by Pertubuhan Minda and Sosial Prihatin Cina leader Tony Tan, a former aide to Kok.
There were fewer than 10 protesters, observed by four police personnel.
The protest was held in response to Kok's action in taking legal action against those who had asked her about the missing funds.
Showing a copy of a legal suit, Tan said the DAP lawmaker had sued party members Danny Lim and CC Wong for defamation for RM10 million in late 2014 after they had raised the issue of the missing funds.
Tan further said that party members had not received any clear answers over the issue, and instead have been issued legal notices for asking questions.
"Our members are aged people; for them to make the trips to court with their health and financial condition is difficult.
"All we want right now is for our questions to be answered, mainly where the public fund of RM300,000 to DAP Seputeh has been channelled to?
"If it is not misused, why is it taking Kok almost two years to provide answers?
"Who gave the permission for Kok to sue Danny Lim and CC Wong?"
He also added that Lim had died on March 13 this year, allegedly due to tension of facing the legal suit.
"Even Wong is in huge problems because of this. Is this how an MP should treat the rakyat who stand for their right?"
He said that the protesters brought along a coffin today to represent Lim's death.
http://www.beritadaily.com/news/2015-12-17/29889/exaide-stages-coffin-protest-at-teresa-koks-office
—