—
PM: Use imagination to make unimaginable income
—
Lessons from Najib's 'unimaginable income'
…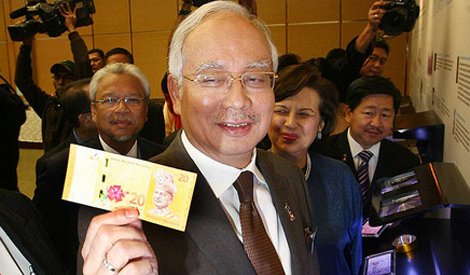 …
YOURSAY l 'Think outside the box? What if we need a box – for donation?'
PM: Use imagination to make unimaginable income
Vent: Malaysians should take serious heed of PM Najib Razak's revelation on how all of us can "make unimaginable income".
Who knows, RM2.6 billion might find its way into your online bank account, too. What could be simpler than that?
Apparently we only have think outside the box, and to think we have been wasting our lives all this time going out to work rather than just working online.
Meanwhile, with our new found unimaginable wealth we can always get cyborgs and robots to do the rest of the work in addition to the Bangladeshis, Indonesians and Myanmars since we will only work in the "industries of the future".
We will still need this lot to do the dirty work for us. No imagination required there. That has been the 'secret recipe' to our success, not just the PM's.
Wira: I have been thinking hard about how to get someone to donate RM2.6 billion into my personal bank account.
This way, all my descendants to the fifth generation will not even have to work for a living. Maybe we are too decent to think out of the box like the PM does.
Anonymous 122461436161429: Firstly, it is the PM and Umno that made the Malays think inside the box and kept them there for 50 years.
Secondly, internet access and access to knowledge is being stifled.
Thirdly, we all don't have Najib's imagination nor his PM and finance minister status to authorise billions to leave the country and be paid to cronies and fat boys and into even personal accounts.
So far the only persons with imagination are Najib, Jho Low, the Arab boys, 1MDB and SRC board of directors.
SusahKes: Think outside the box? What if we need a box – for donation? You think the Arabs would donate more?
Yes, why be an entrepreneur and work hard when all one has to do is to meet some Arab friends – the source for non-taxable donations?
Ranjita Kaur A/P Whitemoon: Najib, you made us all proud with your limitless imagination. Getting an unimaginable RM2.6 billion 'donation' into your personal account is really an amazing feat.
No one in the world had made such a quick money in less than six years. You are a true Malaysian hero and that of the Bugis race.
I'm proud to have a prime minister like you who can put Malaysia on the world map.
Chipmunk: Najib, I have to agree with you because you have made unimaginable income over the last six years as PM.
Your huge profits at the expense of the rakyat through the implementation of GST (Goods and Services Tax), cutting subsidies, exploiting 1MDB, and alleged misused of the RM2.6 billion, have now caused the rakyat to plant their own vegetables in their backyard.
I can only imagine how those living in apartments and condos are going to manage their stock.
As you have said, "The limit depends on our imagination to achieve the amount of income that is even hard for us to imagine."
Anonymous 2353861441183710: For once, I believe Najib is telling the truth. He did use his imagination to make unimaginable income.
https://www.malaysiakini.com/news/321243
—
Malaysiakini
PM: Use imagination to make unimaginable income
Prime Minister Najib Abdul Razak has revealed the secret recipe to making huge profits instead of drawing the same income on a monthly basis.
According to him, when a person becomes an entrepreneur who thinks out of the box and exploits online opportunities, then there is no limit to what can be achieved.
He also said those who are not their own bosses can expect the same wages.
"But if we manage to become entrepreneurs who use the internet, then like what the Whites say, 'the sky is the limit', there is no limit.
"The limit depends on our imagination to achieve the amount of income that is even hard for us to imagine," he said.
The prime minister was speaking at the launch of the e-usahawan programme at the Putra World Trade Centre (PWTC) in Kuala Lumpur today.
—