—
SOME THINGS CAN'T BE TOLD.
—
23 November 2015
…
Malay Mail Online
MITI to probe alleged Facebook insult by sec-gen against Cabinet
KUALA LUMPUR, Nov 23 — An investigation will be conducted into a Facebook post in which the secretary-general of the Ministry of International Trade and Industry (MITI) purportedly insulted Cabinet members, including Prime Minister Datuk Seri Najib Razak, its deputy minister Datuk Ahmad Maslan said today.
…
—
Probe senior official over 'Najib worthless cow' remark claim
…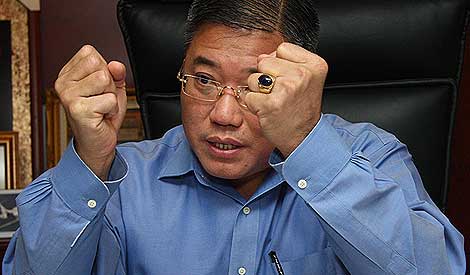 …
A BN lawmaker has called on the government to probe a senior civil servant accused of criticising Prime Minister Najib Abdul Razak as an "incapable worthless cow" in the presence of foreign envoys.
In his 2016 Budget debate at the Dewan Rakyat today, Tiong King Sing (BN-Bintulu) cited a Facebook posting which claimed that the International Trade and Industry Ministry (Miti) official made the remark several months ago.
"If this (proven) to be true, the officer was not helping the government, but she is destroying the government. She did what the opposition usually does," he said.
Malaysiakini is withholding the name of the official pending her comment on the allegation.
According to the netizen's posting, the official hurled the insult during a dinner attended by two foreign envoys, local CEOs and executives.
"She said the government should shut down and Miti does not care because they can run by itself without those useless ministers," read the posting.
The netizen, who presumably attended the dinner, said she had never been so embarrassed.
https://www.malaysiakini.com/news/320652
—
Oops! Accidentally deleted my post.
Re post .
Tan Sri Rebecccca is a scumbag :
Couple of months bck, we were invited by The Grace to a sit down dinner, guests consist of two ambassadors posted to Malaysia from different countries ( I won't mention who) and local CEOs and executives.
Tan Sri Rebecccca condemned our Govt, PM Najib and Trade Minister like some incapable worthless cows. She continued by saying Govt shd shut down and MITI don't even care coz they can run by itself without those useless Ministers. Can u believed that !???Never in my life I feel so uncomfortable and so shameful over dinner ; watching her criticizing n cursing in front of outsiders esp overseas ambassadors ; The Grace are on the table.
I wondering how she gets her Tan Sri ship?
Looking at this photo makes me wonder if she has the guts to tell PM Jib wat she had said?
Bersama Ketua Setiausaha Kementerian Perdagangan Antarabangsa dan Industri, Tan Sri Rebecca sebelum permulaan program hari ini di Manila.
—
During the MITI debate, controversial Bintulu MP Tiong King Sing (of PKFZ fame) cuting a facebook posting launches into a tirade against Tan Sri Rebecca Sta Maria, where he alleged that the MITI director general insulted Najib and Mustapha Mohamed in a meeting.
According to reporters in Parliament, his "source" is from a facebook posting by a Maria Tay, where Rebecca was alleged to have called Najib and her MITI minister completely "useless, worthless cows" and that she can run the Ministry better without them. Tiong called for Rebecca's sacking and asked how she got her Tan Sri title.
—
The PM with Tan Sri Rebecca Sta. Maria,the Sec.Gen. of MITI before a seminar in Manila.
—