—
'Malaysian Woman Beats Up Thief ' is ONLY a re-enactment! But don't mess with her as she's a Muay Thai fighter.
Germaine Yeap, Muay Thai fighter, is the 'Nerdy girl who beats up guys at the gym'!
—
QUESTION: HOW MANY WOMEN HAS HE FILMED?
—
17 November 2015
Naked yoga instructor pins down pervert
Discovering she was being filmed, she storms into next stall to stop cross-dresser
A yoga instructor was showering in a public toilet at Tanjong Beach on Sentosa when she noticed a phone camera next to her feet.
Startled by the discovery, her first thought was to get hold of the pervert, so much so that she did not even bother to get dressed.
Screaming, she stormed into the next cubicle.
What she saw gave her another shock – a man wearing a long-haired wig, pink straw hat, long-sleeved top and slippers.
Wihtout hesitation, the plucky 21-year-old woman tried to apprehend the alleged pervert.
Posting about her traumatic experience on Facebook on Sunday, she wrote: "I struggled in full wet body foam, managed to pin him down (thanks to yoga & gym, I was shocked I had the strength to fight him), but he managed to run out to the exit."
She added that she screamed for help, but some bystanders initially thought it was "some couple fight".
In an interview with The New Paper yesterday, she said that she was determined to make sure the culprit was nabbed.
"I knew I must stand up for my rights and to make sure that no other woman out there gets harassed," she said.
We are not naming her as she could be a victim of a sex crime.
Her screams attracted the attention of some passers-by, who eventually apprehended the man.
– See more at: http://www.tnp.sg/news/singapore-news/naked-yoga-instructor-pins-down-pervert?utm_campaign=Echobox&utm_medium=Social&utm_source=Twitter#link_time=1447720061
—
16 November 2015
Good luck turned into BAD luck.
"My lucky day!" the guy must have thought! Dressed in wig and dress, he went into the Ladies' shower room and began taking photos of a woman in the shower.
Unfortunately for him, the woman was a martial arts practitioner, and she gave him a beating.
This happened on Sentosa, Singapore.
—
LADY MMA FIGHTER BEAT UP PERVERT WHO FILMED HER SHOWERING IN SENTOSA TOILET
—
REDWIRE TIMES | Pervert who Dressed as a Woman to Snap Photos of Girls Bathing in… http://bit.ly/1STgWCk  #sgnews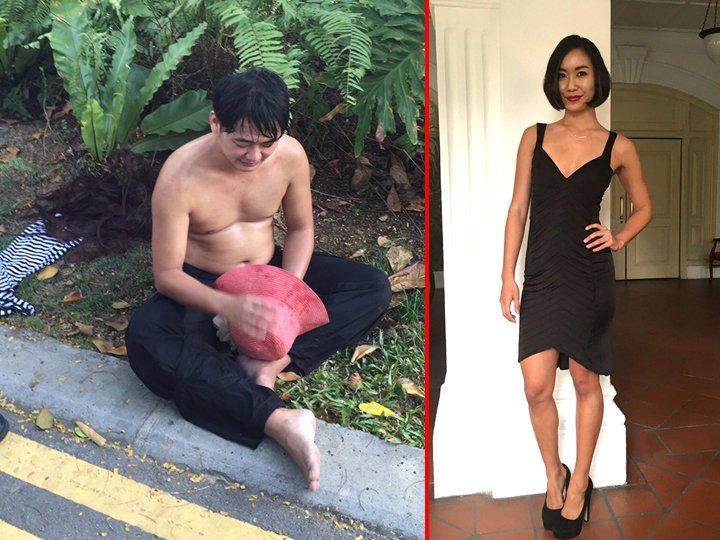 —
Man in wig and dress allegedly tries to snap photos of woman at Sentosa showers — but gets beaten up by her.
A Facebook post has been circulating online about a man who allegedly dressed up in a wig and dress to take photos of a woman showering at the public showers in Sentosa yesterday (Nov 15).
According to Facebook user Trey Wei Zheng, the woman the man had tried to take photos of was his girlfriend.
However, his girlfriend – a practitioner of MMA – took the guy down and beat him "till he bled".
Passers-by helped chase the 'pervert' and "pin him down".
http://singaporeseen.stomp.com.sg/this-urban-jungle/man-in-wig-and-dress-allegedly-tries-to-snap-photos-of-woman-at-sentosa-showers#xtor=CS1-2
—
Basket, who went to stomp this..
—
To all those that are inquiring, please share.. About approximately afew gawd damn hours ago.. A pervert dressed in a wig and dress attempted to snap photos of my Gf while she was showering at the public showers in Sentosa.. Of all people, u have to choose my Gf.. To those that are concerned, Vivian took the prick down, slammed him and went for some insane ground and pound till he bled.. Tks to the passerby who chased and pin him down.. To all my friends and particular to the sexy ladies out there.. Be careful and take precaution at all measures.. Sick perverts like the ones u see in the pic exist even in the "safest" places.. If it could happen in Singapore, it could happen anywhere.. Safety first and fists always.. Tk u Onyx MMA for teaching her that fair bit of striking back then.. To all attached guys..plz teach ur gfs how to fight..fight like Holly Holm not Ronda Rousey
—