—
1 Singapore Airlines (SIA) Flight SQ425 (Mumbai-Singapore) makes emergency landing in KLIA. All are safe.
2 Singapore Airlines (SIA) Flight to Shanghai lost power on both engines in mid-air but pilots restarted the engines
—
Man commends SIA pilot for getting them to safety after bird strike forces plane to return http://goo.gl/UE3tiw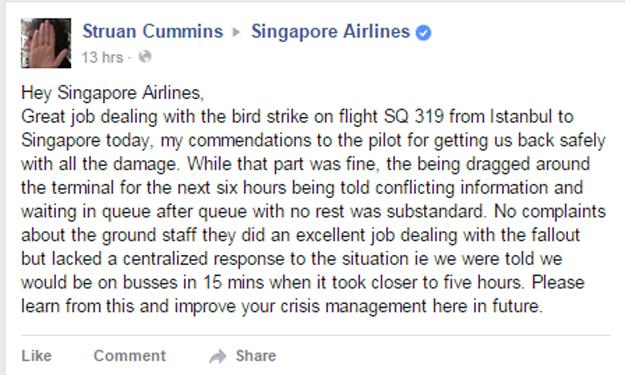 —
Hey Singapore Airlines,
Great job dealing with the bird strike on flight SQ 319 from Istanbul to Singapore today, my commendations to the pilot for getting us back safely with all the damage. While that part was fine, the being dragged around the terminal for the next six hours being told conflicting information and waiting in queue after queue with no rest was substandard. No complaints about the ground staff they did an excellent job dealing with the fallout but lacked a centralized response to the situation ie we were told we would be on busses in 15 mins when it took closer to five hours. Please learn from this and improve your crisis management here in future.
Singapore Airlines
Hi Struan, thank you very much for taking the time to share your feedback with us. We will be sure to pass it on to our colleagues. Thank you once again.
—
SIA plane forced to turn back after getting hit by birds
An SIA plane was forced to turn back to Istanbul after getting hit by a flock of birds. http://ebx.sh/1Kt9Uy6 
A Singapore Airlines (SIA) flight that departed from Istanbul, Turkey, was forced to turn back.
SQ391, which took off at 1.30pm (Istanbul time) on Monday (Aug 17), was supposed to land in Singapore today (Aug 18) at 5am.
But after take-off, the plane collided with a flock of birds.
—
Flight SQ391 was forced to turn back after it encountered a "bird strike" following take-off. All 255 passengers and 14 crew disembarked normally, the airline says.
#SingaporeAirlines flight SQ391 turns back to Istanbul due to 'bird strike' http://goo.gl/6eAhRe 
"Arrangements have been made for passengers to be re-booked on alternative flights into Singapore or accommodated in hotels. A relief flight from Singapore to Istanbul will be deployed today," SIA said. The relief flight is estimated to depart Istanbul at 2.40am (Istanbul Time) and arrive in Singapore at 6.06pm (Singapore Time) Tuesday.
—
http://vehaber.org/haber/9525/ucak-leylek-surusunu-katletti-medya-ucaga-uzuldu.html
—
http://www.onlinegazete.com/ucak-leyleklerle-carpisti-acil-inis-yapti/
—