—
2 April 2016
Remember the video of the IT company manager who abused an intern? That was in 2013.
Mr Calvin Chan Meng Hock stayed on for three years, thinking he had much to learn from manager Lee Yew Nam. Photo: The New Paper
…
The abuser was sentenced to a 10-day short detention order (SDO) for assaulting the intern.
Read the story after the video.
…
—
Abused intern: I was treated like cheap labour
His internship with the company lasted three years and he earned only $500 a month.
During this time, his former boss frequently hit, humiliated and verbally abused him over perceived mistakes he had made.
Yet, Mr Calvin Chan Meng Hock, now 31, stayed on and endured the torment because he felt his abuser could teach and guide him in his career.
Yesterday, his former employer was sentenced to a 10-day short detention order (SDO) for assaulting him.
In 2013, the manager of IT company Encore E-Services, Lee Yew Nam, was filmed verbally abusing and slapping Mr Chan in a 17-second video clip which went viral in mid-2013.
Lee, now 45, was given the 10-day SDO yesterday after pleading guilty last Aug 18 to four counts of voluntarily causing hurt to Mr Chan between January and May 2013.
Offenders given SDOs have to serve a brief stint behind bars for up to 14 days. They will not have criminal records after serving their sentences.
– See more at: http://news.asiaone.com/news/singapore/abused-intern-i-was-treated-cheap-labour?utm_medium=Social&utm_source=Twitter&utm_campaign=Echobox&utm_term=Autofeed&link_time=1459584756#xtor=CS2-4
—
August 2015
IT company manager admits to hitting, slapping and hurling insult at intern http://goo.gl/zS4OEp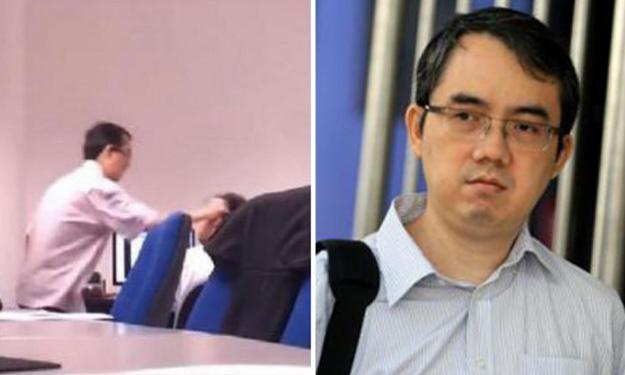 An information technology company manager whose assault on his employee went viral on YouTube and caused a public uproar pleaded guilty on Tuesday.
Lee Yew Nam, of Encore eServices, admitted to four of six charges of hurting Mr Calvin Chan Meng Hock, 31, at the Jurong Town Hall Road office.
According to The Straits Times, the court heard that other than his wife, Lee did not have any permanent employees. He would hire interns from universities and polytechnics to do the work.
Mr Chan was paid $500 a month in 2010 as an intern for six months. After that, he continued to work in the company on the same pay.
Investigations revealed that Lee would sometimes physically assault Mr Chan for mistakes that he made at work, and would also scold him with vulgarities.
http://thecourtroom.stomp.com.sg/courtroom/cases/case-of-the-day/it-company-manager-admits-to-hurting-and-abusing-worker#xtor=CS1-2
—
Manager who slapped employee in viral video pleads guilty to causing hurt http://ebx.sh/1KsGIqZ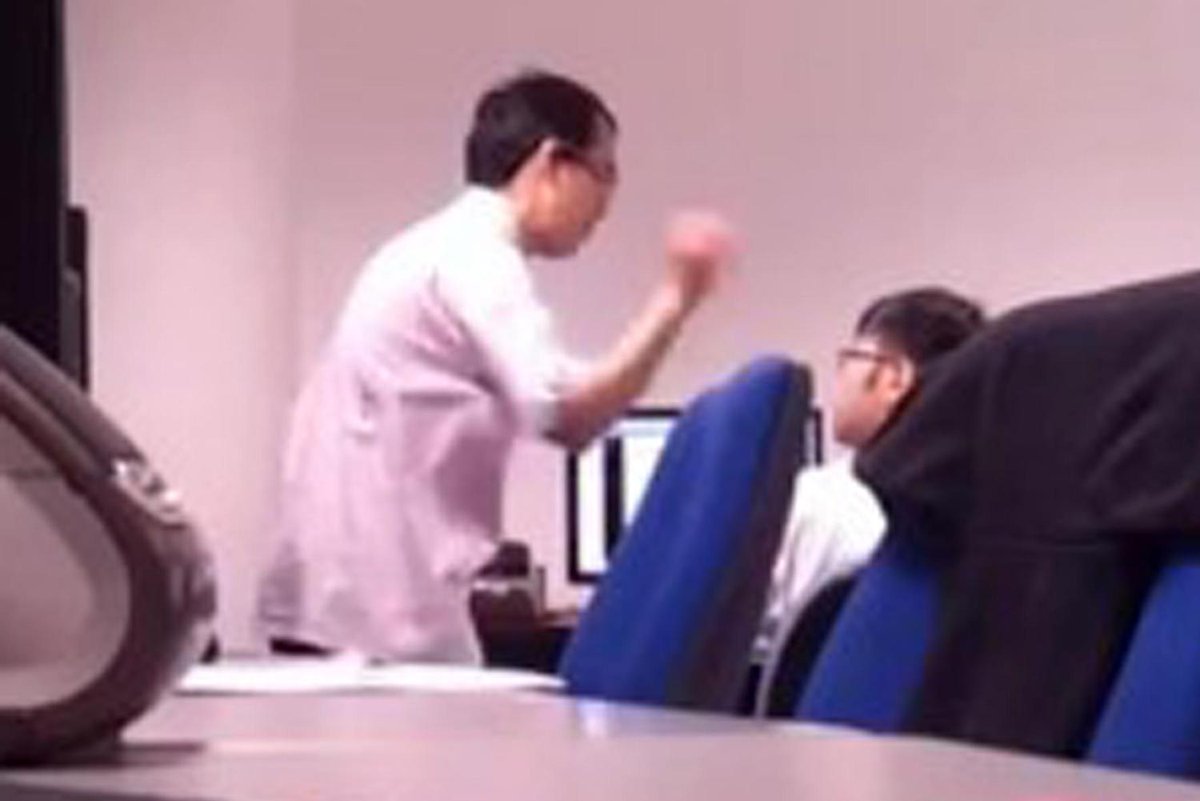 —
This was the video that led to the prosecution
Singapore office bully caught on video
—
5 Reasons Why Singaporeans Get Bullied At Work And What You Can Do About It
Statistics in Singapore showed that one in four Singaporeans have suffered from workplace bullying. Among the aggressors, bosses make up 62 percent and clients made up 21 percent.
Some examples include being subjected to verbal abuses and personal attacks; wrongfully blamed or accused and abuse of seniority or power.
To make matters worse, based on a separate survey – Workplace Bullying Institute's February 2014 Survey – 72% of employers were doing little to address bullying and in 61% of the cases reviewed, the bullying only stopped when the victims left their jobs.
…

1. Singaporeans are unfamiliar with what is acceptable
According to Dr Elizabeth Nair, 65, the principal psychologist at Work & Health Psychologists victims of workplace bullying tends to be those "who have just entered the job market" and "don't know what is appropriate and what is not."
…
2. The Singapore culture of not speaking up for yourself
In Singapore, there is this disturbing culture where people don't speak up against authority and just complain in their small circles.
Parents would teach children to mind their own business and not be a whistle blower as it would result in the child 'getting into trouble'.
…
3. High power distance in Asian culture
As we all know, East Asian culture traditionally tends to have high power distance which is defined as the extent to which the less powerful members of institutions and organisations within a country expect and accept that power is distributed unequally.
As Professor of Organisational Behaviour and Human Resource Management, Nikos Bozionelos explains "Such high power distance means that the actions of those with 'power' are seen as a natural right. As a result, any behavior from bosses is deemed acceptable and rarely excessive."
This starts young in the family. Many Singaporeans grow up in families where corporal punishment is still accepted and parents are like the ultimate authority.
…
4. Singaporeans are unaware of their rights
Compared to top business centres like Hong Kong, the US and the UK, Singapore previously did not have laws against workplace harassment.
It was only till last year where we introduce our new Protection from Harassment Act (2014). Under the Act, employees will be statutorily protected from harassment in the workplace and are empowered to take legal measures against the perpetrators.
…
5. Fear of losing their job
Singapore is currently facing high costs of living. In fact, we're the most expensive city to live in globally.
As such, many people especially the younger ones, are afraid of losing their jobs if they were to stand up against bullying. Even if people are abusive towards them at work, they just keep mum in fear that speaking up would result in termination of employment.
http://www.jeraldinephneah.me/2015/05/workplace-bullying-singapore.html
—
INQUIRER.net
22 May 2013
Office bullying video sparks outcry in Singapore
"He said that my colleague apparently has an inferiority complex and apparently my supervisor is trying to 'nurture' him to get over it," he said.
"I felt this was stupid, as how can you nurture someone by hitting them? My co-worker is very timid and seems like the kind of guy that will not stand up for himself."
http://www.capitalfm.co.ke/news/2013/05/office-bullying-video-sparks-outcry-in-singapore/
—