—
BE CAREFUL WHAT YOU POST ON FACEBOOK
Be careful! Facebook, Twitter, etc, may be your downfall!
—
This was the picture that troubled many hearts.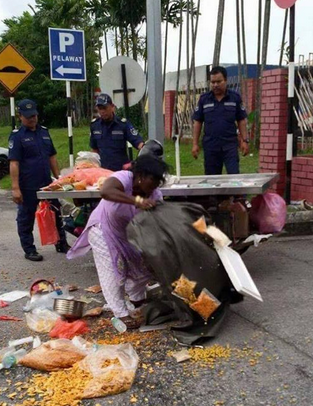 —
College student Nuruddin Abdul Mujid, who uploaded the image, had implied that MBI was being cruel towards those who were trying to earn a living.
MBI called for a press conference yesterday, together with the hospital's visitors board and Nuruddin.
Nuruddin, 19, gave a different version this time, saying it was Selvajanaki who had thrown the kacang puteh on the road. He said he was overcome with emotion when he saw her crying.
…
This is Kacang putih vendor, S. Selvajanaki, 41
 —
Kacang putih vendor, S. Selvajanaki, 41
—
—
Malaysian Insider
—
astroAWANI
Setelah penguatkuasa MBI dicaci, pemuda tampil mohon maaf
KUALA LUMPUR: Seorang pelajar kolej di Ipoh memohon maaf kerana memuat naik status tidak tepat sehingga mencemarkan kredibiliti penguatkuasa Majlis Bandaraya Ipoh (MBI).
Muat naik itu antara lain memaparkan seorang wanita sedang menangis dan barang-barang jualannya berselerak sambil diperhatikan penguatkuasa MBI.
Ia memberi gambaran bahawa penguatkuasa MBI sengaja membuli peniaga wanita terbabit dengan menyelerakkan barangan jajaannya.
Tetapi pelajar itu akhirnya mengakui wanita itu sendiri yang menyelerakkan barang-barang jajanya.
"Saya memang nampak makcik itu sendiri yang menyelerakkan barang-barang jajaannya, namun disebabkan saya berasa amat marah saya pun memuat naik status seolah-oleh pegawai penguatkuasa yang membuat semua perkara itu," jelas Nuruddin Abdul Mujid, 22, dalam sidang media di Hospital Raja Permaisuri Bainun (HRPB) pada Isnin.
Sidang media itu diatur bagi menjelaskan perkara sebenar semasa insiden berkenaan.
Nuruddin (tengah) menunjukkan status yang dimuat naik di Facebooknya pada sidang media yang diadakan semalam. – Foto Astro AWANI
Turut hadir, Setiausaha MBI, Mohd Zakuan Zakaria dan Ahli Majlis MBI, M. Veeran serta Pengerusi Lembaga Pelawat HRPB, Datuk Omar Ahmad.
Nuruddin yang memuat naik gambar itu di laman akaun Facebook peribadinya berkata, semasa kejadian, dia sedang menghabiskan waktu rehatnya.
Gambar itu menjadi viral di laman sosial Facebook sejak Ahad.
"Saya mohon maaf di atas tindakan saya dan saya tahu itu adalah tindakan bodoh kerana tidak berfikir panjang."
…
Nuruddin yang merupakan pelajar tahun terakhir dari Kolej Sains Kesihatan Bersekutu (KSKB) Sultan Azlan Shah mengakui faham dengan kedudukan pihak penguatkuasa yang hanya menjalankan tugas mereka dan dia langsung tidak berniat untuk memburukkan mana-mana parti politik atau mana-mana agensi kerajaan, secara langsung atau secara tidak langsung.
http://www.astroawani.com/berita-malaysia/setelah-penguatkuasa-mbi-dicaci-pemuda-tampil-mohon-maaf-69259
—
Star
Tuesday August 11, 2015 MYT 7:03:33 AM
Kacang puteh seller may get a second bite
IPOH: A kacang puteh seller whose snacks were pictured strewn on the ground outside the Hospital Raja Permaisuri Bainun here as she sat dejectedly by the roadside may get a reprieve.
Ipoh City Council (MBI) secretary Mohd Zakuan Zakaria said he had asked a city councillor to meet S. Selvajanaki, 41, and discuss her situation.
Mohd Zakuan said they could not let anyone just trade anywhere, especially in a hospital area.
 —
Malaysian Insider
Council denies officers throw kacang putih vendor's goods on ground
Ipoh City Council (MBI) said today that its enforcement officers were not responsible for throwing a kacang putih vendor's goods on the ground, as what many had believed from a picture which had gone viral on social media.
MBI secretary Zakuan Zakaria said in the incident, which took place in the vicinity of the Raja Permaisuri Bainun Hospital in Ipoh last Friday, the vendor was the one who had thrown the titbits on the ground.
"MBI officers were there to carry out enforcement against the unlicensed vendors, who were a subject of complaints from the management of the Raja Permaisuri Bainun Hospital.
…
—
Review on Ms.Janaki, Kacang Putih seller
FULL STORY OF Ms.Janaki's case (IPOH KACANG PUTIH)
Its been a while i don't do long post. Malas mau educate our people. Seriously. Our people having sudden excitement syndrome. No matter what they see in social media, they just love to believe almost everything and very weak in valuating common sense. I usually won't reply on idiotic acts but one of my fb friend requested to explain on what happened? What gone wrong, what solution has been given and what is the next agenda.
Let's talk about it.
I saw a post by a Malay guy who felt sorry for a lady where mistreated by enforcement. He don't know who and why but he shared his disappointment among his friends. His intention was good. He did not see who is she but saw her as human and Malaysian among us.
Then everyone started to share the picture to everyone. Some cursing enforcement and some cursing the lady. But nobody taking initiative to get into root problem, what just happened?
Night 9pm, I was having dinner with my family. My bad habit, flipping through few pages of Facebook and this time, same case but in different angle. People are cursing each other and that situation just right to spark a racial tension.
Some posting another picture of someone's testimonial saying that they were there eyewitnesses and the aunty was wrong. So, the lady gone amok to throw her own thing on road? Or enforcement thrown everything to get rid of her? No one knows because everyone busy cursing each other.
I just post a simple message. Let's find out who is she, where is this place, and what's her contact details.
And of course to add some salt in spices, I mentioned we are not dogs.
The message exploded massively. My post received 7k likes, 500++ comments and 10k shares. I never seen my post can reach that much in entire life.
Here the benefits from social media, trust me or not, people started posting her last seen location, her family details, her lifestyle and personal details. Within 1 hour, we managed to get her phone number. Can you how effective the social media is?
The info that we received:
Her name: Janaki
Currently: single mother
Her phone number
Number of kids
How many years she is doing business there.
What just happened?
We collected the information. We started to talk to her. Understood her condition and her situation. Spoke to right authorities. Set appointments. Set meetings for investigation.
Isn't it what we suppose to do when you really concern to help someone?
Seriously, do you think cursing each other will solve everything?
I can tell you, I slept 3am. Not reading or watching movies but entertaining our social media people's curiosity. Most of us became FBI, CBI, MACC and private investigators. Another group even arguing with me like lawyers and judges. They had this wrong perception that i was the one of the enforcement. Yenna nadakkuthune theriyaame oru group.
But mostly shared their thoughts and wishes. Some even offered financial support. Aiyoo saami venampa intha vambu.
Today, our counterpart met Datuk bandar and Setiausaha Majlis Perbandaran Ipoh and verified the matter. Discussed on how to solve the matter and finally managed to get her license. This license called lesen penjaja gerak.
Our another counterpart assisted her to get Tekun Loan. There are few more helps on the way
At this point, you must be wondering. What just happened. Do you want me to tell you the whole story?
Why should i? You figure it out. Before that, let me ask you. Is that really matter?
Few points
* some said she made this mess by herself and they said there were some witnesses. Where are they? Who are they? Who took the picture? Why nobody came to resque her?
* if she throw that means fine. Why she should throw her own stuff? she crazy?
* why till now there were no official statement by Majlis Perbandaran Ipoh to clarify this matter?
* If the lady made the mess, what was happened before? What was the conversations among them?
* she is doing that business for past 5 years in same spot. Why now she made that mess?
* There were others too doing the same business, at the same place. why only her picture gone viral?
I know the full story.
Let me ask you, is she a most wanted criminal? In this economical situation, as a single mother, trying to survive and that was her ricebowl. How much she can earn out from that? 2.6 billion?
Does anyone knows how she was handled by enforcement? It could be by action or by verbal that sparked her to do so?
If you are a single mother, suffering day and night to earn money so your kids can have good life, you will know her pain.
I never side anyone. She can be wrong. Law is law. As i said earlier, is that a crime?
We see Bangladesh and Myanmar earning thousands here. What worst can happen if we provide a license for them?
End of the day, Majlis decided to help her. Why? Humanity!
Stop making video clips and do private investigation on this matter anymore.
I am noticing some group still posting racial statement and condemning other political party. Oklah.. They whacking MIC because she is an Indian.
This is not about political agenda
More than that. Helping another human.
Imagine , we continue whacking her and enforcement daily. Siapa untung?
The viral somehow gave her opportunity to continue to survive and gave an hope to others to apply license.
The next agenda?
When you see someone requesting for help, please help beyond political differences, race, religious and color.
Can you see how this incident brought us together in 1 common matter? Unity!
I can bet you. 1 week later, someone will see this picture elsewhere and start make noise.
Enough lah. Go back to your daily life.
Subash Chandrabose Arumugam Pillai
—
Update on Janaki, Kacang Putih seller.
Today our representative Mr.Veeran Veeran KPmicperak spoke to Majlis Perbandaran Ipoh and managed to get her Lesen penjaja bergerak.
Let us thank Quick responce from Pergerakkan Pemuda MIC Kebangsaan, Pergerakkan Pemuda MIC Perak. Pergerakkan Wanita MIC will meet the family and will arrange bantuan Kebajikan.
We thank each and everyone who contacted us to help this poor lady.
Indeed its a great news for Janaki and to all.
Please share.
Unity is Strength
—