—
Ku Nan: We don't know who torched DAP flag http://www.malaysiakini.com/news/302970  @TengkuAdnanReal @dapmalaysia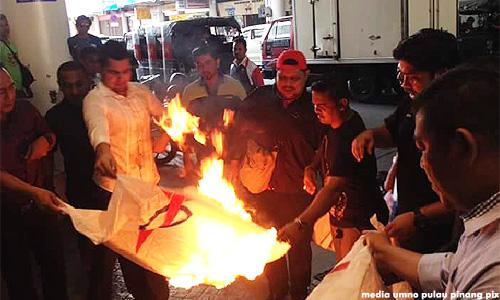 …
Met by reporters in Kuala Lumpur today, Tengku Adnan said it was not known   who were the culprits behind the incident.
"I don't know who did it. Some have accused Umno of being responsible for it, but we don't really know," he said.
…
"If Umno members were behind it, we will take action against them because this is not the way of Umno.
"But some quarters could have used Umno's name. So what's important is that I leave this to the police," he said.
http://www.malaysiakini.com/news/302970
—
 Penang City Council workers failed to take down this UMNO signage at Menara UMNO.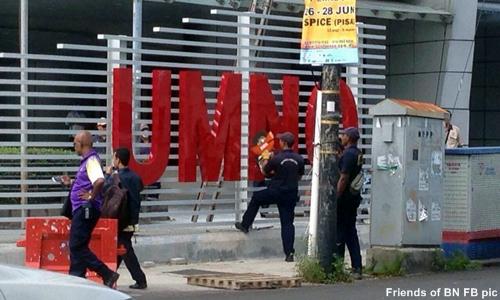 —
'Umno not gangsters or we'd punch your face' http://www.malaysiakini.com/news/302840  #Penang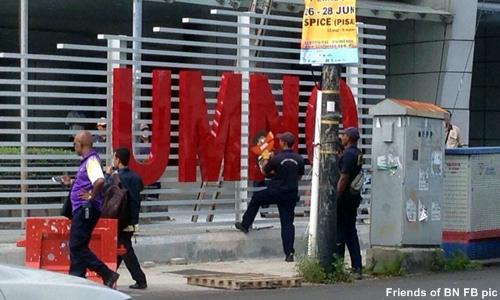 —
Penang Umno secretary Musa Sheikh Fadzir has dismissed claims that its members acted like "hooligans" when criticising Penang Island City Council (MBPP) for dismantling the sign at Menara Umno.
Musa said DAP accused Umno of acting like hooligans but the former's members – who had positions in the state government or city council – acted like "gangsters and ruled with an iron hand".
"What if a DAP signboard is taken down, how would you (DAP) feel?" Musa queried at a press conference in Komtar today.
"We are willing to discuss and negotiate in a proper manner (on how to resolve the signboard issue). If we are gangsters, we would have already punched you on the face," Musa quipped.
…
He was referring to MBPP councillor
Ong Ah Teong
who said yesterday that the exercise of dismantling the "illegal" Umno sign along Jalan Macalister involved council rules and regulations.
—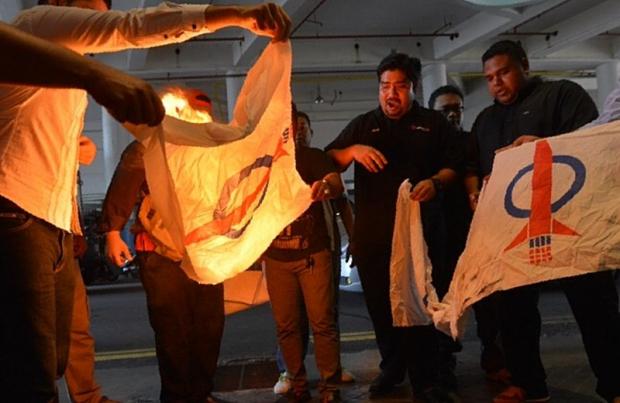 —
Vexed #Umno members torch @dapmalaysia flag at Komtar #Penang http://www.malaysiakini.com/news/302807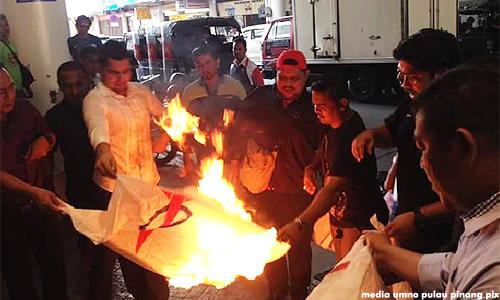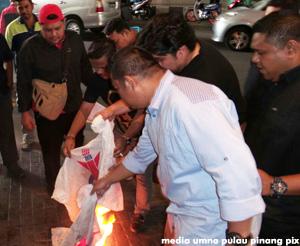 A DAP flag was torched at the ground level of Komtar, which houses the Penang state government office, today.
The incident happened when some 50 Umno members and supporters led by Penang Umno secretary Musa Sheikh Fadzir went there to submit a memorandum to the Penang Island City Council (MBPP).
The protest was in retaliation to the local council's decision to tear down the Menara Umno signboard.
Also present were Penang Umno Youth chief Rafizal Abdul Rahim, Permatang Pauh division chief Mohd Zaidi Mohd Said, Tanjong division chief Ahmad Ibnihajar and Penang Perkasa Youth chief Mohd Rizuad Mohd Azudin.
Before Musa and other leaders reached level three where the state government's administration office entrance is located, security personnel had shut the metal door.
This angered some supporters, who then shouted and banged on the door.
Read the rest:
http://www.malaysiakini.com/news/302807
—
NST NEWS: Penang Umno insist on keeping signage structure at its headquarters: GEORGE TOWN: Penang Umno is ada… http://bit.ly/1MV6GGf
—
Star
Tuesday June 23, 2015 MYT 12:00:03 AM
Action to bring down Umno signage legal, says city council
GEORGE TOWN: The decision to tear down an Umno signage board at Menara Umno here on Friday was in accordance with the law, said the Penang Island City Council (MBPP).
MBPP council member Ong Ah Teong said the Umno structure at Jalan Macalister was illegal as there was no permit from the local authority.
"I received a complaint via telephone on Thursday over the illegal structure there. I went there on Thursday evening and found the complaint to be true.
"I called the advertising licensing unit to verbally give notice to the owner of the building to cease work immediately.
"The next day, we found the structure had been put up. On the same day, the Development Department issued a notice for the structure to be removed.
"They (Development Department) had gone to the place to tear down the structure but the situation became a bit chaotic. It is hoped that Umno will not politicise the issue.
"We, at MBPP, are only carrying out our duty under the Local Government Act 1976," One told a media conference here, Monday.
http://www.thestar.com.my/News/Nation/2015/06/22/Penang-MBPP/?utm_source=feedburner&utm_medium=twitter&utm_campaign=Feed%3A+com%2FSpPo+%28The+Star+Online+%3A+Nation+Feed%29
—
Jun 22, 2015

By Susan Loone
Stop blaming, obey laws, city council tells Umno
The Penang Island City Council (MBPP) has refuted allegations that it was directed by DAP or the state government the party it leads, to tear down an illegal Umno structure.
MBPP councillor Ong Ah Teong said the matter was a simple case of "obeying the law" and was not prompted by any directive from DAP or from the state government.
"Don't blame anyone else as the Penang government has no time for such petty things," Ong said.
He said MBPP enforced its powers under the 1976 Local Government Act, and its by-laws, which were out put in place  by the BN before it lost the state government to Pakatan Rakyat in 2008.
"If the company that illegally put up the signboard, JKP Sdn Bhd, had a permit, MBPP will not disturb the structure," Ong (on the right in photo) said at a press conference today.
"Don't just blame MBPP or DAP or the state government. Just follow rules and regulations, and respect the law, as stated in our Rukun Negara," he added.
"I can understand when Umno Youth kicked up a fuss because it may be naive, but the party's state liaison chief Zainal Abidin Osman was a former deputy minister. Surely he understands the law?" Ong asked.
http://www.malaysiakini.com/news/302668
—
Jun 21, 2015

Malaysiakini
Penang Umno raps MBPP's move to demolish its sign
The Penang Umno liaison body yesterday criticised Penang City Council's (MBPP) for demolishing the Umno signage erected at the entrance of the Menara Umno building on Jalan Macalister in George Town as rash and not according to proper procedures.
According to Bernama, its chairperson Zainal Abidin Osman said Penang Umno felt regret, disappointment and anger against the DAP government's attitude for instructing MBPP to do so, and that it was seen as an attempt to supress the party (Umno).
He said the MBPP had acted irresponsibly and hastily, citing Section 72 (6) of Act 133 which states that MBPP should give at least a 30 days notice to the owner of a building to rectify any non-compliance to procedures.
Zainal (photo) said what was disappointing was that the action to demolish the signage was done after Umno had already engaged in discussions with MBPP, and the council had requested Umno to file certain documentation to request for a permit to place the signage there.
"We were going to submit the detailed documentation needed for the permit and we had agreed to send it by Monday morning, but on Friday afternoon, they had already taken action," he said.
Zainal stressed however, that Penang Umno would still maintain the location for the signage.
http://www.malaysiakini.com/news/302552
—–