..
Covid: No evidence that vaccinations harm fertility
By Rachel Schraer
BBC Reality Check
Published 8 hours ago
Claims on social media that the Covid vaccine could affect female fertility are unfounded, experts have said.
Posts have incorrectly suggested the Pfizer vaccine could cause infertility in women, or cause their bodies to attack the placenta.
But there is no "plausible biological mechanism" by which the vaccine could affect your fertility, says Prof Lucy Chappell, a professor in obstetrics at King's College London and spokesperson for the Royal College of Obstetricians and Gynaecologists.
How does the vaccine work?
The vaccine works by sending a message to the body with a blueprint, allowing it to manufacture a small, harmless fragment of the coronavirus's distinctive "spike".
It can't give you the virus, and it has no way of affecting your own genetic information.
.
Prof Nicola Stonehouse, a virologist at the University of Leeds, said there was no possible way she could think of that this could have an impact on reproductive health.
What does the evidence say?
Online, some people have pointed to a line in an earlier version of guidance published by the UK government stating it was "unknown" whether the Pfizer vaccine had an impact on fertility. This has since been updated to clarify that animal studies don't indicate any harmful effects on the reproductive system.
Part of the confusion here is down to how scientists describe things compared with how most of us would understand them in our daily lives.
When scientists say there is "no evidence" they mean there hasn't yet been a long-term study on this specific vaccine – but that doesn't mean there are no facts here at all or we're shooting in the dark.
In fact, Prof Chappell pointed out, there is lots of evidence from other non-live virus vaccines, including the flu jab, that they have no impact on fertility and are completely safe and recommended for use during pregnancy.
And getting the Covid virus itself – which the vaccine protects against – could affect fertility, so "you're much more likely to have fertility issues post-Covid than after the vaccine," Prof Stonehouse said.
False placenta claims
Some of the rumours have suggested the vaccine could threaten fertility because it contains proteins also used to make the placenta. Posts on social media have claimed this could lead the body to attack the placenta.
This is not true – the vaccine does contain a protein which slightly resembles one used in the development of the placenta but it's not similar enough to confuse the body.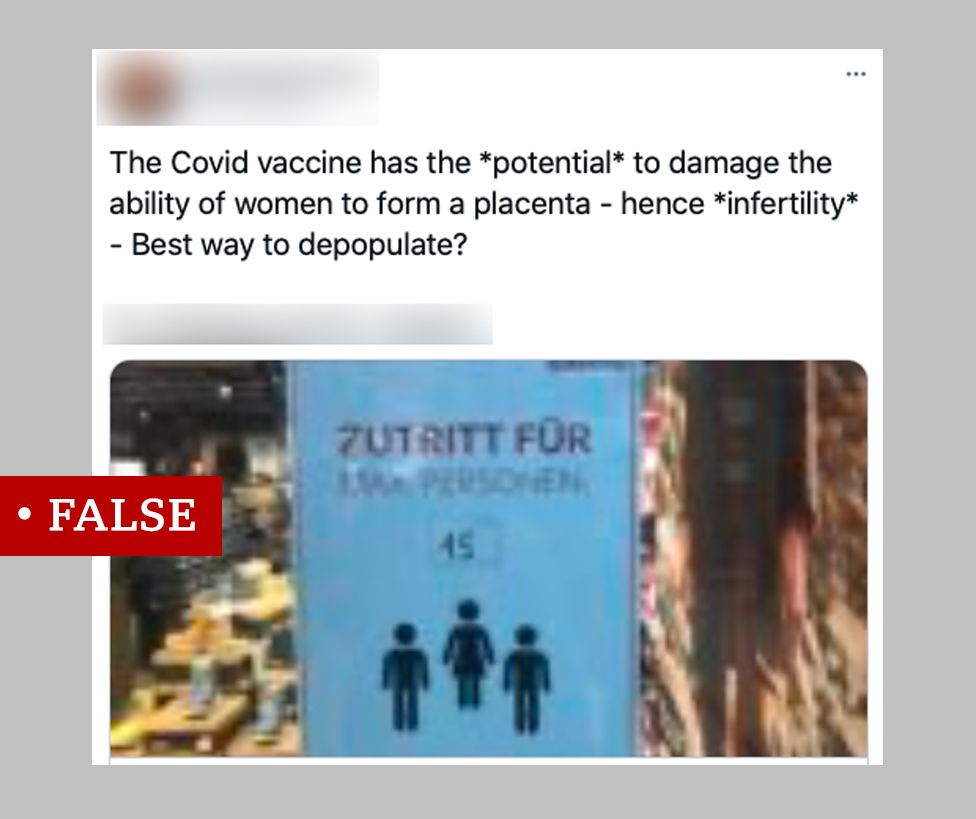 Vaccines are designed around the most distinctive parts of the virus's spike to make sure it recognises only that.
.
Prof Chappell, who specialises in the health of pregnant women and people hoping to conceive, said she had "no concerns" about fertility and the Covid vaccine.
And the deputy chief medical officer for England, Jonathan Van-Tam, when answering questions from BBC viewers, said: "I have never heard of a vaccine that affects fertility."
He described the suggestion as "a nasty, pernicious scare story, but that's all it is".
What about during pregnancy?
During pregnancy women are understandably very concerned about their health and may be conscious of scandals such as the one surrounding thalidomide – a drug used for morning sickness, that affected thousands of babies, leaving many with impaired limb development.
But as a direct result of these experiences, our understanding and treatment of drugs during pregnancy is entirely different.
The advice on treatments during pregnancy is extremely cautious.
And pregnant women are generally not included in clinical trials – including those for the Covid vaccine.
Though vaccines are quite different from powerful drugs like thalidomide, most health services are erring on the side of caution.
.
The UK government says: "The vaccines have not yet been tested in pregnancy, so until more information is available, those who are pregnant should not routinely have this vaccine."
Like all things in healthcare, there is an element of balancing risks.
Even something as simple as an over-the-counter painkiller carries a tiny risk of ulcers and internal bleeding. But the risk for most people is so small when used correctly, that it is outweighed by the benefits of treating relatively mild pain.
And the benefits of preventing an illness that we know can be life-threatening have been judged to be much greater than any theoretical risk of vaccination.
Follow Rachel on Twitter
..
by: Deon GuilloryPosted: Feb 12, 2021 / 04:00 PM CST / Updated: Feb 12, 2021 / 05:09 PM CSTjavascript:false
BATON ROUGE, La (BRPROUD) – Doctors said there is a lot of misinformation on social media and the internet about the COVID-19 vaccine and fertility.
"So, let me first say that it's a myth," said Dr. Veronica Gillispie-Bell, an OB/GYN.
Dr. Gillispie-Bell said it was started by a German doctor. That false information spread like wildfire on social media sites like Facebook.
Dr. Gilliespie-Bell has had both doses of the Pfizer vaccine, but admits, she wasn't confident when it was first approved.
Once I looked at the process at how it was made and realized it was the same steps that happen any time any other vaccine or medication are made, then I felt more comfortable and so I try to explain that to my patients as well," said Dr. Gillispie-Bell.
Doctors said 23 women got pregnant while in the Pfizer trial with no impact on their fertility. There are also bogus claims of the vaccine affecting male fertility.
Dr. Gillispie-Bell also said the vaccine will not be kept from women who are pregnant and are breastfeeding. She explained it's all about making a decision that's best for you and your family.
"Thinking about risk and benefit, the risk of contracting COVID-19 and the known side effects fo that are pretty dismal or can be dismal compared to getting the vaccine, yes," said Dr. Gillispie-Bell.
..