..
The Foxconn Suicides were a spate of suicides linked to low pay at the "Foxconn City" industrial park in Shenzhen, China that occurred alongside several additional suicides at various other Foxconn-owned locations and facilities in Mainland China.[1] The series of suicides drew media attention, and employment practices at Foxconn—one of the world's largest contract electronics manufacturers—were investigated by several of its customers, including Apple and Hewlett-Packard (HP).[2]
https://en.wikipedia.org/wiki/Foxconn_suicides
..
1 Million Workers. 90 Million iPhones. 17 Suicides. Who's to Blame?
A tour of a Foxconn factory in China leaves one writer wondering: How much responsibility do we bear for the people who make our gadgets and devices?
https://www.wired.com/2011/02/ff-joelinchina/
..
..
The Observer
Sun 18 Jun 2017 09.30 BST
Life and death in Apple's forbidden city
In an extract from his new book, Brian Merchant reveals how he gained access to Longhua, the vast complex where iPhones are made and where, in 2010, unhappy workers started killing themselves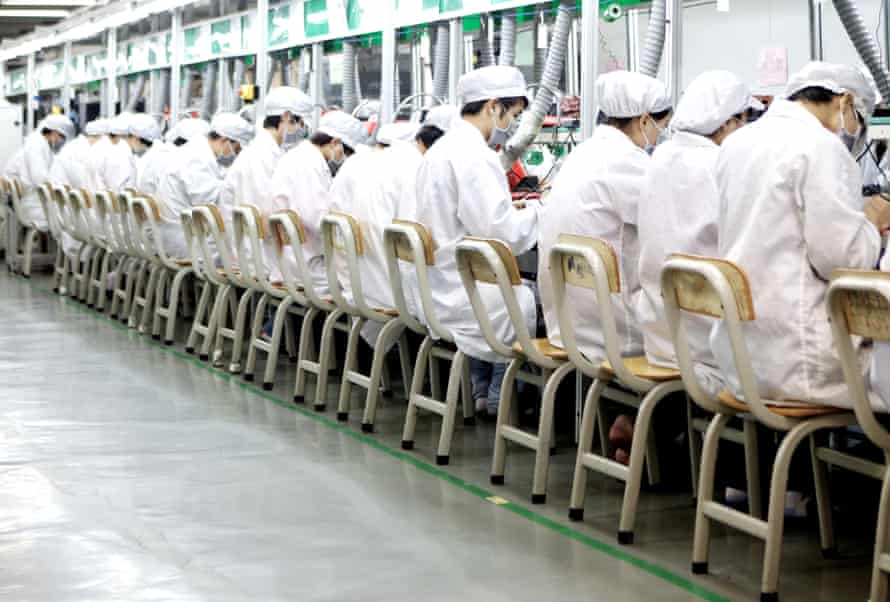 An assembly bench in Foxconn's Longhua complex in Shenzhen, China, where iPhones are manufactured. Photograph: Tony Law/Redux/eyevineBrian MerchantSun 18 Jun 2017 09.30 BST
The sprawling factory compound, all grey dormitories and weather-beaten warehouses, blends seamlessly into the outskirts of the Shenzhen megalopolis. Foxconn's enormous Longhua plant is a major manufacturer of Apple products. It might be the best-known factory in the world; it might also might be among the most secretive and sealed-off. Security guards man each of the entry points. Employees can't get in without swiping an ID card; drivers entering with delivery trucks are subject to fingerprint scans. A Reuters journalist was once dragged out of a car and beaten for taking photos from outside the factory walls. The warning signs outside – "This factory area is legally established with state approval. Unauthorised trespassing is prohibited. Offenders will be sent to police for prosecution!" – are more aggressive than those outside many Chinese military compounds.
For more:
https://www.theguardian.com/technology/2017/jun/18/foxconn-life-death-forbidden-city-longhua-suicide-apple-iphone-brian-merchant-one-device-extract
..
..
..
..
Posted on December 12, 2020
..