..
13 December 2020
Covid vaccines: Will drug companies make bumper profits?
By Lucy Hooker & Daniele P
As a result, investment analysts are forecasting that at least two of them, American biotech company Moderna and Germany's BioNTech with its partner, US giant Pfizer, would be likely to make billions of dollars next year.
But it's not clear how much vaccine makers really are set to cash in beyond that.
Thanks to the way these vaccines have been funded and the number of firms joining the race to make them, any opportunity to make big profits could be short-lived.
Who put the money in?
Due to the urgent need for the vaccine, governments and donors, have poured billions of pounds into projects to create and test them. Philanthropic organisations such as the Gates Foundation backed the quest as well as individuals including Alibaba founder Jack Ma and country music star Dolly Parton.
In total, governments have provided £6.5bn, according to science data analytics company Airfinity. Not-for-profit organisations have provided nearly £1.5bn.
Only £2.6bn has come from companies' own investment, with many of them heavily reliant on outside funding.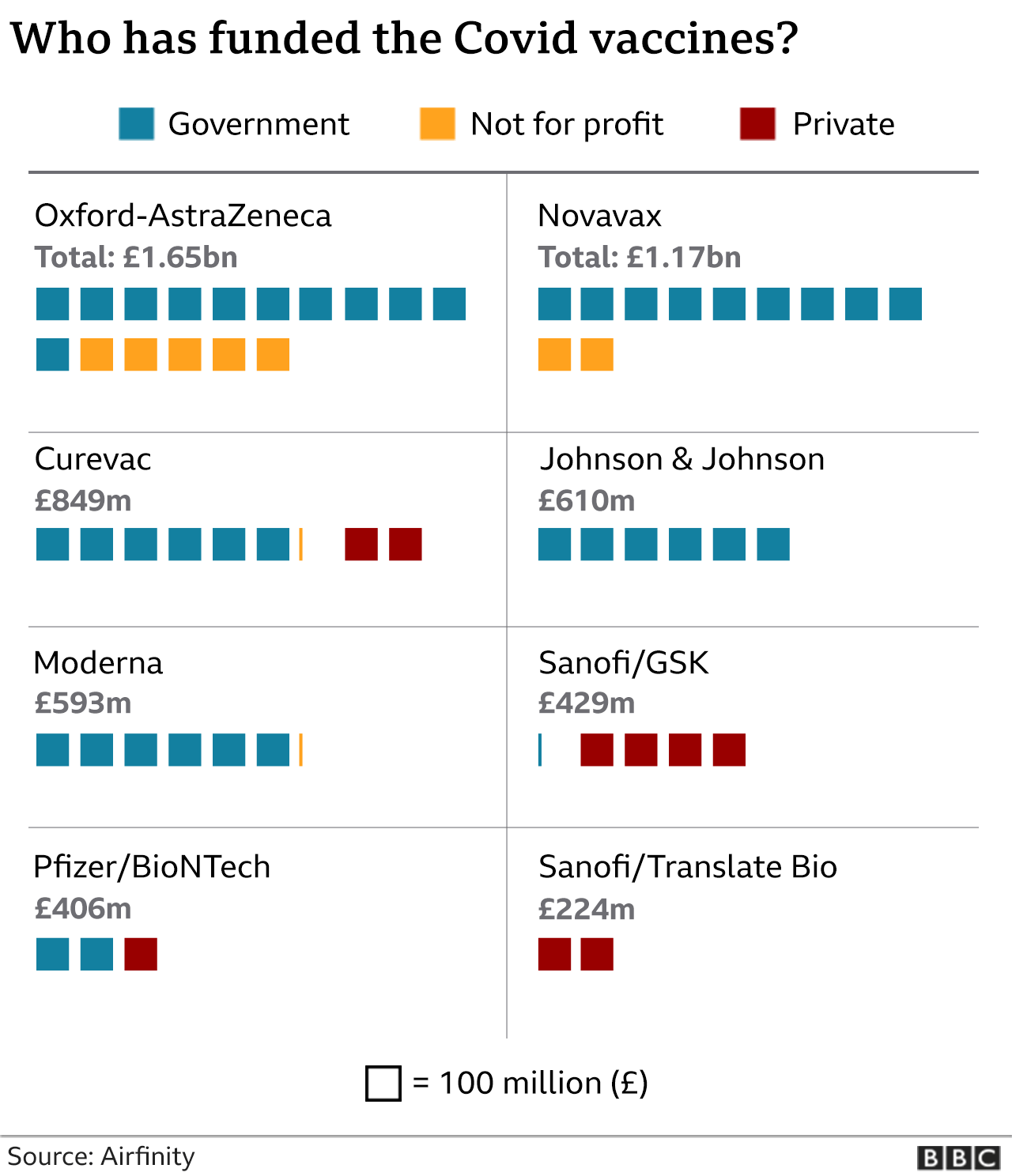 There's a good reason that big firms didn't rush in to fund vaccine projects. Creating vaccines, especially in the teeth of an acute health emergency, hasn't proved very profitable in the past. The discovery process takes time and is far from certain. Poorer nations need large supplies but can't afford high prices. And vaccines usually need to be administered just once or twice. Medications that are wanted in wealthier countries, especially ones that require daily doses, are bigger money-spinners.
Firms that began work on vaccines for other diseases such as Zika and Sars had their fingers burnt. On the other hand, the market for flu' jabs, which is worth several billion dollars a year, suggests that if Covid-19, like flu, is here to stay and requires annual booster jabs, then it could be profitable for the firms that come up with the most effective, and most cost-effective products.
.
So will pharma companies make bumper profits?
Governments and multilateral organisations have already pledged to buy billions of doses at set prices. So for the next few months, firms will be busy fulfilling those orders as quickly as possible.
Those that are selling to countries with deeper pockets will start to see a return on their investment, whereas AstraZeneca, despite having deals to supply the highest number of doses, will only cover its costs.
.
It depends on many things: how long immunity lasts in those vaccinated, how many successful vaccines come on stream and whether production and distribution is going smoothly.
Barclays' Emily Field thinks the window to make profits will be "very temporary".
For more:
https://www.bbc.com/news/business-55170756?xtor=AL-72-%5Bpartner%5D-%5Bbbc.news.twitter%5D-%5Bheadline%5D-%5Bnews%5D-%5Bbizdev%5D-%5Bisapi%5D&at_custom4=69E84344-3CD9-11EB-B832-0BD64744363C&at_campaign=64&at_medium=custom7&at_custom3=%40BBCNews&at_custom1=%5Bpost+type%5D&at_custom2=twitter
..