…
12 February 2019
Jamaluddin Jarjis' mother sues two grandchildren over RM1.3b
KUALA LUMPUR: The mother of a former minister, the late Tan Sri Jamaluddin Mohd Jarjis, has filed a suit against her two grandchildren over their failure to include three company shares, worth RM1.3 billion, in the list of her son's estate.
Aminah Abdullah, 85, filed the suit at the High Court last Jan 3 through the legal firm of Messrs. Wan Marican, Hamzah & Shaik and named Nur Anis Jamaluddin, 34, and Ikwan Hafiz Jamaluddin, 32, as the first and second defendant, respectively.
The High Court has set April 2 for further case management of the matter before judge Datuk Mohd Firuz Jaffril.
Lawyer Aqilah Pawancheek, representing Aminah, told this to reporters today after the case management before High Court deputy registrar Norliza Hussin.
In the statement of claim, Aminah stated that the two defendants, as joint administrators of Jamaluddin's estate, had failed to include the three company shares as inheritance in the list of assets in the letter of administration when Jamaluddin died on April 4, 2015 and also failed to enter the shares as a liability since July 6, 2017.
Aminah also claimed that the two defendants failed to enter the shares of the three companies – Rantai Wawasan Sdn Bhd, Alpine Motion Sdn Bhd and Ivory Insight Wawasan Sdn Bhd – as part of the deceased's estate with intention to deny her the rights and interest as a beneficiary.
She claimed that her two grandchildren also failed to state the estimate value of the shares, which was worth RM1,384,312,154 two and half years after Jamaluddin died.
Aminah claimed Nur Anis and Ikwan Hafiz also failed to include an apartment, worth RM10 million, in the United States, in the list of Jamaluddin's assets that was enclosed with the letter of administration.
She also claimed that Ikwan Hafiz failed to inform her that the Syariah High Court had issued to her the faraid certificate on Jamaluddin's estate on Oct 6, 2016.
Aminah is seeking a court order for her name to included as joint administrators of Jamaluddin's estate being that she is the biological mother of the deceased and for the two defendants to pay dividends, bonus and profit from the shares in the three companies. — Bernama
https://www.thesundaily.my/local/jamaluddin-jarjis-mother-sues-two-grandchildren-over-rm1-3b-FY50473
…
7 January 2019
..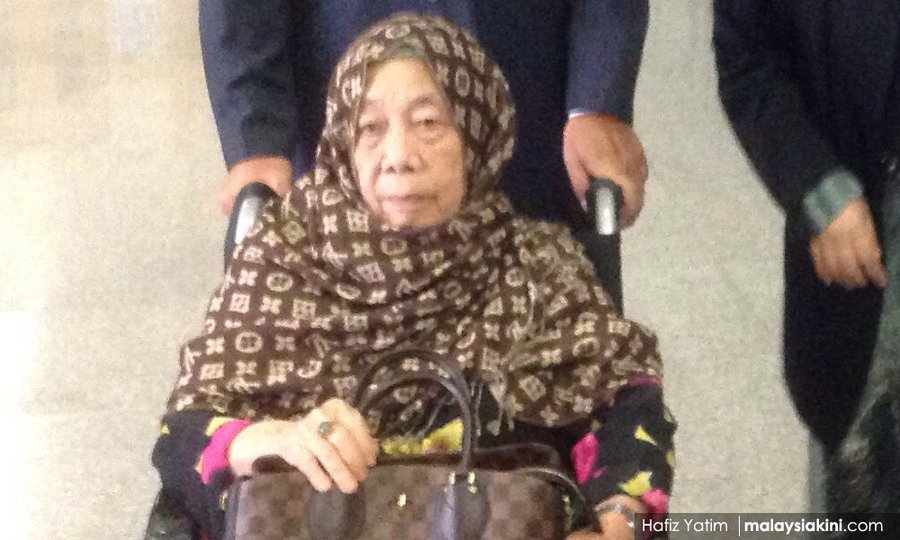 JJ's mother files affidavit for RM2.1b claim on son's estate
Aminah Abdullah, the mother to Jamaluddin Jarjis, today filed an affidavit-in-reply to set aside her former daughter-in-law Kalsom Ismail's bid to strike out her RM2.1 billion faraid (inheritance) claim on her son's assets.
This was disclosed by Aminah's syariah lawyer, Nur Hidayah A Bakar. However, the lawyer did not disclose the contents of the 84-year-old's affidavit-in-reply.
Nur Hidayah and co-counsel Kamar Ainiah Kamaruzaman also told Malaysiakini that the Kuala Lumpur Syariah High Court fixed March 4 for Kalsom to file her own affidavit-in-reply.
Under Islamic law, if the deceased does not leave a will, the mother is entitled to receive one-sixth of the deceased's estate, while his widow gets one-eighth. His children receive the remainder.
The court also fixed Feb 12 as mention date for Kalsom's joint matrimonial assets claim.
https://www.malaysiakini.com/news/459234
…
30 August 2018
..
Let's assume that he saved three-quarters of his earning, and his return on investment on his money (at 10%) would be about RM8 million.
I must declare that all these have been culled from various sources and calculated, making generous provisions for errors. Putting all these figures together, assuming even if he did not spend a sen from his remunerations, his lifetime savings can be put at a ballpark figure of RM100 million.
Please don't accuse me of not being able to do simple arithmetic by using a calculator. It is not necessary to work to the last decimal point.
Unless something is wrong with the calculator on the PC, the figure of RM2.1 billion will certainly miss the mark by a few zeros. You may find this mind-boggling and you, the discerning reader, can come to your own conclusions.
---
R NADESWARAN says it is a family feud and Joe Public is only entitled to watch it from the sidelines. Comments: citizen.nades22@gmail.com
The views expressed here are those of the author/contributor and do not necessarily represent the views of Malaysiakini.
https://www.malaysiakini.com/columns/440952
..
…
29 August 2018
..
https://www.nst.com.my/news/crime-courts/2018/08/406001/update-jamaluddin-jarjis-mother-seeks-share-sons-rm2-billion-estate
..
..
..
The 83-year old mother of the late minister Jamaluddin Jarjis is seeking her share of her late son's estate, which is said to be worth at least RM2.1 billion.
Aminah Abdullah, who now resides in Setiawangsa, Kuala Lumpur, wants the Syariah Court to issue a faraid (Islamic wealth distribution) certificate for this in the petition she filed in March this year.
.
Aminah in her petition listed the landed properties, including houses in Malaysia and also in Mecca, Saudi Arabia, and in the United States, as well as a list of assets that included shares owned by the late minister, and those that were purportedly given to her grandchildren, as part of the estate.
The assets comprise 22 landed properties, mostly in Pahang and in the Klang Valley, 21 bank accounts with a total sum of more than RM15 million, including one account in the United States, and shares in 15 companies.
.
The Syariah High Court then fixed Sept 13 for further case management.
Jamaluddin, the former Rompin MP, was said to be a close confidante of former prime minister Najib Abdul Razak and had held various cabinet posts.
He and several others, including Najib's principal private secretary Azlin Alias, died in a helicopter crash on April 4, 2015.
The report on the investigation into the helicopter crash said it was the result of pilot negligence
MKINI
https://www.malaysia-chronicle.com/?p=131622
..
The 83-year-old mother has listed various assets belong to the former Rompin member of parliament, including 22 landed properties in Pahang and Kuala Lumpur, 21 bank accounts with a total of more than RM15 million, several properties in the United States of America and Mecca, as well as a company he owned.
Under the shariah, the mother gets one-sixth of the estate's assets, the wife gets one-eighth and the remainder is shared among the children.
https://www.nst.com.my/news/crime-courts/2018/08/406001/update-jamaluddin-jarjis-mother-seeks-share-sons-rm2-billion-estate
…