—
Tan Keng Liang, Gerakan Youth Chief: Asking to be whacked, so he gets whacked!
—
Teng Chang Yeow resigns from Gerakan's central committee
Posted on 18 May 2016 – 05:05pm
Last updated on 18 May 2016 – 06:05pm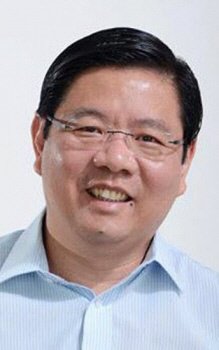 …
BUTTERWORTH: On leave Penang Gerakan chairman Teng Chang Yeow (pix) has tendered his resignation from the party central committee (CC).
Gerakan secretary-general Datuk Liang Teck Meng confirmed the matter when contacted by theSun, adding the resignation was received in March.
He said party president Datuk Mah Siew Keong has yet to make a decision on the matter despite receiving the letter two months ago.
"We will discuss and make a decision on the matter during the Central Working Committee (CWC) meeting next Friday," he told theSun.
Liang however declined to be drawn into speculation on who will replace the Penang Barisan Nasional (BN) chairman.
theSun on May 11 reported that Teng has taken leave of six months from the Penang chairmanship to sort out business matters.
In turn, vice-chairman Oh Tong Keong is now the acting chairman for the Penang chapter until Teng returns.
http://www.thesundaily.my/news/1806620?utm_content=bufferfab87&utm_medium=social&utm_source=twitter.com&utm_campaign=buffer
—