—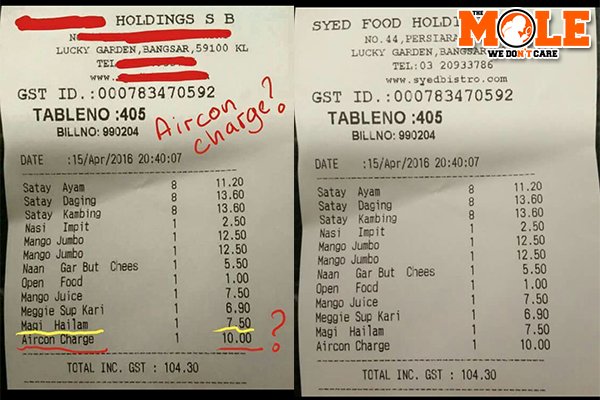 —

The picture of a receipt dated April 15 from a Mamak restaurant in Bangsar displaying an air conditioning charge of RM10, went viral on social media, and drew flak from the public.
—
20 April 2016
Restaurant claims customer knew of RM10 'air-conditioning' charge
KUALA LUMPUR, April 19 — The person behind the online storm over a restaurant's RM10 fee for "air-conditioning" had been aware of the charge, the outlet's management claimed.
According to The Star Online, the management claimed that the individual who uploaded a snapshot of the bill online had booked the restaurant's executive dining room for a party of 10 people and used the space for over three hours.
"For their exclusive usage of the air conditioned room, we charged the customer a nominal fee of RM10 which he had requested to waive, and we waived it.
"We did a favour for the customer by just charging a nominal fee instead of a booking fee, which we waived in the end," the management was quoted saying in the news portal's report.
—
http://mole.my/mamak-restaurant-in-hot-soup-over-air-con-charge/?utm_source=twitterfeed&utm_medium=twitter
—