—
At the Shah Alam High Court: The shooting of Aminulrasyid Amzah, 14, on 26 April 2010
Letter from the Prime Minister: A promise not kept!
—
27 March 2016
…
IGP Retaliates By Ordering Investigation Against Tony Pua After The MP Calls Him A "Thug" http://bit.ly/puavsigp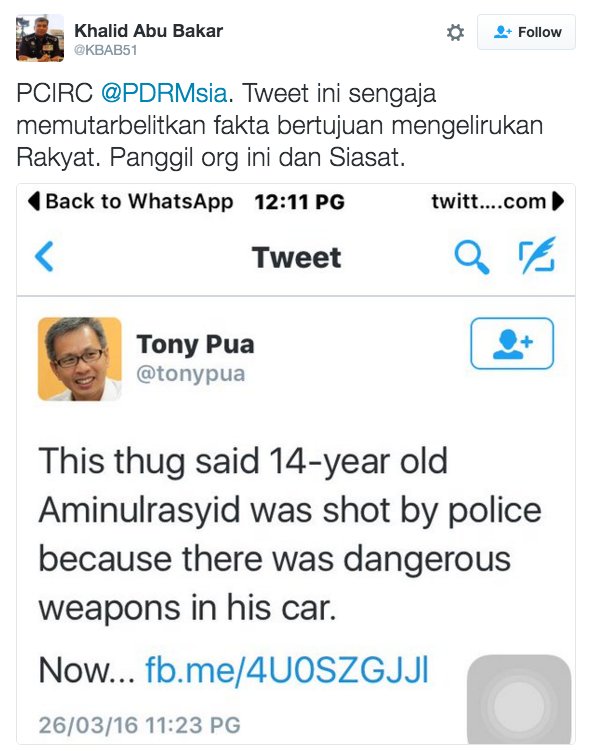 —
This thug said 14-year old Aminulrasyid was shot by police because there was dangerous weapons in his car. Now… http://fb.me/4U0SZGJJl 
Malay Mail Online
IGP refuses to apologise to Aminulrasyid's family
KUALA LUMPUR, March 25 — Inspector-General of Police (IGP) Tan Sri Khalid Abu Bakar said he will not apologise to the family of Aminulrasyid Amzah, who was shot dead by police in 2010, despite being found guilty of misfeasance over the incident.
Speaking during the celebrations for the 209th Police Day, Khalid also said he will not entertain demands that he resign to take responsibility for the case in which a civil court yesterday ordered the police and the federal government pay RM414,800 to the schoolboy's family.
"Why should I apologise? I will not apologise," he told reporters here.
"Everyone wants me to resign. But they are not my boss."
Lawmakers including Selangor Mentri Besar Datuk Seri Azmin Ali and Penang Chief Minister Lim Guan Eng have urged Khalid to apologise for the public statement that led to the court finding him guilty of public misfeasance.
In a statement following the court ruling, Lawyers For Liberty also told the IGP to step down for being "irresponsible" inexecuting his duty as a senior police officer that time.
– See more at: http://www.themalaymailonline.com/malaysia/article/igp-refuses-to-apologise-to-aminulrasyids-family#sthash.pWzf3mgX.dpuf
—
—
(吉隆坡27日馬新社訊)全國總警長丹斯里卡立指示警察網絡調查應對中心(PCIRC),徹查民主行動黨雪州主席潘儉偉昨日撰寫涉嫌歪曲法庭案件實情的推特文。…
—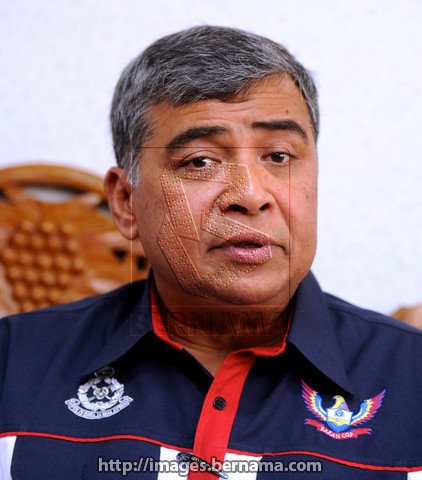 —