—
18 March 2016
…
Mark Zuckerberg's jog in smoggy Beijing drew both mocking and concerned comments by locals. http://nyti.ms/258L6Jm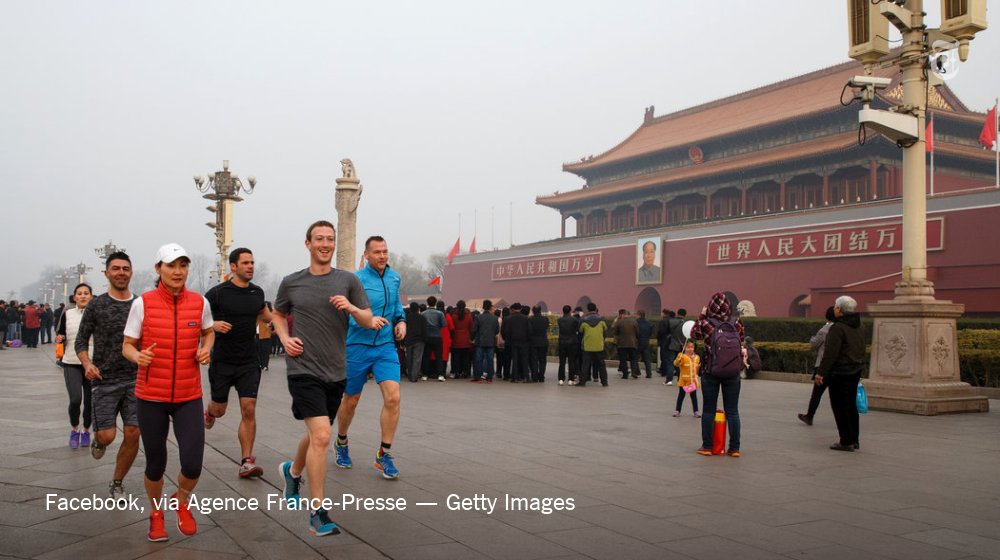 …
On Facebook, responses to Mr. Zuckerberg's run ran the gamut from mocking to genuinely concerned about his health.
One user, Christina Tan, sought to warn Mr. Zuckerberg: "Mark, don't u see the air pollution? Stop running outside! Beijing is my home, but I'm not recommending you run outside."
Although some noted he should have worn a face mask, others joked about his ability to access Facebook despite the Chinese government's cracking down on ways to get around the so-called Great Firewall, which keeps Chinese users cordoned off from the wider Internet.
Others simply took umbrage with where the photo was staged, at the heart of Tiananmen Square.
"The floor you stepped has been covered by blood from students who fought for democracy. But, enjoy your running in China, Mark. :)," wrote a user named Cao Yuzhou.
On Twitter, that sentiment was reflected in an image in which Mr. Zuckerberg had been photoshopped in place of the famous "tank man'' in front of a line of tanks from the 1989 military crackdown on the student-led protests in Tiananmen Square.
Within China, news of Mr. Zuckerberg's run was quickly picked up by the tech media. On China's Weibo, the microblogging service, Chinese users were as sarcastic as those on Facebook.
One named Bpxue wrote, "He climbed over the Great Fire Wall to breathe in smog. He's trying too hard!"
Another wrote, "Shoot, he is running without a face mask, no wonder it's called fei si bu ke," a reference to a sarcastic nickname for Facebook in China that roughly translates to "must die" or "doomed."
—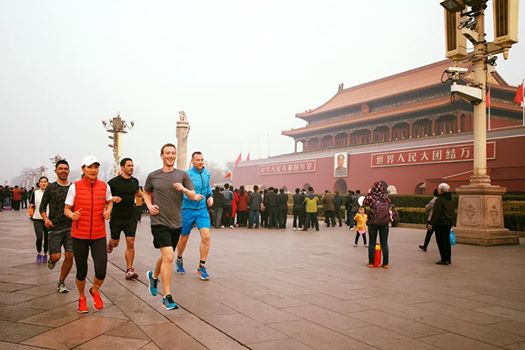 —
Mark Zuckerberg enjoys smoggy Beijing run ahead of forum
Mark Zuckerberg is 'world's most expensive vacuum cleaner' says one Chinese netizen http://bit.ly/1UaoMvG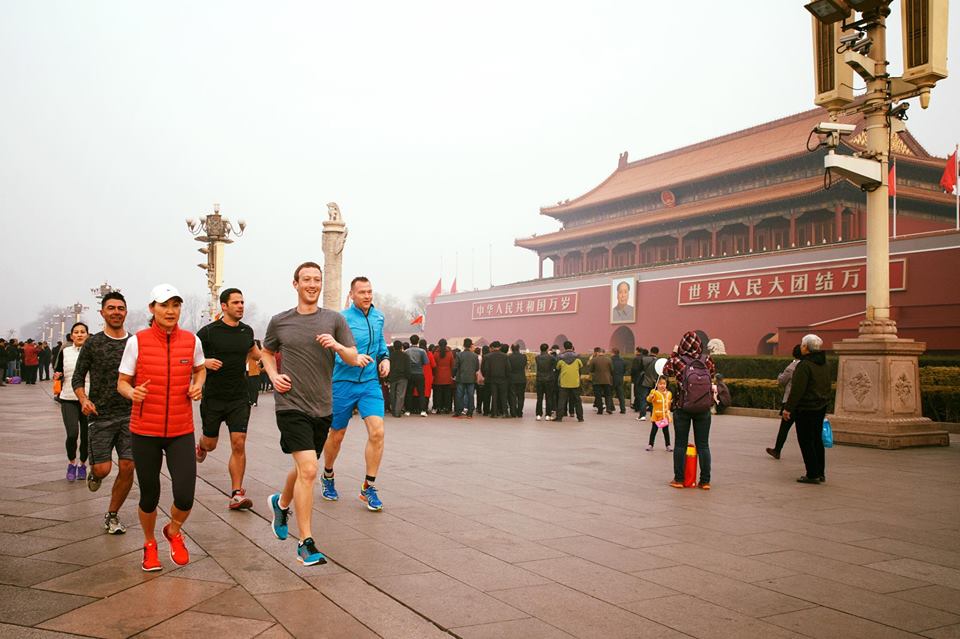 …
BEIJING — Facebook CEO Mark Zuckerberg took a mask-free jog through Beijing's Tiananmen Square on Friday (March 18) smiling through thick smog as he seeks greater access for his company to China, where its service is banned.
The social media executive was in the capital ahead of an economic forum that gives some of the world's top business and finance leaders the opportunity to hobnob with senior Chinese politicians.
In a picture posted to his Facebook account, Mr Zuckerberg said it was "great to be back in Beijing", adding that he had jogged through Tiananmen and to the Temple of Heaven.
The photo showed him running with a small group past the iconic image of Mao Zedong that hangs on the entrance to the Forbidden City.
Neither Mr Zuckerberg nor anyone in his party wore a mask, despite thick smog — also well-known by tourists to the city.
Levels of PM2.5 — the smallest, most dangerous particulates — were above 300 micrograms per cubic metre in Beijing throughout the morning before the photo was posted, according to data from the US Embassy in the city.
At that level — 12 times the World Health Organization's recommended maximum — the US embassy's advice is: "Everyone should avoid all outdoor exertion."
http://www.todayonline.com/chinaindia/china/mark-zuckerberg-enjoys-smoggy-beijing-run-ahead-forum
—
Mark Zuckerberg, Lee Hsien Loong and Najib Razak
Genuine or Hoax? Is Mark Zuckerberg giving away4.5 million of his Facebook stock to those who copy and paste a message?
—
Mark Zuckerberg went jogging in front the Tiananmen Square in smoggy Beijing this morning.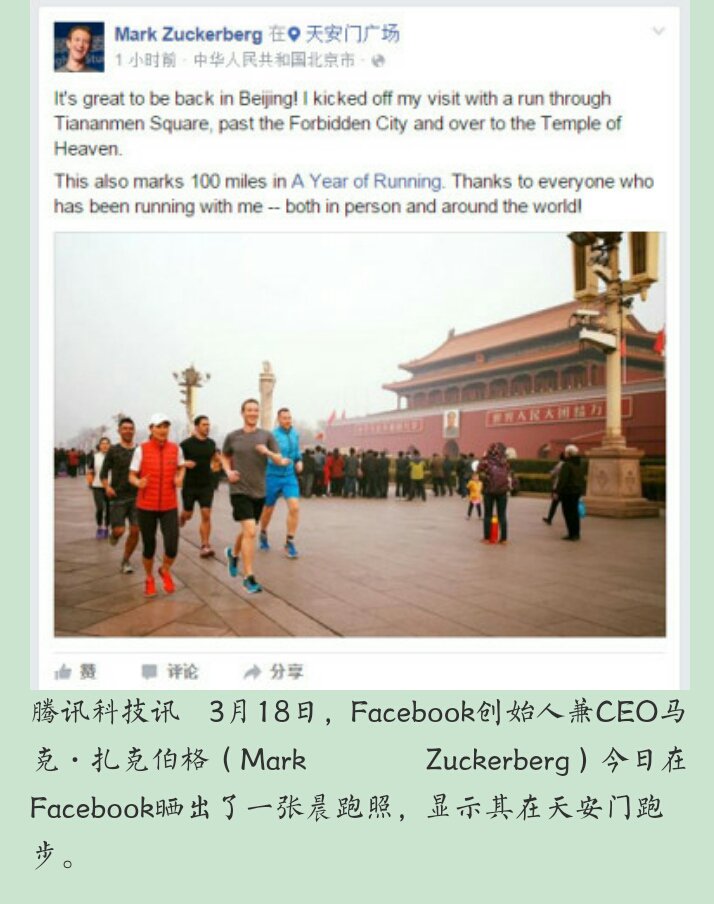 —
Zuckerberg-keen to be positive on China-posts blithely about what must have been a lung ripping smog jog in Beijing.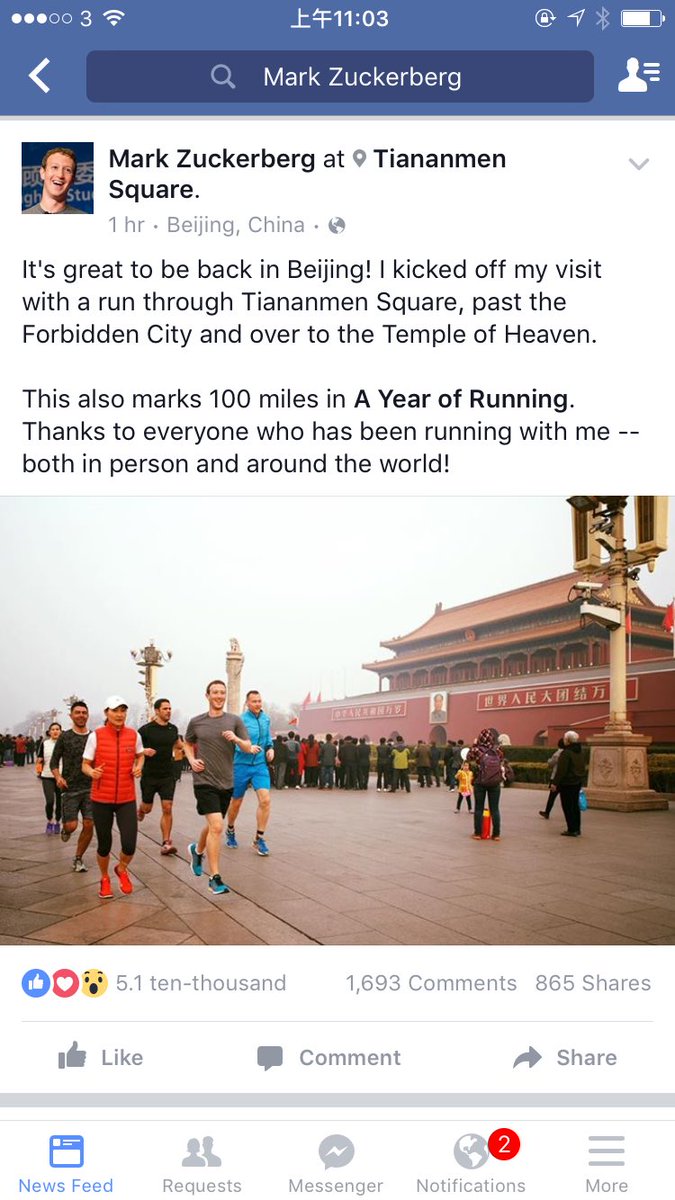 —