—
Swollen Head? Is Asia's top debater, Syed Saddiq Syed Abdul Rahman, getting too big for his britches?
—
13 March 2016
…
Syed Saddiq is being criticised for going to a club, but our PM's son is a DJ. Cerita dia sekarang DJ spin kat mamak ke?
—
still trying to figure how low will the government go to bring syed saddiq down with all these baseless rumors. it's pathetic to see.
…
Rais Hussin Retweeted Saddiq
My respect for you @SyedSaddiq just soared. Keep focussing on saving Malaysia and ignore paid mercenary noises.
..
Jawapan kpd UMNO/Najib Blogs: Saya tidak akan berhenti memperjuangkan kebenaran Walau tergadai nama baik sendiri.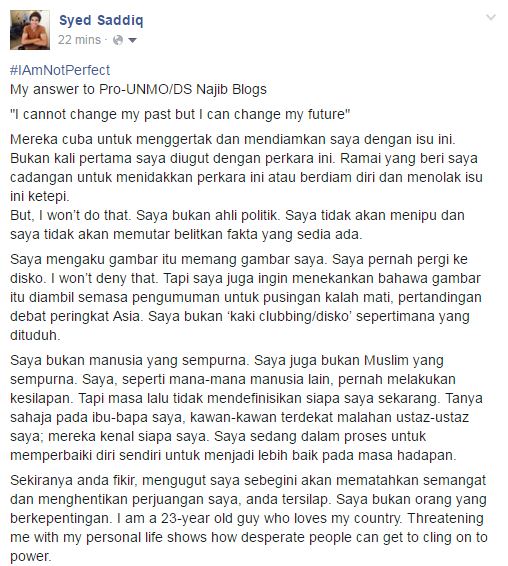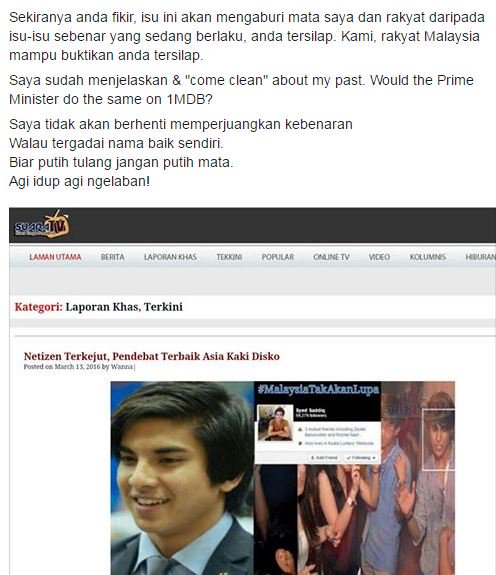 —
Debater comes clean over 'disco pic', dares Najib to follow
Under fire for his anti-Najib stance, Asia's top debater Syed Saddiq Syed Abdul Rahman today "came clean" over a picture of him apparently dancing in a club circulated by his critics.
…
Syed Saddiq heads the youth group Challenger and was among the 45 signatories of the Citizens Declaration which among others called for Prime Minister Najib Abdul Razak's resignation.
…
"Yes, that is me in the picture. I've been to a discotheque. I won't deny that.
…
"But I also want to stress that that picture was taken during the announcement of the sudden death round of the Asia debate competition.
…
"I'm not a clubbing/disco fiend as accused," he said on his Facebook page.
…
"I have explained and came clean about my past. Would the prime minister do the same on 1MDB?" he asked.
…
He also uploaded an article by blog Suara TV titled 'Netizens Terkejut Pendebat Terbaik Asia Kaki Disko' (Netizens shocked Asia's top debater is a clubbing fiend).
https://www.facebook.com/notes/malaysiakini/debater-comes-clean-over-disco-pic-dares-najib-to-follow/10153237120386486
—
"Jika dakwaan ini benar, saya adalah manusia yang paling sedih kerana cukai yang saya bayar di salah gunakan. Saya berharap pihak UIAM dapat menyiasat," katanya.
" if this charge is true, I am human most sad because the taxes I pay in wrong use. I hope parties uiam can investigate," He said.
Posted on March 13, 2016 by Wanna| KUALA LUMPUR – Rata-rata netizen terkejut dengan aktiviti liar pendebat terbaik asia yang didakwa sebagai 'kaki disko'. Menurut Dr Aznil Hisham, sebagai pembayar cukai beliau terkilan dengan…
—
Pelajar jurusan undang-undang Universiti Islam Antarabangsa (UIA) yang juga merupakan pendebat terbaik Asia itu melalui satu kenyataan yang dihantar kepada SuaraTV sebentar tadi mengakui gambar yang disebarkan itu adalah dirinya.
Students majoring in laws international Islamic University (Uia) which is also the best pendebat Asia it through a statement sent to suaratv briefly last admit that picture that is being poured herself.
Posted on March 13, 2016 by Editorial| KUALA LUMPUR – Ketua kumpulan Challenger, Syed Saddiq Syed Abdul Rahman 23 hari ini mengaku sebagai 'kaki disko' seperti yang didedahkan oleh sebuah blog sebelum ini. Pelajar jurusan…
—
2 March 2016
The group members claim to be politically non-partisan and say they are united against Najib's administration due to "gross mishandling" of the 1Malaysia Development Berhad (1MDB) crisis and investigations into the state-owned investment firm.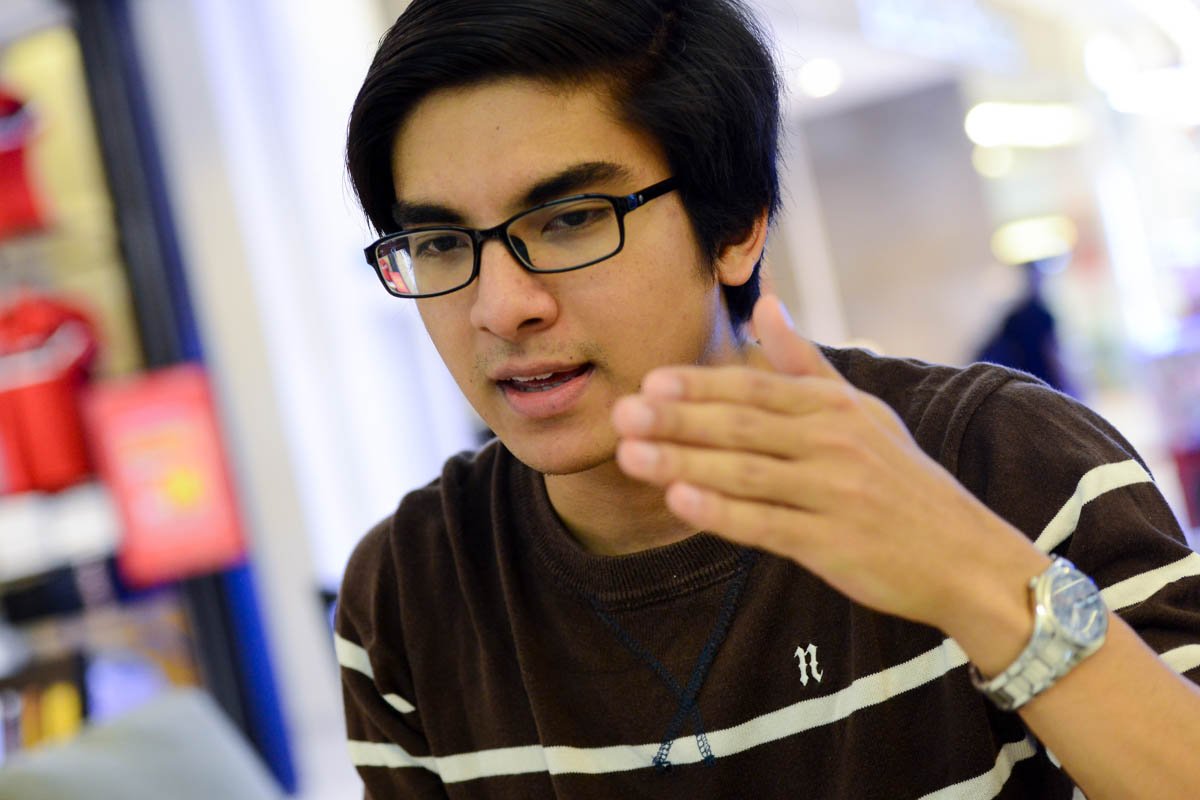 …
Asia's top debater forms new youth group, first statement is against Najib
Fed up with the government under Prime Minister Datuk Seri Najib Razak, Asia's top debater Syed Saddiq Syed Abdul Rahman and 24 other youths have put their names to a statement rejecting the current leadership.
They have also formed a group called "Challenger", which stands for "Change Led by the Young Generation" and have just launched their Facebook page.
The 25 comprise student representatives and youth leaders from various local and international universities, with Syed Saddiq as the spokesman.
"We have lost faith in Datuk Seri Najib and his allies, as their actions have jeopardised and will sacrifice the future of Malaysia.
"Our love for Malaysia is unparalleled. It is therefore our duty to speak up against those who seek to wreck our beloved country apart.
"We, the generation that will inherit the leadership of this country, have an obligation to save the future from the present," Syed Saddiq said in the statement posted on Challenger's Facebook page.
– See more at: http://www.themalaysianoutsider.com/malaysia/article/asias-top-debater-forms-new-youth-group-first-statement-is-against-najib?utm_source=dlvr.it&utm_medium=twitter#sthash.asXn6yVd.ADv3vlYv.dpuf
—