—
—
Star
6 February 2016 | MYT 1:14 PM
Cops arrest man who abused wife at toll plaza
BATU PAHAT: A 44-year-old man who was filmed physically abusing his wife by the road near a toll plaza here has been arrested.
Batu Pahat OCPD Asst Comm Din Ahmad said police arrested the man at his home in Taman Sri Kluang at around 7.30pm on Monday.
He said the arrest was made soon after a report was lodged over the incident.
ACP Din said the man admitted that he had used his shoe to hit his wife by the side of the road near the Ayer Hitam toll plaza "because she likes to nag".
http://www.thestar.com.my/news/nation/2016/02/16/cops-arrest-man-who-abused-wife-at-toll-plaza/
—
14 February 2016
網上流傳一名男子在峇株巴轄亞依淡收費站附近路邊,用鞋子痛毆女子的視頻,峇株巴轄警方已針對此事展開調查。  視頻前日(12日)被上載至數個面書專頁,受到網友瘋傳。視頻內
—

Berlaku tadi di Tol Air Hitam, Suami Pukul Isteri guna Kasut, Anak Perempuan Pertahankan Ibu
HENTIKAN KEGANASAN TERHADAP WANITA!Kiriman likers
Was that on the highway the water black, husband hit wife use shoes, girls keep it up mom
Stop violence against women!
The post likers
—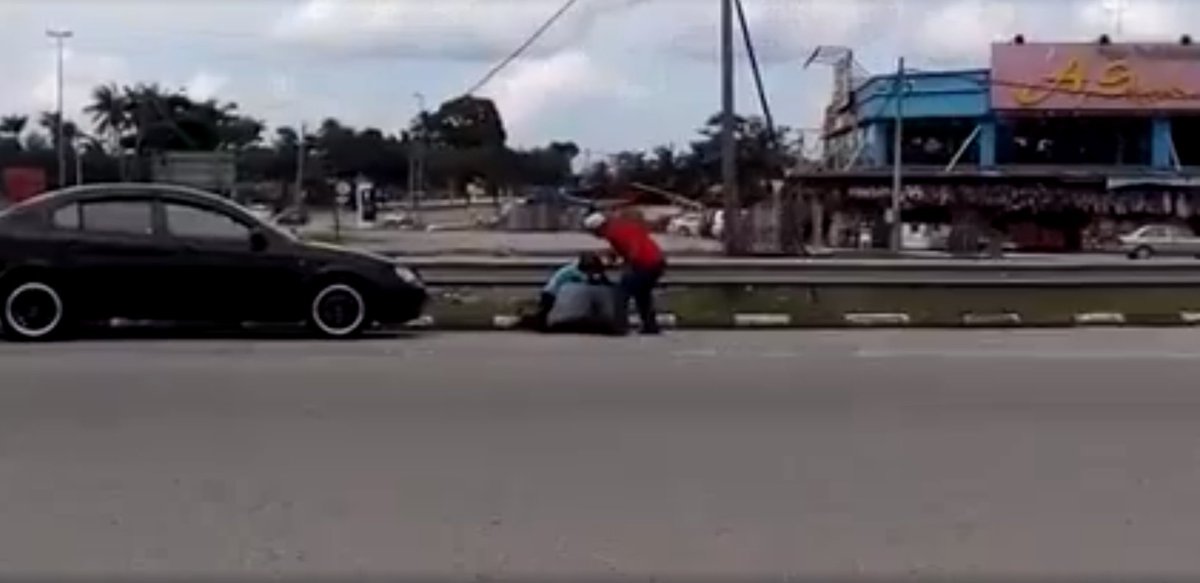 …
By Chua Bee Kim – 14 February 2016 @ 10:43 AM
JOHOR BARU: Netizens are pleading to those who had witnessed an incident involving a man hitting a woman, believed to be his wife, at the Air Hitam toll recently to lodge a police report.
The video was uploaded on several Facebook pages on Feb 12, and has since gone viral.
Also seen in the video was a teenager who was trying to shield the woman from the blows being rained down by the man. The teen is believed to be their daughter.
Facebook user Azarina Azman said the matter may have been a domestic dispute but asked "what if the woman who was being abused was a member of your family?"
Hazwati Hanapi said the deed was done in a public area, and wondered what other abuses the woman would have endured behind closed doors.
Hazwati appealed for a police report to be lodged so that police could take action against the perpetrator.
Read More : http://www.nst.com.my/news/2016/02/127351/air-hitam-toll-plaza-abuse-video-shocks-netizens
—