—
13 February 2016
Malaysiakini
'Chinese deity' costume saga: Emperor booby-trapped?
COMMENT Please tell me, prior to the beginning of the Chinese New Year how many of you know Cao Guojiu?
Wait, let me rephrase that more appropriately – how many of you "Chinese" know Cao Guojiu?
As a Chinese Malaysian myself, I have to admit I don't, well at least not prior to the start of this Monkey year.
And I dare bet you that 999 out of 1,000 Chinese in Malaysia, Singapore, Hong Kong, Macau and especially mainland China don't as well. Perhaps in Taiwan there may be more Chinese who knows who Cao Guojiu was.
Today we come to be informed of who Cao Guojiu was/is, but only because poor Mohd Khairuddin Othman of PAS, the state assemblyperson for Paya Jaras, Selangor, was seen dressed in a period costume allegedly that of Cao Guojiu.
Our dear Yang Berhormat had sportingly worn the costume in a Chinese New Year celebration, apparently on the encouragement of his constituents of Paya Jaras near Kepong, having been informed that the costume was that of a Chinese emperor.
Chinese members of his state constituency who told him so was probably acting in good faith (excuse the unintended pun), because … well, for answer/explanation … please refer to my queries above (at beginning of this article). His Chinese constituents were probably as clueless as me [grin].
But let us explore other possible reasons for his constituents unwittingly dunking the luckless though innocent YB into the hot Islamic soup like a Chinese kuih kapit.
—
12 February 2016
Malaysiakini
Better dress up as Saudi prince instead of Chinese deity
YOURSAY | 'All will be excited to see whether he gives ang pows the size of what Najib got.'
PAS rep in hot water for dressing like Chinese deity
SteveOh: There was an English planter in Malaya who was so loved by his Tamil plantation workers so after his death they made an effigy of the man and placed it among their other idols. In fact, according to the record, he was 'deified'.
The ancient Chinese also deified their 'heroes' but that ought not to detract from their historical, political and social roles.
The founders of some of today's religious practices would be horrified to know they are being 'worshipped' because it is the furthest thing from their minds.
I wonder what Confucius or Buddha would think of the temples erected to honour or even 'worship' them? The monkey and other common animals are worshipped as 'gods' so does that make those animals 'haram' or 'taboo'?
The PAS politician wasn't doing a religious enactment and those who pick on him have nothing better to do in their small-minded world. Some Malaysians live in Myopia and grope around in darkness still.
Indeed, the ancient Chinese worshipped the One-True-God 'Ti'.
Swipenter: Paya Jaras assemblyperson Mohd Khairuddin Othman should have dressed as a Saudi prince, and he would not face criticism from his party.
Dressing himself as a Chinese deity, it would be expected that all are excited to see whether he gives ang pows the size of what Najib got from the Saudi prince.
Open Minded: This nation is so divided in its thinking that today everything is viewed with suspicion and confusion. Gone are the days when everyone celebrated one another's festivities with gaiety and fun without a wink about our racial origin.
Victor Johan: Nothing to worry, Mr PAS leader. The Chinese Muslims in mainland China had worn such and it didn't make them lesser Muslims.
The Islamic faith initially came to this region through the Muslim traders and migrants from China, Gujarat, Sindh and Bengal, and not the nomadic sects from Arabia and the Middle East.
Oh Ya?: Khairuddin might have donned a costume resembling a Taoist God but he was not doing it for religious reasons.
If it is offensive to Islam, does it mean that no Muslims should work in the movie and theatrical industry unless it produces only Islamic movies and plays?
Should they be involved in computer graphics and animations? Why are the MPs, cabinet ministers and judges allowed to don their horrendously designed attires then?
What about the military, police, doctors and even new graduates that are donning attires of the colonial past during their ceremonies?
What about the elite's preference for imported, branded suits, ties, shoes, etc? What about Birkin handbags? Shouldn't they be asked to wear like PAS president Abdul Hadi Awang?
Dom Pit: Is wearing of jeans Islamic? Levis is founded by a Jew.
Just a Malaysian: When I was young, my father was part of the Chinese association that celebrates our Terengganu sultan's birthday. His team dressed up as four characters of 'Journey to the West' story, and walked on stilts.
I still remember upon reaching the Istana, the four characters bowed and paid their respect to our sultan, who in turn nodded in recognition of them. One of them is a pig character and no one felt offended.
I would imagine a riot by Perkasa, Ali Tinju or Pekida if that happens today. In fact, the same show went on for four birthdays of our beloved sultan.
https://www.malaysiakini.com/news/330107
—
9 February 2016
…
Malay Mail Online
After 'Caishen' costume row, Selangor PAS to draw up guidelines for participation in non-Muslim festivals
KUALA LUMPUR, Feb 9— Selangor PAS said today it will draw up guidelines to educate its members when participating in non-Muslim festivals, after a state leader dressed up as the Chinese god of prosperity for the Chinese New Year celebrations.
Selangor PAS Commissioner Datuk Iskandar Abdul Samad told Malay Mail Online that the Islamist party is in need of detailed guidelines on the culture and beliefs of the non-Muslim community as it currently only has a 'general policy' on the matter.
"An important lesson from this incident is that PAS leaders and members must understand the culture and faith of non-Muslims.
"Identify which one is a cultural celebration and which are religious ones. We live in one society and surely we must know about the culture and religion of our neighbours and friends," he said.
"I will instruct Selangor PAS Ulama Council and our National Unity Bureau to draw up the guidelines. This guideline is important for us in Selangor as we socialise with non-Muslim communities all the time," the PAS leader added.
Iskandar, who is also PAS vice-president stressed that the move is not a politically-motivated motive but solely to ensure continuous racial harmony in Selangor.
– See more at: http://www.themalaymailonline.com/malaysia/article/after-caishen-costume-row-selangor-pas-to-draw-up-guidelines-for-participat?utm_source=twitterfeed&utm_medium=twitter#sthash.IoDGm3lR.dpuf
—
Selangor PAS Secretary,Mohd Khairuddin Othman,wearing Chinese God of Prosperity dress.Is it wrong?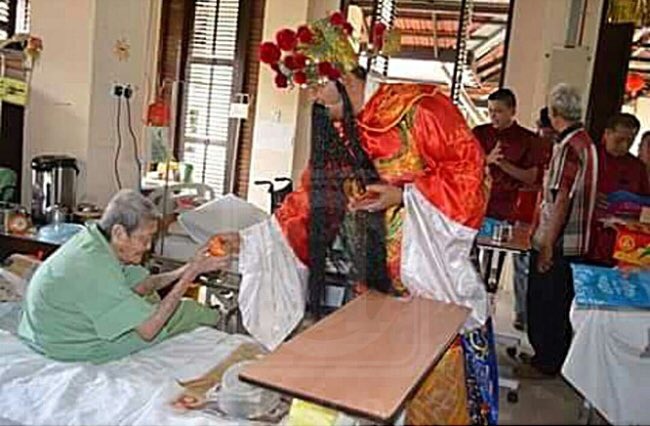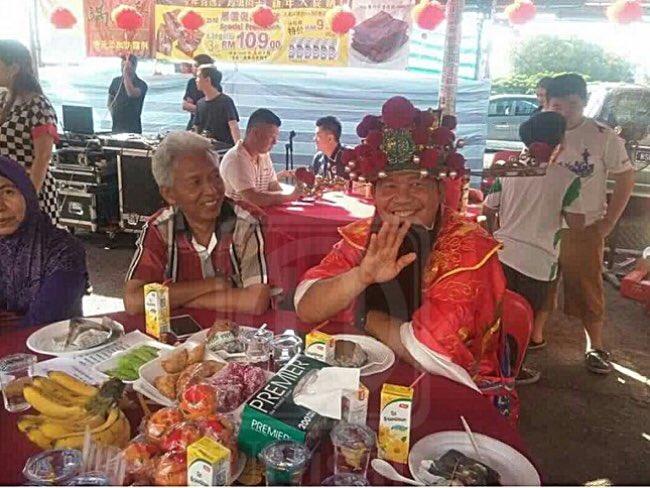 —
Malay Mail Online
Pictured in Chinese prosperity god outfit, PAS rep insists did nothing wrong
PAS' Mohd Khairuddin Othman (seated, fourth left) said he wore the Chinese God of Prosperity outfit in the spirit of the Chinese New Year celebration, and was not religious in nature. — Picture by Melissa Chi
…
KUALA LUMPUR, Feb 9 ― A PAS state assemblyman has admitted to dressing as the Chinese God of Prosperity for Chinese New Year celebration in Selangor, after photos of him in the outfit was distributed online yesterday.
According to a report in
Utusan Malaysia
today, Selangor PAS state secretary, Mohd Khairuddin Othman also said that he wore the costume in the spirit of the celebration deemed as cultural, and was not religious in nature.
"I am sure that the Chinese New Year is a celebration for the Chinese community. That is why the believe is that the costume is something cultural and has no relation to religion.
"As a means of being respectful to a cultural event by another race, I did not reject wearing it," he was quoted saying in the Malay daily.
The Paya Jaras assemblyman, however, reportedly sought forgiveness from Allah and all those who took offence with him over the costume.
He also reportedly said that his fate in PAS now rests with its senior leaders.
– See more at: http://www.themalaymailonline.com/malaysia/article/pictured-in-chinese-prosperity-god-outfit-pas-rep-insists-did-nothing-wrong?utm_source=twitterfeed&utm_medium=twitter#sthash.jl8Qqznq.dpuf
—
Malaysian Insider
Emperor's clothes sees Selangor rep in hot water with PAS ulama
Selangor PAS assemblyman Mohd Khairuddin Othman has apologised for wearing a Chinese emperor costume for Chinese New Year, saying he was unaware it resembled one of the eight immortals of the Tao pantheon, Cao Guojio.
He said he was prepared to face any action from the PAS central committee and the Shura Council for his mistake, party organ Harakahdaily reported.
He said local residents offered him the costume while he was attending a CNY celebration with the Tionghua community in Wangsa Permai, Kepong, and that he had accepted out of respect for their culture and event.
"I was confident that the Chinese New Year celebrations was a cultural celebration, that was why I thought the costume was cultural and had nothing to do with their religion," Khairuddin was quoted as saying.
The Paya Jaras assemblyman added that the Wangsa Permai residents' association had also told him the costume was that of a Chinese emperor.
"I leave it up to the central leadership to decide what to do with me. If I had erred in terms of religion, I seek Allah's forgiveness and apologise to all members and leaders of PAS, especially those in Selangor, for my mistake," said the Selangor PAS secretary.
– See more at: http://www.themalaysianinsider.com/malaysia/article/pas-rep-apologises-for-chinese-emperor-costume#sthash.pQ2f2oLf.dpuf
—
MOHON KEAMPUNAN DARI ALLAH
SHAH ALAM – Setiausaha Pas Selangor, Mohd Khairuddin Othman menjelaskan beliau tidak tahu menahu pakaian yang dikenakannya sewaktu menghadiri sebuah majlis Perayaan Tahun Baru Cina di Wangsa Permai menyerupai Dewa Cao Guo Jiu
Katanya, beliau mengenakan pakaian berkenaan selepas penduduk di situ memaklumkan ia adalah pakaian ala Maharaja China.
… See More
Beg forgiveness from Allah.
Shah Alam – Secretary Pas Selangor, Mohd Khairuddin Othman explain he doesn't know what he's wearing clothes while attending a celebration party Chinese new year sanjaya permai resembles gods cao guo jiu
He said, he was wearing an appropriate after residents there informed he is clothes ala emperor of China.
" it's my belief that a celebration of Chinese new year is in the shape of a celebration with the Chinese people that's why I believe that suit is not culture and he has to do with religion.
" as a respect the cultural council, I don't refuse to wear it," He said it again.
" I leave this issue to leadership center to disconnect my position. If I make mistake in terms of the law, I beg forgiveness from Allah, and I apologize if i offended anybody."
" I'm sure pas led by suburbia ulamak and they're expert in terms of the law in a plural society like Selangor. Whatever views later, I received "
Mohd Khairuddin Othman
8st of February 2016
—
Muhd Shah Ozil
Ahli PAS perlu berhemat dan berhati-hati.
Merujuk kepada kes yang melibatkan saudara Yb Khairuddin Othman yang memakai pakaian keagamaan berbentuk dewa yang disembah oleh masyarakat beragama Buddha dan kemudiannya mencetus pertikaian dikalangan awam ummat Islam adalah merupakan satu insiden yang mendukacitakan.
Namun Dewan Ulamak PAS pusat merasakan ianya berlaku bukanlah dengan tujuan melanggar batasan agama jauh sekali memperkecil serta mempersenda syariat Islam. Sebaliknya apa yang berlaku hanyalah kerana salah faham dan tidak mengamati kedudukan yang menyerupai bentuk amalan agama lain.
Oleh itu Dewan ulamak PAS mengharapkan kepada semua ahli-ahli PAS lebih berhemah dalam apa jua tingkahlaku yang membabitkan keagamaan agar ianya tidak menimbulkan permasalahan dan fitnah kepada semua agama yang wujud dalam negara kita tercinta ini.
Semoga kesilapan ini tidak akan berulang lagi dan kita harap segalanya diampunkan oleh Allah SWT.
Dato' Dr Nik Muhammad Zawawi bin Salleh.
Timbalan Ketua Dewan Ulamak PAS Pusat.
Expert pas need saving and be careful.
Referring to cases involving brothers yb khairuddin othman who wear clothes shaped religious gods worshipped a Buddhist society and then triggers infighting among public ummat Islam was the lest one incident.
However the council ulamak pas center feel it happens is not with the purpose of breaking religious boundaries far once used to minimize the harshness of Sharia. Otherwise what happens only misunderstood and do not observe the position that resembles the shape of practice other religions.
Therefore the council ulamak pas expecting to all the members of the pas bit more conscientious in whatever the religious tingkahlaku lead back so that it doesn't cause any problems and slander to all religions that exist in this our beloved country.
Hopefully this mess will not be repeated again and we hope everything pardoned by God Almighty.
Dato ' Dr Nik Muhammad bin zawawi salleh.
Deputy Chairman of the board of ulamak pas center.Automatically Translated
—