—
—
—
2 January 2016
Eunoia or 'ev-nee-ah'? JC principal explains why name was chosen
…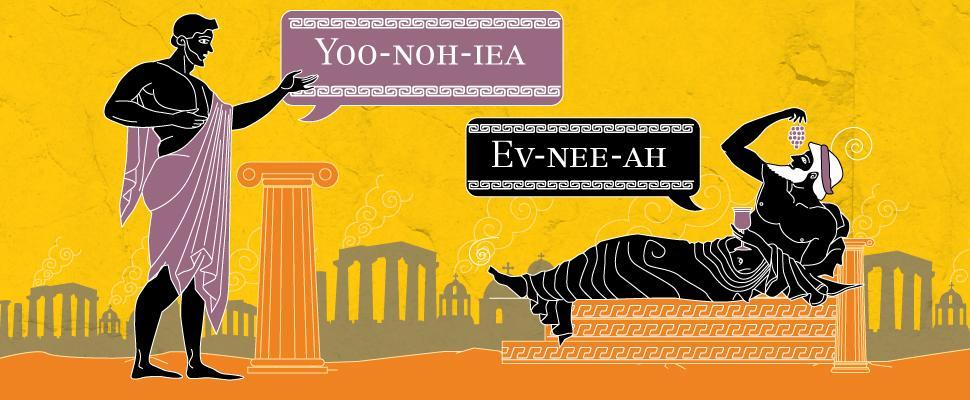 …
Jan 1, 2016 6:00am
It became the most searched term on Google.sg on Tuesday, after the announcement about Singapore's newest junior college, Eunoia JC.
The Ministry of Education (MOE) said the name was derived from a Greek word and pronounced as 'yoo-noh-iea'. Officials said it means "beautiful thinking and goodwill towards others".
But netizens were far from impressed. "Pretentious" was among the kinder adjectives used in online reaction to the news.
People have also started questioning the official version of its pronunciation and meaning.
..
Author and Greek national Kostas Ikonomopoulos, 39, said: "In the years before Christ, the word could have been pronounced slightly differently, but today, it is pronounced 'ev-nee-ah', with the first 'e' as in 'epic'."
Both he and a Greek and Latin teacher, Mr Tai Yu Hsiang, 36, who has his own language school here, noted that the meaning of the word means "favouring someone or extending goodwill to someone".
Mr Ikonomopoulos said:"It is very rarely used to mean just good thinking or a positive state of mind.
…
Eunoia JC principal Cheang Mei Heng explains why the name was chosen in an e-mail interview with The New Paper
…
I would say, most of the netizens have no negative intentions, just like we never had any ulterior intentions in naming our school – why would we want to do that?
Why would we want to be pretentious, or why would we deliberately want to cause confusion to taxi uncles?
We only had one single intention, and that is to have a name with a good meaning behind it.
…
—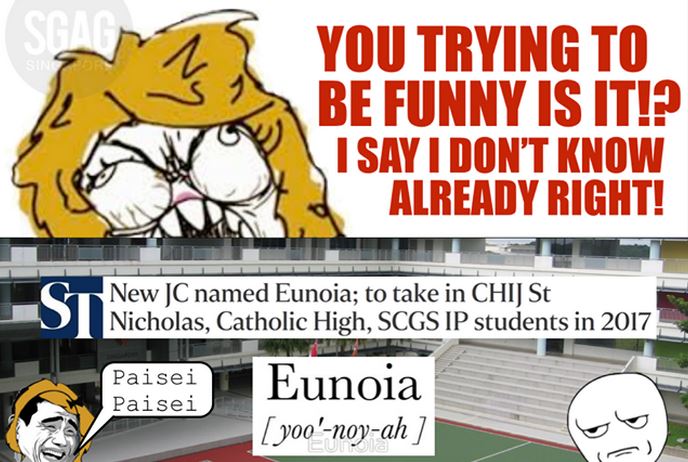 —
#ICYMI: 'Beautiful thinking' behind name of new #Eunoia JC http://bit.ly/1Pu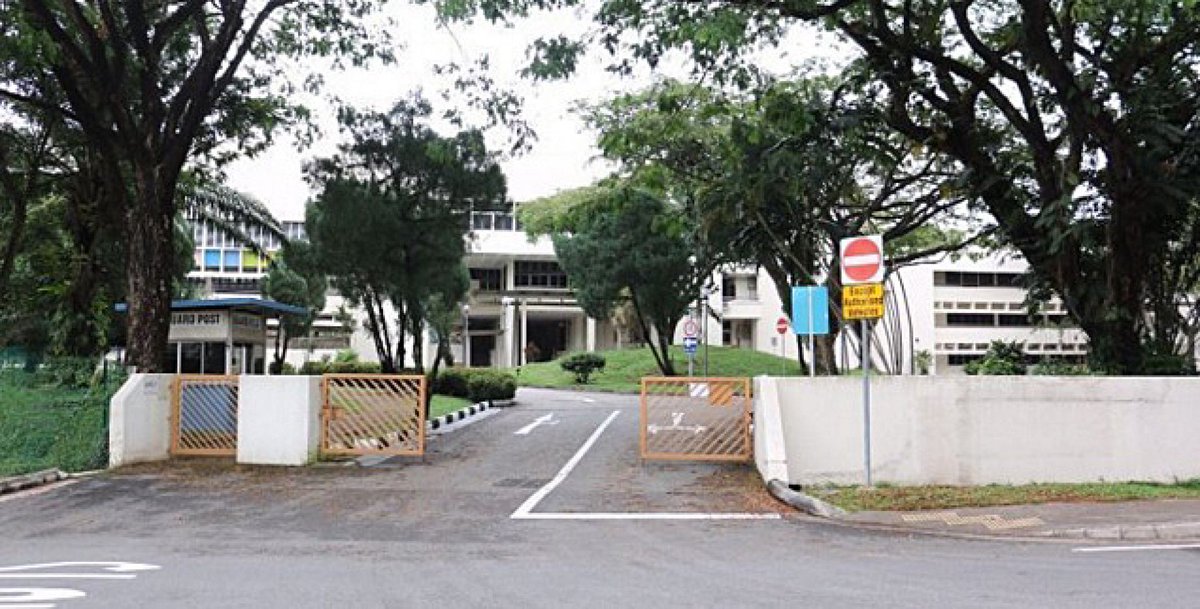 Thanks for your creative interpretations on how to pronounce the name of our newest JC – Eunoia.
You know ya, it's an English word which comes from the Greek word 'εὔνοια'. It means 'beautiful thinking'.
You know ya, it is not pronounced 'you-know-ya'.
It's pronounced 'yoo-noh-iea'.
So the next time someone asks you what the name of the new JC is, don't say you don't know, ya?
—
Singapore's newest JC is called Eunoia – you know, ya?
…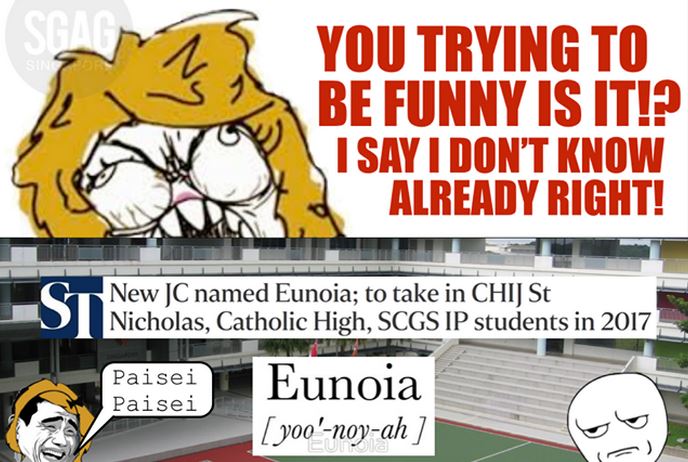 SINGAPORE – You know, ya? I don't know!
Eunoia, the name of Singapore's newest junior college, has generated much buzz – and a lot of head-scratching over how to pronounce the name – even before it opens in 2017.
It was the top Google search by users in Singapore on Tuesday (Dec 29), with more than 10,000 searches. There was even an online petition to change the name, which garnered more than 150 signatures before it was taken down on Wednesday.
…
On The Straits Times' Facebook page, the top comment – with over 500 likes – was a joke by user Yi Heng Teo on the conversation between a son and his mother discussing the JC's name.
http://www.straitstimes.com/singapore/education/singapores-newest-jc-is-called-eunoia-you-know-ya
—
So apparently the students will be called… Eunoians #Eunoia
—
Eunoia JC? Please rethink the name
BLOG: Eunoia JC? Please rethink the name http://str.sg/Zrf4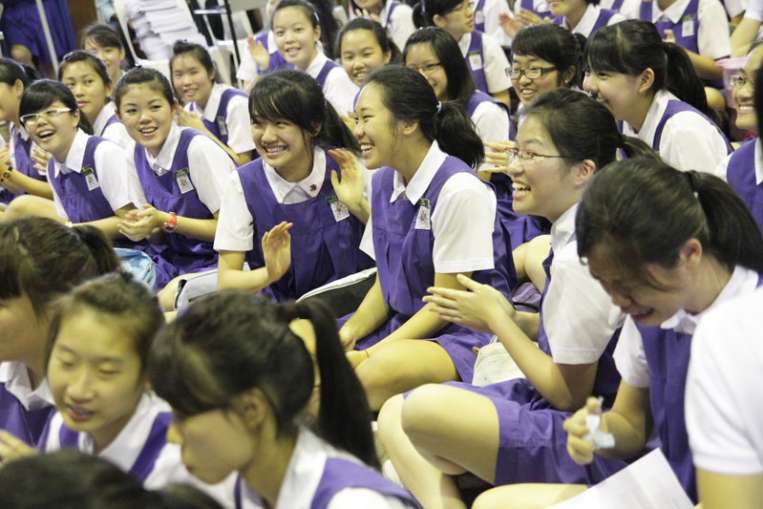 …
Is it me or are names of new schools in Singapore getting more pompous and ridiculous?
First it was Innova Junior College, now there is Eunoia. A name that will surely annoy ya.
And within 24 hours of its announcement, it already has.
Facebook and other social media platforms are exploding with negative comments, snarky remarks and cruel memes about the new name, and an online petition has been swiftly put up.
Anyone can see why.
To me, "eunoia" sounds like an awkward cross between "urine" and "ammonia".
I cannot fathom how it will be worked into a school song, seeing that it rhymes with "paranoia" and "euthanasia", which will probably be buzz words for the poor kids of the new junior college, which will take in Integrated Programme students from Catholic High School, CHIJ St Nicholas Girls' School and Singapore Chinese Girls' School.
That is, if they can even pronounce the damned word to start with.
For more:
http://www.straitstimes.com/singapore/education/eunoia-jc-please-rethink-the-name
—
So there's going to be a new junior college and it's name looks set to go viral. #singapore #eunoia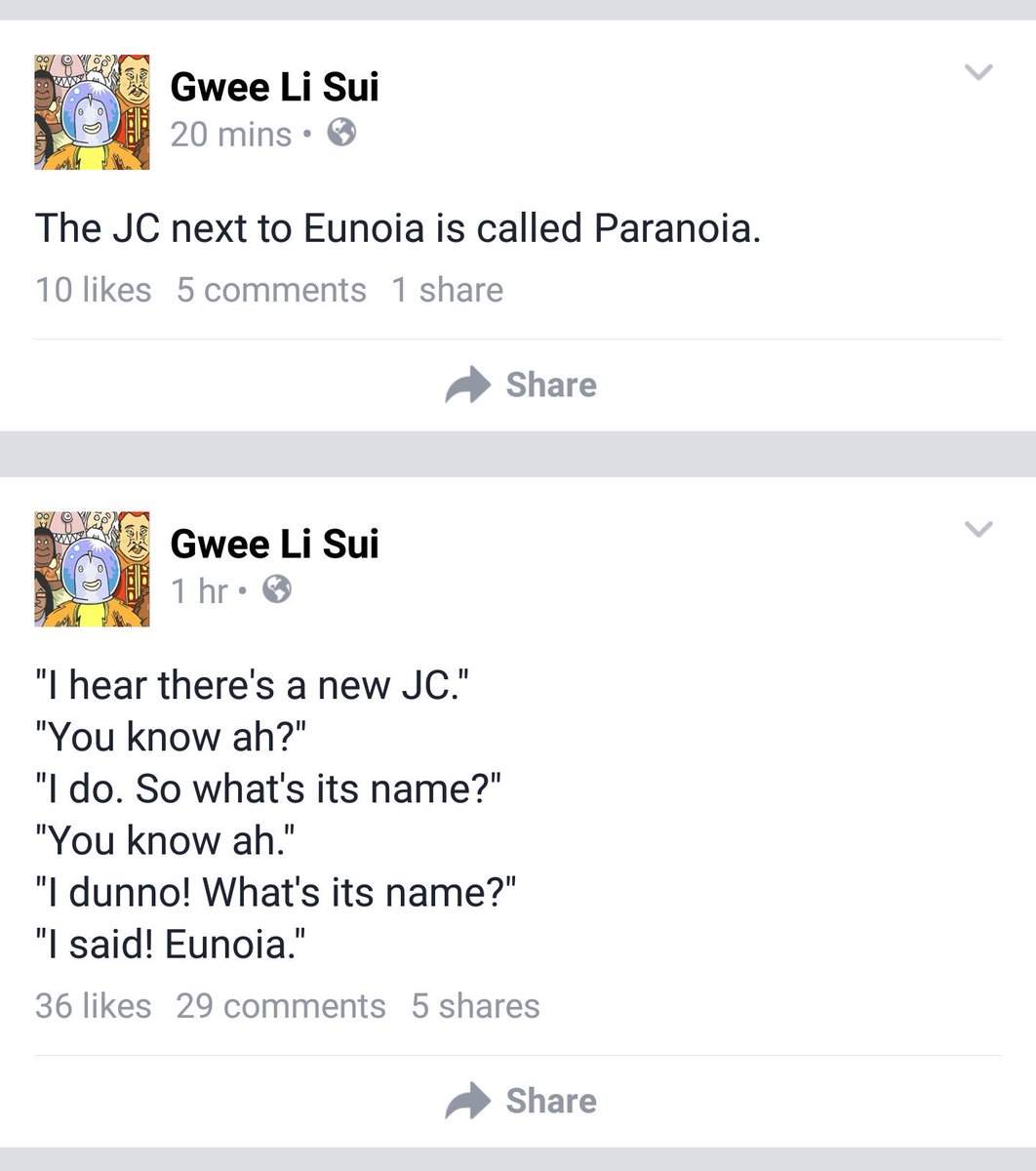 —
That there must have been a major committee deciding to brand a new junior college with a name that rhymes with 'you annoy ya'.. #eunoia
—