—
Thailand is a wonderful place to visit twice.
In the early 1970s, I was in a caravan of 2 Ford station wagons and 2 Volkswagen vans that drove all the way from Penang to Bangkok, and back. Those were the days where cars were nor air-conditioned.
Some years back, we visited Chiengmai, where my wife and I rode on an elephant.
I didn't really feel safe but the only mishap was my stepping into a deep pool of elephant dung.
—
—
Elephant kills its keeper and runs off into the jungle with tourist family-of-three still sat on its back in Thailand
Thailand's use of elephants as tourist attractions has come under fire yet again after an animal killed its keeper and ran off with a family still on its back during a jungle tour in Chiang Mai.
The elephant reportedly 'went berserk', during a group ride on Wednesday, attacking and killing its rider and taking off into the jungle with three terrified Chinese tourists, police said
The Chinese family, two parents and their young child, were rescued soon after as other elephant keepers came to the rescue.
…
Thailand's roughly 4,000 domesticated elephants outnumber an estimated 2,500 remaining in the wild.
Domestic elephants in Thailand – where the pachyderm is a national symbol – have been used en masse in the tourist trade since they found themselves unemployed in 1989 when logging was banned.
Accidents are not unheard of. In June an elephant killed a Thai man and injured another as they were eating dinner at a beachside restaurant. The pair had been talking to the animal's mahout when it suddenly flipped.
…
Elephant in Thailand goes berserk — killing keeper and running away with tourists on board http://goo.gl/Chme1j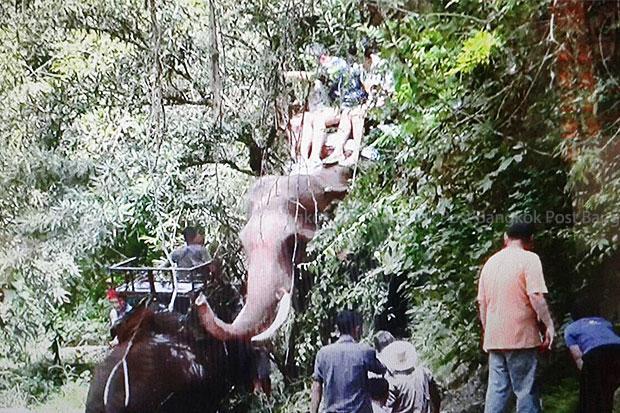 …
27 August 2015
Three tourists had the scare of their lives when the elephant they were sitting on in Thailand suddenly went crazy and killed its handler.
…
The father, mother and child were being taken for a ride in the river when the elephant became frenzied, trying to throw the tourists from its back. The mahout, Surachai, tried to control him, but the elephant attacked him, goring him to the ground with his tusks in a full view of tourists.
Police called to the scene found the lifeless body of  Surachai Daengphumpak. The 40-year-old mahout had been gored in the neck and left side of his chest, police said.
After the attack, the bull fled into the jungle, with the horrified Chinese family still on his back.
Authorities closed down the camp. Livestock officers and veterinarians were sent to search for the missing elephants and rescue the tourists.
Another mahout went searching in the jungle, and it took him an hour to calm the agitated elephant, and finally ride him back to camp.
The tourists were reported to be shaken but unhurt.
http://singaporeseen.stomp.com.sg/singaporeseen/this-urban-jungle/elephant-in-thailand-goes-berserk-killing-keeper-and-running-away-with-tourists-on#xtor=CS2-4
—