—
THEY CAUGHT HIM AND WHACKED HIM!
—
24  June 2015
Man who tried to kidnap 16-year-old girl caught and beaten by public in Malaysia http://bit.ly/1FsGdtV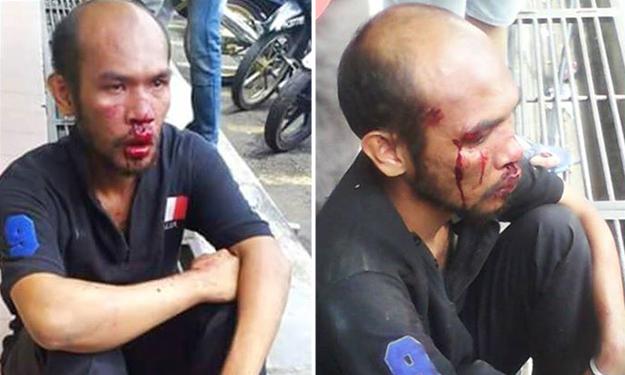 …
Swift action taken by a couple, both in their 40s, helped save their daughter from the possibility of getting kidnapped and molested or raped.
At 1.00pm on Wednesday, the couple heard their 16-year old daughter screaming as she was pulled by a man, in his 40s as well, into a lift.
A neighbour saw the girl's parents rush towards their daughter but found that the suspect had gotten away. They then ran down from the fifth floor of the Projek Perumahan Rakyat (PPR) Wangsa Sari flats in an attempt to chase the suspect.
http://singaporeseen.stomp.com.sg/singaporeseen/this-urban-jungle/man-who-tried-to-kidnap-16-year-old-girl-caught-and-beaten-by-public-in-malaysia#xtor=CS2-4
—
My Metro
Penculik botak
Oleh Mohamad Azim Fitri Abd Aziz
azimfitri@mediaprima.com.my
Kuala Lumpur: Tindakan pantas pasangan suami isteri menyelamatkan anak gadis mereka daripada dicabul dan diculik dua lelaki di flat Projek Perumahan Rakyat (PPR) Wangsa Sari, Wangsa Maju, di sini, semalam.
Dalam kejadian jam 1 petang semalam, pasangan suami isteri berusia 40-an itu terdengar jeritan anak gadis mereka berusia 16 tahun selepas mangsa ditarik seorang lelaki berusia 40-an ke dalam lif.
Saksi kejadian yang juga jiran mangsa berkata, ibu bapa mangsa berlari mendapatkan anak mereka sebelum mendapati suspek melarikan diri.
Menurutnya, mereka berlari menuruni tangga tingkat lima flat itu untuk mengejar suspek.
"Mereka berjaya mencekup suspek itu dengan bantuan orang ramai tidak jauh dari lokasi kediaman itu.
…
Suspek bertindak kasar dengan menarik kepala mangsa dan melakukan serangan seksual.
Suspek yang muncul menaiki motosikal bersama seorang lagi rakan kemudian cuba menarik mangsa ke dalam lif.
– See more at: http://www.hmetro.com.my/node/58445#sthash.A7JEau3c.dpuf
—
—