—
獨家/遊大馬遭誣陷偷內褲 警要「咖啡錢」逼和解
—
Jun 25, 2015

Malaysiakini
Bribe claim by Taiwanese tourists denied
Tourism Malaysia chairperson Wee Choo Keong has denied allegations that a police personnel had demanded a bribe from a Taiwanese tourist.
He said the incident had in fact involved a Malaysian Airport Holdings Berhad (MAHB) security guard, not the police, and that eyewitnesses had claimed that they did not hear any kind of demand for money.
Wee explained that the incident had taken place on June 16 at the Victoria's Secret outlet at the Penang International Airport.
The shop assistants there were suspicious about three Taiwanese tourists at the lingerie shop, he said, and had summoned MAHB's security team to assist.
"Upon questioning, the security personnel let the tourists go in absence of any evidence against them.
"The shop assistants has also verified that at the relevant time, they did not hear anything about monetary compensation," he was quoted as saying in Sin Chew Daily today.
http://www.malaysiakini.com/news/303056
—
Taiwan TV news report claims Malaysian cop demanded bribe from tourist over 'stolen panties' https://shar.es/1qWJCU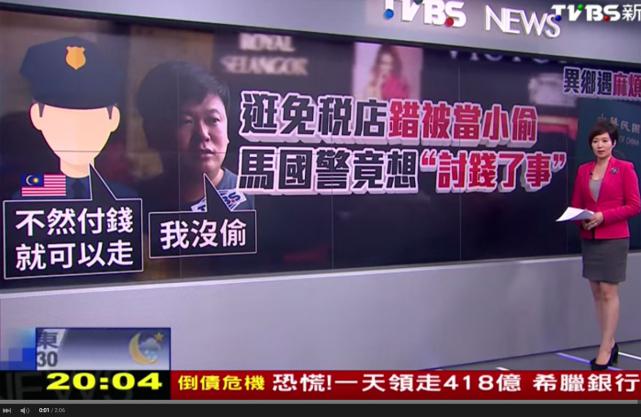 Nasty experience: A photo grab of a newscaster reporting about a Taiwanese tourist, known only as Yew (left), who allegedly had an encounter with police at a duty-free outlet of a Malaysian airport.
Photo: YOUTUBE
…
ALOR SETAR – A Taiwanese TV news report alleging that Malaysian police had demanded a bribe from a Taiwanese tourist has gone viral on social media.
The news broadcasted by Television Broadcasts Satellite (TVBS) on Monday reported that the man, identified only as Yew, was on vacation in Langkawi with his family, as well as 40 other compatriots, who were sports equipment dealers.
The report said that policemen approached Yew, in his 40s, when he was shopping in a duty-free outlet and accused him of stealing two panties, which he denied.
The broadcast said Yew had asked to view the shop's closed-circuit television camera recording but the policemen did not permit him.
In his interview with TVBS, Yew claimed he was asked by the men in blue to pay a sum of money to settle the issue.
Yew claimed the policemen told him, "You pay us the money for the two panties and we'll pretend as if it never happened".
Yew said he was however released after the shop owner cleared him of wrongdoing.
– See more at: http://news.asiaone.com/news/malaysia/taiwan-tv-news-report-claims-malaysian-cop-demanded-bribe-tourist#sthash.Znpf3Bno.5KPQ6SIm.dpuf
—
Star
Wednesday June 24, 2015 MYT 9:01:32 AM
TV news of tourist in sticky spot over stolen panties goes viral
When contacted, Langkawi acting OCPD Deputy Supt Jamil Ahmed shrugged off the news.
"Firstly, we do not have such a branded shop at the airport and none of the airport shops here sell undergarments.
"Policemen are also not stationed in the airport. Only members of the auxiliary police are on duty there," Supt Jamil said.
He said the incident could have taken place at the Kuala Lumpur International Airport as such a shop was mentioned in the Taiwanese TV report.
—
—
TVBS
…
運動用品經銷商游先生,日前跟著公司一起到馬來西亞旅遊,沒想到回程時在機場逛免稅店,突然被警察指控,他們涉嫌偷走兩件女用內褲,還扣押他的護照,要求他直接賠錢和解,但游先生堅持自己是清白,警察卻不讓他看監視器,雙方僵持直到最後,雖然店家還他們清白了,但差點害得40名團員都上不了飛機,事後他才知道,原來這就是當地俗稱用來賄賂警察的「咖啡錢」。
http://m.news.tvbs.com.tw/life/detail.html?s=news-604398
—–