—
QZ8501: WHAT HAPPENED? Why did it crash?
—
Chinese Blogger warned on Dec 15 that 'AirAsia would be targeted by black hand'!
—
Indonesian investigators said on Monday they had not found any evidence so far that terrorism was  involved in the crash of an AirAsia passenger jet last month that killed all 162 people on board.
Andreas Hananto told Reuters that his team of 10 investigators at the National Transportation Safety Committee had found "no threats" in the cockpit voice recordings to indicate foul play during AirAsia Flight QZ8501.
…
When asked if there was any evidence from the recording that terrorism was involved, Hananto said: "No. Because if there were terrorism, there would have been a threat of some kind."
"In that critical situation, the recording indicates that the pilot was busy with the handling of the plane."
Investigators said they had listened to the whole of the recording but transcribed only about half.
"We didn't hear any voice of other persons other than the pilots," said Nurcahyo Utomo, another investigator.
"We didn't hear any sounds of gunfire or explosions. For the time being, based on that, we can eliminate the possibility of terrorism."
– by Kanupriya Kapoor and Randy Fabi
http://www.kinibiz.com/story/corporate/136538/investigators-says-no-evidence-of-terrorism-in-airasia-crash.html
—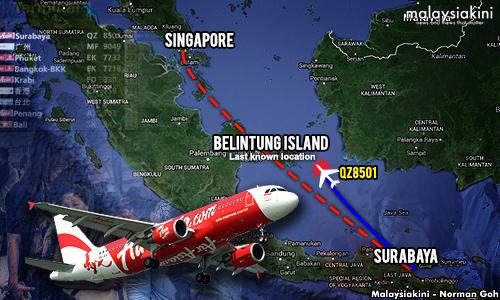 —
Blogger warned on Dec 15 that 'AirAsia would be targeted by black hand'
The apparent predictions have gone viral on social media and discussion forums such as Reddit (above), with some users expressing astonishment at the forewarning and others claiming it could be a hoax.
—
AirAsia Flight QZ8501 went missing on the morning of Sunday, 28 December 2014 while en route from Surabaya to Singapore.
—
MailOnline
Tuesday, Dec 30th 2014
Mysterious Chinese blogger sparks online frenzy after 'predicting' that 'black hand' was going to bring down AirAsia jet THIRTEEN days before one vanished.
A mysterious Chinese blogger has provoked a storm of speculation online over claims he predicted the disappearance of an AirAsia flight thirteen days before one vanished.
In a series of posts which have gone viral, the man appears to warn that the airline would be targeted by a shadowy group he calls the 'Black Hand' which he claims brought down Malaysian Airlines flights MH17 and MH370 earlier this year.
An AirAsia flight went missing yesterday with 162 people on board after losing contact en route from Surabaya in Indonesia to Singapore in the third crisis for a Malaysian carrier this year.
Since its disappearance, social media users have reacted with astonishment at the apparent prediction, while others claim the posts were probably just edited afterwards to make it look authentic.
…
In one comment on December 15, which has been loosely translated by a Reddit member, the blogger apparently warns: 'Black hand has hijacked and shot down MH370 and MH17.
'This has pretty much killed the sixth largest airline: Malaysian airline.
'Now the black hand are targeting AirAsia to ruin this airline cause (sic) it too belong to Malaysia.
'Given how powerful the black hand are I suggest that all Chinese thinking about travelling to avoid AirAisa, so that you don't disappear like those on MH370.'
…
Black Hand is a term believed to be a metaphor for a covert organisation or a number of underground groups.
…

Other reports suggested the blogger repeated his warning on December 16 and 17, adding: 'This is a major event in human life, we have to pay attention.'
…
But after December 17, there was no more activity on his account.
Since the disappearance of Flight 8051, many have reacted with astonishment at the apparent prediction, with speculation rife that he was a Chinese intelligence official or a hacker who had obtained information from the group allegedly responsible.
http://www.dailymail.co.uk/news/article-2890215/Mysterious-Chinese-blogger-sparks-online-frenzy-predicting-black-hand-going-bring-AirAsia-jet-THIRTEEN-days-one-vanished.html?ito=social-twitter_mailonline
—
Aol.
Bizarre Chinese forum posts may have predicted doomed AirAsia Flight QZ8501
By RYAN GORMAN
A rambling post two weeks ago to a Chinese forum predicting the downing of an AirAsia flight that was previously ignored has now come back into focus after Flight QZ8501 disappeared Sunday over the Java Sea.
The warning claimed a shadow organization referred to in Chinese as an "international black hand" was responsible for attacks on two Malaysian Airlines flights earlier this year and that an attack on AirAsia was imminent.
The post to Tianya, a Chinese version of Reddit, came two weeks ago and predicted dire consequences for anyone flying AirAsia.
"Black hand has hijacked and shot down MH370 and MH17," wrote the poster, according to a translation posted on Reddit. "Now the black hand are targeting AirAsia to ruin this airline cause it too belong to Malaysia."
…
The OP's real identity is not known. Almost 700,000 people have read the posts, according to MailOnline.
Some of them believe he is a Chinese intelligence official. Others feel he may have gone back and edited the original post to reflect AirAsia.
Jon Condra, a cybersecurity expert focused on East Asia, told AOL that the post does not appear to be edited.
"There are a lot of posts (as early as 12/15) in response to the OP referencing AirAsia, [which] leads me to believe he didn't edit," said Condra.
"There was an 11 day gap — last post on the 17th — and then they flared up again on the 28th after the reports about the plane with people expressing disbelief and asking how he knew," he continued.
Condra believes that the conspiracy theorist may have simply gotten lucky, but did agree the timing is remarkable.
The OP's account has not made a new post to Tianya since December 17.
http://www.aol.com/article/2014/12/29/bizarre-chinese-forum-posts-may-have-predicted-doomed-airasia-flight-qz8501/21122228/
—————————————————————————————————————