..
FMT Reporters -December 26, 2020 8:30 PM
PETALING JAYA: A human rights NGO has called for an inquest into the death of four suspected robbers who were shot by police after a chase in Sungai Buloh yesterday.
Malaysians Against Death Penalty and Torture (Madpet) said the killing of the four by the police ought to be independently investigated to determine if there was no wrongdoing involved.
"Madpet demands speedy independent investigations and inquiries into all 'police shot dead' incidents, which is necessary to clear doubts about police wrongdoings and/or abuse of power.
"An open inquest by a judicial officer should also be held for all such police shooting incidents. Madpet also urges police to arrest suspects, and try their very best to avoid killing them," it said in a statement.
Madpet pointed out that Article 11(1) of the Universal Declaration of Human Rights states that everyone charged with a penal offence has the right to be presumed innocent until proven guilty according to law in a public trial, at which he has all the guarantees necessary for his defence.
The NGO also said Section 15(2) of the Criminal Procedure Code states that if a person forcibly resists arrest or attempts to evade it, a police officer may use all means necessary to effect the arrest.
"The primary objective is to effect arrest, not to kill the suspects. Were the police shooting to effect arrest or to kill?
"Could they have not shot and injured these suspects, in their 20s, and arrested them? If one of the four suspects accidentally died, and the others were shot and arrested, it may be reasonable.
"But all four suspects were shot dead – and not even one was arrested or injured. So, no suspect can tell us their version of what happened."
The NGO also questioned a report by Bernama in which the police stated that the suspects were members of a masked robbery gang they were looking for, going on to ask why the suspects were not arrested or brought in for questioning prior to yesterday's alleged robbery.
Touching on the police's statement where they said the suspects were involved in 50 robberies in Selangor, and that several machetes, jewellery, cash, helmets and black clothes were found in their car, Madpet questioned whether such information was seen as justification for their deaths.
Stressing that past convictions of crimes is irrelevant in determining whether one is guilty of a new or different crime, the NGO said any determination of a person's guilt had to be done in court.
"Are the now reported 'beliefs' of the police true, or is it simply an attempted justification for the deaths?
"The dead, obviously, do not have the capacity to now defend (themselves) against these possibly 'false' allegations. Maybe an independent inquiry will reveal the truth.
"Would these deaths now mean that all cases like the '50 robberies in Selangor' are considered closed? Is it possible that the four were innocent, and the real perpetrators are still at large?"
Now that a trial had been avoided, it asked if this meant the police and prosecutors would be freed of having the burden of proving the guilt of the accused.
https://www.freemalaysiatoday.com/category/nation/2020/12/26/ngo-calls-for-inquest-into-killing-of-4-suspected-robbers-by-cops/
..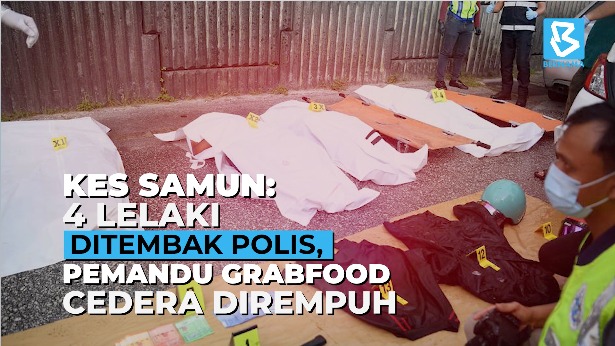 ..
..
..
Police shoot dead four suspected robbers who rammed into Grabfood rider while fleeing
Friday, 25 Dec 2020 08:20 PM MYT
SUNGAI BULOH, Dec 25 — Four men believed to have been involved in a robbery at a house in Rawang near here today, were shot dead by police while trying to escape.
Selangor Police acting chief Datuk Arjunaidi Mohamed said in the 1pm incident, a police team who received the information regarding the robbery had spotted a suspicious-looking Perodua Axia car and began tailing it to a road near Sungai Buloh Hospital.
The police ordered them to stop their car but they refused and sped off towards Jalan Kuala Selangor.
"The policemen gave a chase and as they caught up, the suspect's car rammed into a female GrabFood rider and dragged her for about a few metres.
After running into the rider, the car could not go forward. The driver tried to ram the rider again prompting the police to fire several shots at the suspect's car to save the victim," he told reporters at the scene.
Arjunaidi said one of the suspects got out of the car armed with a machete and the police had to fire a few more shots killing all the suspects at the scene.
Checks revealed that all the suspects, in their 20s, were members of a masked robbery gang that the police had been looking for.
"We believe all the suspects had been involved in more than 50 robberies in Selangor since the beginning of this year and two of them had criminal records.
"Inside the car, police found several machetes, jewellery, cash, some helmets and black clothes believed to be used by the suspects to carry out robbery," he said, adding that the case was being investigated under Section 307 of the Penal Code.
Asked about the condition of the GrabFood rider, Arjunaidi said the victim suffered injuries on several parts of her body and was taken to the Sungai Buloh Hospital for treatment. — Bernama
https://www.malaymail.com/news/malaysia/2020/12/25/police-shoot-dead-four-suspected-robbers-who-rammed-into-grabfood-rider-whi/1934918
..
..
..