..
New targeted petrol subsidy scheme shelved
The new targeted petrol subsidy scheme, which was supposed to kick off on Jan 1, 2020, has been suspended indefinitely.
In a statement today, Domestic Trade and Consumer Affairs Minister Saifuddin Nasution Ismail said the government needed more time to brief the public on the scheme.
He said more time was also needed for the M40 group to register as subsidy recipients. This was being handled by the Finance Ministry.
RON95 price has been capped at RM2.08 per litre since February while Putrajaya devised a new targeted subsidy scheme, promised in the Pakatan Harapan election manifesto.
Putrajaya has announced two separate schemes. The first is conducted by Saifuddin's ministry, which will subsidise those who are receiving Bantuan Sara Hidup cash handouts RM30 a month if they owned certain types of vehicles.
Another scheme involved the M40 group (RM4,000 monthly income and below) who will receive a "K95" card that will entitle them to RON95 petrol subsidy of 30 sen per litre, capped at 100 litres for cars and 40 litres for motorcycles.
This scheme is being handled by the Finance Ministry.
For either scheme, only cars with a 1600cc engine capacity or a car over 10 years old with an engine capacity above 1600cc are eligible.
As for motorbikes, only those which have an engine capacity of 150cc and below or are over seven years old with an engine capacity of 150cc and above are eligible.
https://www.malaysiakini.com/news/505359
..
December 30, 2019 @ 7:03pm
BUKIT MERTAJAM: The government will redouble efforts to provide more explanation to the people before the petrol subsidy programme (PSP) is implemented.
Domestic Trade and Consumer Affairs Minister Datuk Seri Saifuddin Nasution Ismail said they would continue to do so until the cabinet is satisfied that the people have fully grasped the government policy.
He said until such a time, everything would remain status quo — the people would continue to enjoy petrol price based on the current system.
Saifuddin also stressed that there was nothing wrong with the PSP.
"Since the cabinet felt that more explanation should be given for better understanding and preparation of the PSP implementation, we will continue to do just that. However, it is not only the responsibility of the ministry alone but the whole of the government's information machinery.
"People still have a misconception. Take for example when we announced that petrol prices will increase one sen every week from next year. They immediately equate it with 52 sen increase in a year, which is not the case at all.
"So, we will continue to engage with the people until they fully comprehend this good policy of the government. This is to ensure that there will be no issues when it is finally implemented.
"For now, the timeline remains open-ended," he said after the 'Back to School' programme at Mydin Hypermarket here today.
Earlier today, Saifuddin, in a statement, announced that the government was postponing the PSP to allow the Finance Ministry to fine tune its implementation mechanisms.
https://www.nst.com.my/news/nation/2019/12/552042/nothing-wrong-psp-ministry-explain-more-new-policy
..
malaysiakini.com
@malaysiakini
RON95 prices to go up one or two sen a week next year
PARLIAMENT | The government will be floating the price of RON95 petrol in stages once the targeted fuel subsidy scheme kicks off in January next year through a price increase of one or two sen a week.
According to Deputy Domestic Trade and Consumer Affairs Minister Chong Chieng Jen, this will be carried out until the price of RON95 petrol reaches market price.
"We will float the petrol price to reduce the people's cost of living and so that the prices of goods do not rise sharply.
"We will float the cost of RON95 in stages, one or two sen a week, until it reaches market price," he informed the Dewan Rakyat today.
Chong (photo) was responding to a supplementary question by Rubiah Wang (GPS – Kota Samarahan). The latter has asked the government to explain the mechanism in place to prevent rising costs of goods upon implementation of the targeted subsidy scheme in 2020.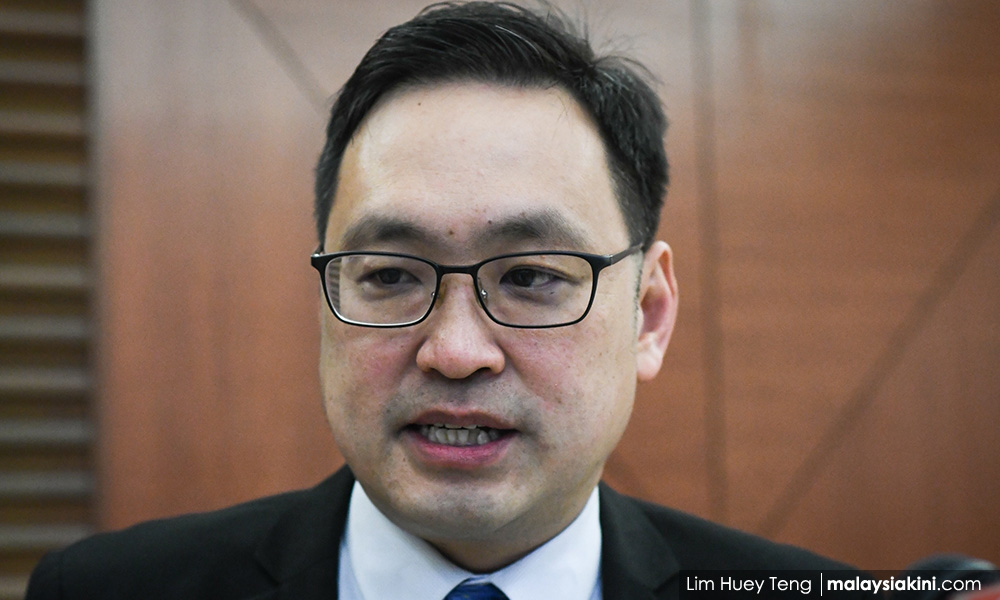 Prior to that, Domestic Trade and Consumer Affairs Minister Saifuddin Nasution said the scheme would only be implemented in Peninsular Malaysia, involving over 2.9 million users from the low-income (B40) group.
Those earning RM4,000 from the middle-income M40 group will also qualify for the subsidy with 'Kad 95' card system, he said.
Meanwhile, Chong also said a bulk subsidy scheme would be implemented in the case of Labuan, Sabah and Sarawak, with the cost of RON95 not exceeding RM2.08.
'The is after the government took into account the needs of the people who mostly use vehicles with large-capacity engines and diesel," he said.
On the control of prices of goods following RON95 float, Chong said his ministry would use the Price Control Act 1946 to ensure businesses do not take advantage of the float to reap excessive profits.
https://www.malaysiakini.com/news/501446
..