…
Penniless, Utusan, the oldest Malay newspaper, will not be laid to rest yet. The publications under the Utusan Group are Utusan Malaysia, Mingguan Malaysia, Kosmo!,and Kosmo! Ahad.

…
Anwar: Utusan's financial woes due to mismanagement, not Pakatan govt
KUALA LUMPUR, Aug 20 — Datuk Seri Anwar Ibrahim has chided Datuk Seri Najib Razak today for blaming the Pakatan Harapan (PH) government for Malay daily Utusan Malaysia's financial woes.
The PKR president said the former prime minister made the remark simply to score political points, explaining that the paper's situation today was due to its company's mismanagement.
"Their management issues were exacerbated somewhat due to change of government," he told reporters here.
Anwar was responding to Najib's remarks suggesting that Umno can help save the Malay daily if the PH administration unfreezes the party's bank accounts.
Najib's remarks came following news yesterday that the Malay daily would cease operations tomorrow after staff claimed their wages had not been paid for months.
"Najib just said that to score political points.
"Notwithstanding, I still maintain it is best if we could revive and help to save Utusan," Anwar said.
When asked if the government could intervene in the matter, Anwar said it is unlikely that the government will help a private company as it is not the government's responsibility.
"Utusan is a part of history, especially during the rise of the people during the fight for independence.
"Some people claim that Utusan was a mouthpiece for Umno… if its editorial decisions were for the country, people and current affairs, then it could have been saved.
"I wish for it to be saved because it will be sad if the Malay daily shut down," he said.
https://www.malaymail.com/news/malaysia/2019/08/20/anwar-utusans-financial-woes-due-to-mismanagement-not-pakatan-govt/1782518
..
KUALA LUMPUR (Aug 20): Utusan Melayu (Malaysia) Bhd will continue its operations by publishing two of its publications, Utusan Malaysia and Kosmo!. 
According to Utusan Malaysia's web portal, UtusanOnline, the group's chief executive officer Datuk Abd Aziz Sheikh Fadzir said operations will continue, despite the financial challenges the newspaper company is facing, particularly due to the shift of news landscape to social media.
He admitted that the Utusan Group had been assisted a lot by UMNO in the past, but said that the group now has to return to the reality of a media company's business model, after the political party lost favour in the 14th general election.
"It is not true that we are closing down (operations). Yes, we are having some problems, but we have plans to improve our business," he said.
The group has also decided to raise prices of its newspapers from RM1.50 to RM2.00 for Utusan Malaysia, and from RM1.00 to RM1.50 for Kosmo!, starting Friday (Aug 23).
Abd Aziz said he hopes Malaysians will continue to support the Utusan Group by purchasing its papers, despite the price increase.
https://www.theedgemarkets.com/article/utusan-ceo-says-company-not-ceasing-ops-utusan-malaysia-and-kosmo-continue-publishing
..
..
Utusan gets RM1.6m reprieve from Umno
The embattled news publisher Utusan Melayu Group has received an RM1.6 million cash injection from Umno, according to National Union of Journalists (NUJ) Utusan branch chairperson Taufek Abdul Razak…

He revealed that the reprieve enabled the publisher of Utusan Malaysia, Mingguan Malaysia, and Kosmo! to pay salary advances of up to RM2,000 to its staff tonight.
"You all know (Umno president) Ahmad Zahid Hamidi (photo, above) held a meeting with Utusan's board members.
"As a result of our picket yesterday, we received an injection of RM1.6 million from Umno," he told a press conference at the Utusan's headquarters Kuala Lumpur today.
Yesterday, some 100 current and former Utusan staff picketed at the Utusan headquarters to demand payment of their salaries, which they claimed had not been remitted for up to three months.
The staff were also told that print editions of Utusan and Kosmo! would cease publication until an undetermined date.
Following that, Utusan Group senior management had supposedly held a meeting with Zahid yesterday. When asked, however, Utusan group executive chairperson Abd Aziz Sheikh Fadzir declined to comment on the supposed meeting.
At a separate press conference, Aziz said Umno had never intervened in the paper's editorial matters since he had taken over.
He said Utusan Malaysia editorial staff are free to decide on the newspaper's direction and not side only with Umno and denied that the daily still has ties with Umno.
"I never received any calls from Zahid asking for certain reports to be published; not yet. We are free, and we want to bring a message of unity and that we are not racists," he said.
Utusan Group was previously owned by Umno.
In February, Umno, facing its own financial woes, sold a 31.61 percent stake to Aziz, who is the former Kulim-Bandar Baharu MP.
The stake was sold for RM6.65 million, representing a 65.2 percent premium.
https://www.malaysiakini.com/news/488788
…
PETALING JAYA: Utusan, the oldest Malay newspaper, will be laid to rest on Wednesday (Aug 21), after a sustained period of financial uncertainty.
All publications under the Utusan Group – Utusan Malaysia, Mingguan Malaysia, Kosmo!,and Kosmo! Ahad – will cease all print and online publications.
Utusan Malaysia's National Union of Journalists (NUJ) chief Taufek Razak said that executive chairman Datuk Abd Aziz Sheikh Fadzir admitted that the company is penniless.
The sad news was communicated at a meeting between staff representatives and Human Resources Ministry personnel earlier on Monday (Aug 19).
"We were told that the company has no money left to pay the staff or operate the business any longer," said Taufek.
The decision was made by the board of directors at a meeting earlier on Monday, and sources said that the closure will be finalised once the group is de-listed from Bursa Malaysia.
The Utusan Group has not paid its staff any salaries since June. Even before this, it had repeatedly delayed salary payments.
Salaries for executive staff were also delayed for two months, with the last partial payment of RM2,000 being paid in June.
This despite it having initiated a voluntary separation scheme (VSS) that saw its staff cut from 1,400 to 823, but even VSS payments have been delayed.
Read more at https://www.thestar.com.my/news/nation/2019/08/19/utusan-malaysias-oldest-newspaper-and-kosmo-to-cease-publication#wFdIoKfQxkJs1GdR.99
..
..
Umno politicians 'helped by Utusan' betrayed staff – MTUC
The Malaysian Trades Union Congress (MTUC) today lambasted Umno politicians who have allegedly ignored the plight of Utusan Malaysia's staff despite having benefited from the Malay daily's coverage since its inception.
Its secretary-general J Solomon (above) said the management led by Umno's former Kulim-Bandar Baharu MP Abdul Aziz Sheikh Fadzir must take responsibility to settle outstanding salaries and severance payments for the last three months.
"There is not enough effort put in by the Utusan management to find a resolution to date," said Solomon, who was present during a picket by about 100 staff and former staff outside the daily's headquarters in Kuala Lumpur this afternoon.
"It is unfortunate how Utusan staff have been working for the politicians for almost 80 over years. In the last 80 years, they have made many politicians rich, they have protected many politicians in having their positions in the last 80 years.
"But in the last one year, whatever effort that has been put in by the workers for the wellbeing of the politicians, they have now betrayed the trust of the workers," he added.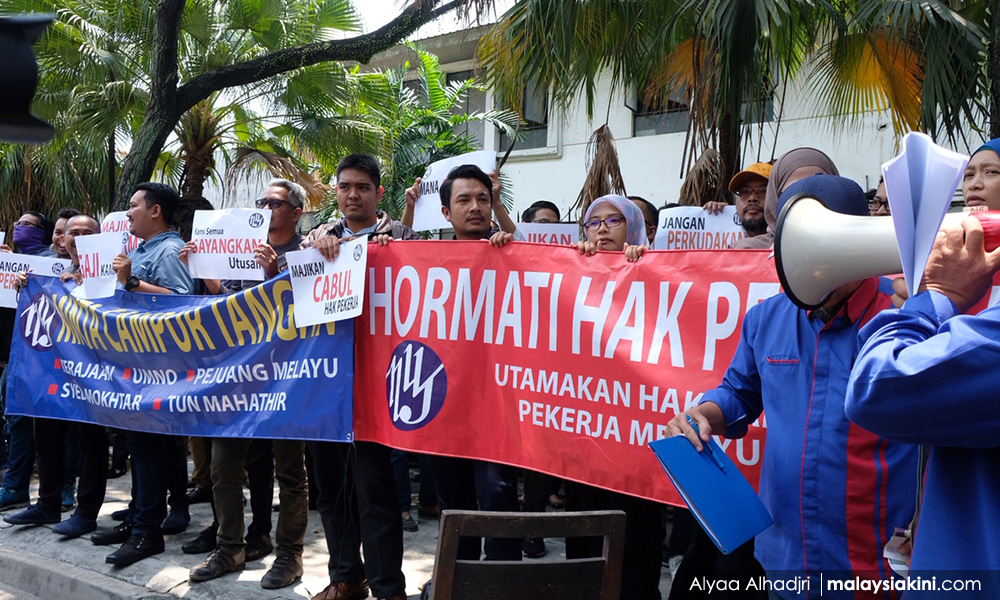 Solomon further noted that attempts by Utusan to raise money through selling its assets have so far been unsuccessful.
"We find it very difficult to believe that story (of having no money) because they have properties with them, and they can actually sell some of the properties. Even if they can't sell the properties, they must actually find a way to mortgage the properties," he stressed.
"At least pay the salaries of the workers involved, because the idea of selling properties has been conveyed by the management to the union for the last one year.
"So you can't say you have difficulties in selling the various properties in the last one year," said Solomon, who also urged the Malay daily to revamp its editorial board as a way to restore confidence.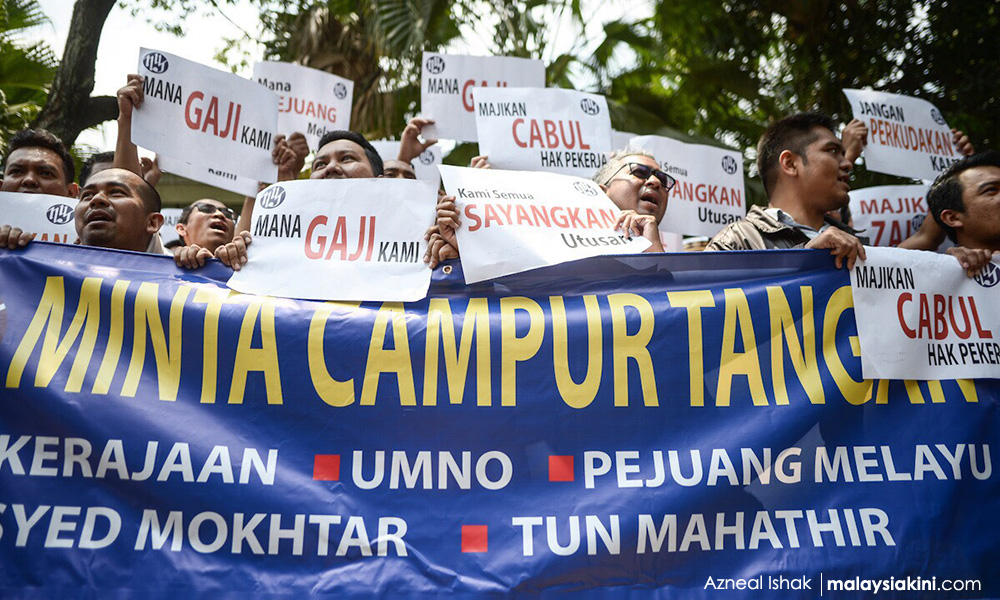 At the same time, he stressed that Utusan journalists should not be blamed for their current predicament as they were merely taking orders from the editorial board controlled by politicians.
Also present during the picket led by National Union of Journalists Malaysia (NUJM) Utusan branch was NUJ's central exco secretary-general Chin Sung Chiew, who congratulated the staff for their spirit to fight for their rights.
Amid chants demanding for their salaries, some of the Utusan staff were heard challenging more of their colleagues, particularly the non-unionised staff at executive levels, to similarly voice their unhappiness towards the management.
The picket lasted for one hour and ended at 2pm with all working staff returning to their duties.
https://www.malaysiakini.com/news/488598210
…
…