…
Semenyih
By-election:   March 2
Nomination: Feb 16
…
.
Selangor is not The Cameron Highlands.
…
GE 14 RESULTS
1. PH (PPBM)  23,428
2. BN (Umno)  14,464
3. PAS                  6,966    
PH (PPBM)               23,428
BN (Umno) + PAS   21,424

..
6 February 2019
..
malaysiakini.com @malaysiakini
Semenyih will be the Waterloo of Najib, Umno and PAS
Opinion  |  Phar Kim Beng
Published:
COMMENT | At 68 percent, Malay voters form the bulk of the voters in Semenyih. With sentiments running high that Pakatan Harapan hasn't delivered on many of its election promises after eight months in office, chances are rife that the coalition may yet bite the dust again as it did in the Cameron Highlands by-election.
After all, Harapan lost badly in Sungai Koyan, which has the highest concentration of Felda settlers in Cameron Highlands. Now, this is where an analyst must not confuse the woods for the trees.
Polls after polls suggest that the Malay sentiment is swinging against Harapan. Now, would this be Malay Malays or Felda Malays? The two are not necessarily the same.
.
Semenyih has Malays but no Felda settlers. All 68 percent of the Malays there are completely aware that the state of the broken economy is due to gross negligence by the previous administration.
Even the Malaysian campus of the University of Nottingham, which sits smack in the middle of Semenyih, has not been able to become a catalyst for the district. Not even after the Selayang-Kepong highway was built.
The Malay vote, for the lack of a better term, is up for grabs. If Harapan can defeat Umno and PAS in Semenyih, the impact will be no less lethal than the blows against the two delivered on May 9, 2018.
Boiling point
Why? By next week, the criminal trial of Najib Abdul Razak would have begun. The constant smirking and trolls, all of which are attempts to defray any sense of guilt, will be enough to put the Malay voters in Semenyih off. Najib would be a blight and curse in Semenyih as the voters there are more urbane and sophisticated.
Second, why should Umno and PAS believe that Malay voters in Semenyih are vulnerable to their unique brand of Malay-Islam rhetoric? The key issue of the day is deliverables. Jobs and growth.
If Umno and PAS cannot deliver (which was why they were kicked out in the first place), it stretches the mind that they can turn the tables against Harapan in an area just a stone's throw away from Putrajaya.
How exactly are they going to do that? Just merge and squeeze every ounce from the Malay and Islamic votes? An impossible feat as Semenyih voters are far savvier.
Besides, PAS has already indirectly admitted to the RM90 million payout from Umno, as highlighted by the Sarawak Report article. The article remains in good standing. The shenanigans of Abdul Hadi Awang have reached a boiling point. The Malays know that Hadi is severely tainted.
Umno, contrary to many pundits' comments, seems to be seen as clean. Najib Abdul Razak and Ahmad Zahid Hamidi are no longer on the party scene.
Come the Semenyih by-election on March 2, they will again be there doing their speeches and doing their walkabouts. That's when the voters will begin to gossip of their treachery. Najib and Zahid, once again, will be the albatrosses around the necks of Umno and PAS.
Even if they are not there, Harapan will be there to remind the voters of a criminal breach of trust on an astronomical scale.
---
PHAR KIM BENG is a multiple award-winning head teaching fellow on China and the Cultural Revolution at Harvard University.
The views expressed here are those of the author/contributor and do not necessarily represent the views of Malaysiakini.
https://www.malaysiakini.com/columns/462919
..
malaysiakini.com 
@malaysiakini
Analysts: 'Uncle Kentang' won't split votes in Semenyih
SEMENYIH POLLS | The popularity of social activist Kuan Chee Heng on social media will not split votes in the Semenyih by-election, say analysts.
According to political scientist Mohd Azizuddin Mohd Sani of Universiti Utara Malaysia, independent candidates are rarely favourites – unless they are persons of note who can convince voters that they will bring about change.
"I think there will be no big impact, very little. Maybe no impact at all. Independent candidates do not have a place in Malaysian politics.
"If we look at history, victorious independent candidates were those who were already well-known and had previously served the constituency. Meaning that they are famous figures.
"Not all social media users are voters. And most importantly, do the voters in Semenyih see him (Kuan) as an important figure who can bring change and contribute to the people there? I don't see that happening," he told Malaysiakini today.
Azizuddin was commenting on media reports that Kuan – popularly known as 'Uncle Kentang' among those familiar with his charitable efforts – will be contesting in the March 2 polls for the Selangor state seat.
The activist is known in several parts of the Klang Valley for providing '10-sen ambulance' and '10-sen taxi' services, as well as a free hearse service to those in need.
Kuan has promised that if he wins, he would not take a single sen from his assemblyperson's salary, but would instead use the money to help the people of Semenyih.
'Inclined to political parties'
Political analyst B Anbumani echoed the sentiment when contacted by Malaysiakini, saying that Malaysians at present are more inclined to vote for candidates from the two main coalitions, Pakatan Harapan and BN.
"(Only) when the people have reached a certain level of awareness, will they evaluate candidates based on their ability to provide better service. Then it will be a different story.
"Today, it still looks like voters are inclined towards political parties."
https://www.malaysiakini.com/news/462969
…
東方網OrientalDaily 
@ODNMalaysia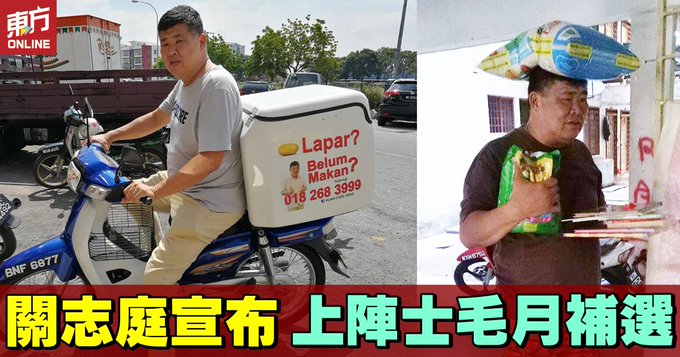 ..
The party's central committee member, S Arutchelvan, says the party wants to offer voters an alternative to PPBM and Umno, which he says are 'of the same DNA'.
#psm
#sarutchelvan
PSM to stand in Semenyih, candidate to be known next week
The party's central committee member, S Arutchelvan, says the party wants to offer voters an alternative to PPBM and Umno, which he says are 'of the same DNA'.
PETALING JAYA: PSM today confirmed it will contest next month in the Semenyih by-election, which is likely to be another multi-cornered fight.
The party's central committee member, S Arutchelvan, said they will name the candidate on Feb 13.
"The party decided to contest for the seat on Sunday," he told FMT.
.
In the 14th general election, Bakhtiar defeated BN, PAS and PSM in a four-cornered fight, obtaining a majority of 8,964 votes. He garnered 23,428 votes.
Arutchelvan, who vied for the seat in the May 9 polls, said the party wanted to offer the voters in Semenyih an alternative to PPBM and Umno.
"PPBM and Umno are of the same DNA.
"And this is our chance to introduce some of our policies," he said, adding that they intend to campaign on issues revolving around housing and contract workers.
https://www.freemalaysiatoday.com/category/nation/2019/02/05/psm-to-stand-in-semenyih-candidate-to-be-known-next-week/
…
5 February 2019
'10-sen man' Kuan to contest Semenyih by-election
PETALING JAYA: The Malaysian Society of Community Policing (CP) president Kuan Chee Heng, better known as "Uncle Kentang" or even the "10-sen man", will contest as an independent candidate in the upcoming Semenyih by-election.
According to Sinar Harian, Kuan made the decision for the "future of Semenyih's children".
He added that he would implement several initiatives in Semenyih as was done in the Puchong area if he is elected, the Malay daily reported.
"I see that Semenyih's children need basic services like 'Taxi 10 sen', hearses and ambulances as the area is located quite far from the Kajang Hospital.
"At the moment, there are no Semenyih buses travelling from the village area to a hospital. I think we need to help the residents of Semenyih," he told Sinar Harian at a Chinese New Year celebration at his residence on Tuesday (Feb 5).
He said he was disappointed that many candidates who made many promises in previous by-elections went "missing" after the by-elections and ignored voters.
Kuan was in the police force from 1986 to 1991 before leaving to become a florist for 18 years.
…
4 February 2019
..
Race and religion. PAS and Umno MUST play up race and religion to try to recover Malay votes lost to PH Bersatu.
Particularly now, with the 90 million ringgit Man and Najib…
…
Umno: BN tailoring strategy for Semenyih
---
PETALING JAYA: Barisan Nasional will bring the "spirit of the Cameron Highlands by-election" to Semenyih.
But the strategy will be different this time as it is a different playing field, said Selangor Umno liaison committee chairman Datuk Seri Ismail Sabri Yaakob.
He also said the Barisan candidate should be a local and must be accepted by all segments of voters in Semenyih.
"Cameron Highlands is purely rural, but the Semenyih state constituency has three segments of voters – rural, semi-urban and urban. So, the strategy will be based on the segments.
"We have shortlisted a few potential candidates. The candidate chosen must be acceptable to Umno and PAS.
"But most importantly, he or she must be accepted by the people of Semenyih."
He also said he does not think the non-Malay voters would shy away just because PAS will be using its machinery to fish for votes for the Barisan candidate.
"Semenyih non-Malay voters did support PAS before when the party was in the coalition with other parties in Pakatan Harapan," he added.
He said although Barisan is now the opposition, its main offer to the voters is to provide checks and balances in the Selangor state assembly and to pressure the Pakatan government to walk its talk.
…
Quote Tweet
Tahniah Tuan Guru Hadi Awang menang saman fitnah dana RM90 juta terhadap Sarawak Report! #MaluApaBossKu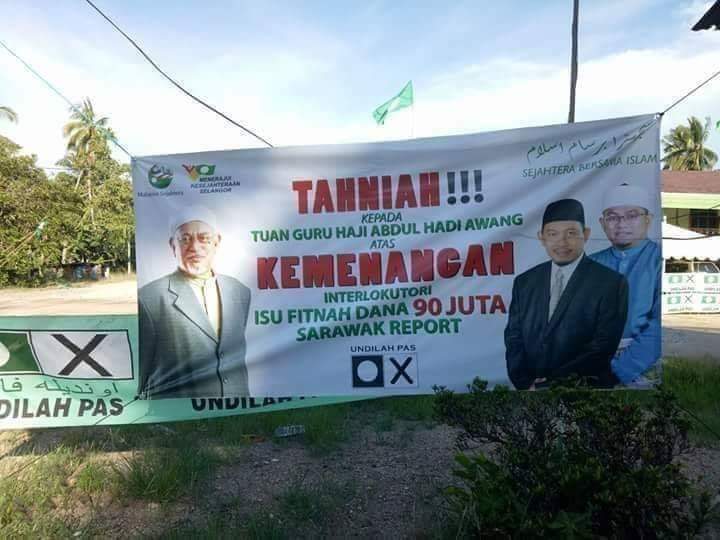 ..
All is fair (dirty) in politics. For a while now,
@NajibRazak 
had been trolling. Let's see how this insinuation of guilt affects his trolling. But then, Langkawi offers the possibility of escape…
Quote Tweet
#NSTnation
"It's unfair for
#Pas
to be continuously attacked and slandered on this issue," he said via his
#Facebook
today.
nst.com.my/news/nation/20…
…

#NSTnation
"It's unfair for
#Pas
to be continuously attacked and slandered on this issue," he said via his
#Facebook
today.
Najib: I never paid RM90 million to Hadi or Pas
KUALA LUMPUR: Former Prime Minister Datuk Seri Najib Razak stressed that he never paid RM90 million to Pas or its President Datuk Seri Abdul Hadi Awang, as claimed by Sarawak Report.
KUALA LUMPUR: Former Prime Minister Datuk Seri Najib Razak stressed that he never paid RM90 million to Pas or its President Datuk Seri Abdul Hadi Awang, as claimed by Sarawak Report.
Najib also defended Pas which has been under attack from various parties following Abdul Hadi's decision to withdraw the defamation suit against Sarawak Report editor, Clare Rewcastle-Brown.
Najib said the alleged transaction made to gain Pas' support towards Umno could not be proven by Pakatan Harapan which has been investigating his account since the 14th general election.
"I never paid RM90 million to Abdul Hadi or Pas. Mind you that the authorities under PH have conducted thorough investigations on my and Umno's accounts since the 14th general election, which has been almost nine months.
"If there was any payment from me or Umno, I'm sure PH would take the opportunity to freeze Pas' or its president's accounts.
"It's unfair for Pas to be continuously attacked and slandered on this issue," he said via his Facebook today.
https://www.nst.com.my/news/nation/2019/02/457124/najib-i-never-paid-rm90-million-hadi-or-pas
…
Bakhtiar Mohd Nor (PH – PPBM)
Johan Abd Aziz (BN – UMNO)
Mad Shahmidur Mat Kosim (PAS)
Arutchelvan Subramaniams (PSM)
Registered voters: 53,257
Majority: 8,964
Spoilt votes: 366
Unreturned votes: 0
Voter Turnout: 36,572 (68.7%)
Demographics
Malay 67.71%; Chinese 16.69%; Indian 13.73%; B/P Sabah 0.32%; B/P Sarawak 0.23%; Orang Asli (Pen. Msia) 0.54%; Others 0.77%
Incumbent: Johan Abd Aziz
Read more at https://election.thestar.com.my/selangor.html#fCoXWbvJ7KkLTw2E.99
…
2 February 2019
..
PUTRAJAYA – Tun Dr Mahathir Mohamad remains confident Pakatan Harapan (PH) will win the Semenyih by-election, despite the recent defeat in Cameron Highlands.
The PH chairman, who is also the prime minister, said the ruling coalition could secure the Selangor state seat unless Umno and Pas came up with something 'luar biasa' (extraordinary).
"We know the 'kafir' (infidel) Umno and Pas are working together," he said, explaining that the term was not coined by him but by Pas leaders against Umno members in the past.
"They are working together now, so they (the opposition) can score victory. Pas and Umno may secure victory on this earth now, but things are still unsure in the hereafter," he quipped, drawing laughter from the floor.
The Semenyih by-election was triggered by the death of its incumbent, Parti Pribumi Bersatu Malaysia's (Bersatu) Bakhtiar Mohd Nor on Jan 11. The by-election will be held on March 2.
Despite PH's lost the Cameron Highlands by-election, Dr Mahathir said, the votes for PH had increased while Barisan Nasional's votes had actually dropped.
Dr Mahathir said the coalition could obtain majority votes from the Malay voters in Semenyih as well as from the other races.
"The Malays are now focusing on PH's progress… on what we have, are and will do.
"Granted there are certain things in our manifesto which we cannot do now as they require amending the Federal Constitution," he said, citing few examples including limiting the term for the prime minister and to lower the voting age to 18.
He also said the PH presidential council has agreed to form a special body tasked at informing the public about PH's achievements.
"We have found out that people are still in the dark over what the government had done so far, which we have done a lot from the perspectives of the economy and also social.
"The body will address all allegations against us (PH) and list out what we have done as soon as possible," Dr Mahathir added.
He then announced that Bersatu president Tan Sri Muhyiddin Yassin has been appointed PH Election Committee chairman.
..
PETALING JAYA: The frontrunner to be the Pakatan Harapan candidate for the Semenyih by-election is Mohd Rais Zulkifli (pic), who is popularly known as Mr Tyson, say party sources.
"Mohd Rais Zulkifli seems to fill in most of the criteria to be the Parti Pribumi Bersatu Malaysia candidate for Pakatan in Semenyih as he is also a local boy," said the source.
The source further said that Mohd Rais heads a list of six candidates, one of whom is a woman.
Mohd Rais, when contacted, confirmed that he is one of the six on the list.
A former investment advisor at a local bank, Mohd Rais is a member of Hulu Langat Bersatu.
Pakatan has agreed to field a Bersatu candidate.
Read more at https://www.thestar.com.my/news/nation/2019/02/02/mr-tyson-likely-to-be-bersatus-man-in-semenyih/#pGmMDePv5kEUSmjK.99
..
A victory for BN in the upcoming Semenyih by-election would be tantamount to a "fatal blow" for Bersatu, said Umno information chief Annuar Musa.
Annuar in a Facebook post also predicted that if Bersatu fails to retain Semenyih for Harapan, it could hasten the power transition plans from Prime Minister Dr Mahathir Mohamad to PKR president Anwar Ibrahim or its deputy Mohamed Azmin Ali.
"A reduction in Bersatu's majority, or what more its defeat to Umno-BN with our hands tied, could be the 'fatal blow' for Bersatu.
"It could be the catalyst for a transition of power and leadership to Anwar or Azmin," claimed the Ketereh MP.
Annuar also argued that Bersatu must be defeated in order to curb its powers, purportedly to the advantage of all, including Harapan component parties.
"Therefore, the defeat of Bersatu is important for all… for the people, for Umno-BN, for PAS, for the opposition coalition and even for PKR and DAP," he claimed.
While conceding that it would be a challenging mission for the state opposition to recapture the seat, Annuar said it was a possible to trigger a surprise victory should the people unite against Bersatu.
Mahathir, who is also Bersatu chairperson, yesterday expressed confidence that his party could retain the seat it won for the first time in the last 14th general election.
At the same time, Mahathir noted that Bersatu had actually won the seat with a much slimmer majority of some 1,000 votes and could face a tougher challenge in the upcoming by-election.
Harapan's candidate from Bersatu, the late Bakhtiar Mohd Nor, polled 23,428 votes and scored a 8,964 majority against BN incumbent Johan Abdul Aziz with 14,464 votes.
The PAS candidate, meanwhile, polled 6,966 votes.
https://www.malaysia-chronicle.com/?p=155415
…
26 January 2019
SHAH ALAM: Pakatan Harapan (PH) will be fielding a candidate from Parti Pribumi Bersatu Malaysia (Bersatu) in the Semenyih state constituency by-election on March 2.
Selangor Bersatu chief Datuk Abdul Rashid Asari said the decision was reached in a state PH meeting held yesterday evening.
The meeting was chaired by Selangor PH chairman Datuk Amirudin Shari, who is also Selangor Menteri Besar.
"It has been agreed by Selangor PH that the candidate should be from Bersatu. Of course, I have a few names in mind.
"But I cannot disclose them until Bersatu's leadership makes a decision. I have submitted the names to them," Abdul Rashid told NSTP.
Abdul Rashid, who is also Bersatu vice-president, said Selangor PH's preparations to face the Semenyih by-election were also discussed at length.
On Tuesday, Abdul Rashid said the party has shortlisted candidates, but he declined to say how many names there were and who they are.
He only revealed that the possible candidates have been Bersatu members since the party's formation, and are locals in the Semenyih constituency.
Selangor PH component parties DAP and Parti Amanah Negara said they will combine their efforts in the campaigning process to ensure the coalition's victory.
The seat fell vacant following the death of assemblyman Bakhtiar Mohd Nor, 57, of a heart attack on Jan 11 at Kajang Hospital.
https://www.nst.com.my/news/politics/2019/01/454287/its-official-bersatu-contest-semenyih-election
..
KUALA TERENGGANU (Bernama): The result of the Cameron Highlands by-election will be used to determine the extent of cooperation between PAS and Barisan Nasional (BN) for the Semenyih polls.
PAS president Datuk Seri Abdul Hadi Awang said so far, he was satisfied with the existing cooperation, but would review it after the Cameron Highlands by-election.
…