—
13 April 2016
…
JOHORSouthernTigers ‏@OfficialJohor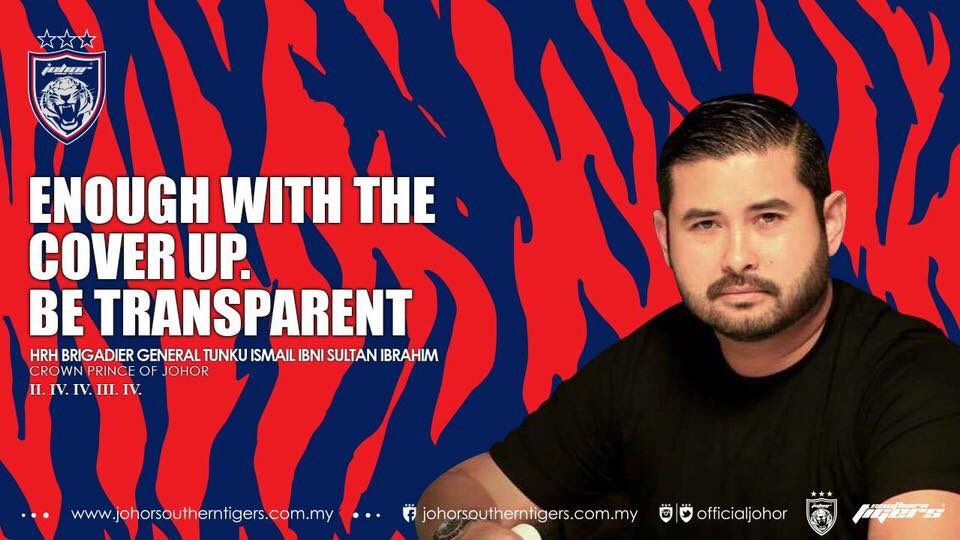 —
Khairy agrees to football debate
PETALING JAYA: Youth and Sports Minister Khairy Jamaluddin has agreed to a debate with Johor Crown Prince Tunku Ismail Sultan Ibrahim on the decline on Malaysian football and who is responsible for it.
"I'm not sure if it will benefit football or not, but I accept. If not, people will say I do not want to confront (him)," said Khairy at a press conference on Wednesday to the royal suggestion for a debate on the issue.
Khairy said that he accepts the challenge and is ready to express his views on football in Malaysia.
"I accept the challenge to attend and say what has to be said,'" he said.
http://www.thestar.com.my/news/nation/2016/04/13/khairy-agrees-to-football-debate/?utm_source=dlvr.it&utm_medium=twitter
—
The Malaysian Times
TMJ 'sick and tired' of cover-ups, dares KJ to debate
KUALA LUMPUR, Apr 13: Johor Crown Prince Tunku Ismail Sultan Ibrahim has challenged Youth and Sports Minister Khairy Jamaluddin and the Football Association of Malaysia (FAM) to debate about who is actually responsible for the poor performance of the Malaysian National football team.
"I urge Astro, to put YB Khairy, A representative from FAM, Datuk Ong Kim Swee, Lim Teong Kim, Sathia and myself on live television to talk," he said in a Facebook posting last night.
The crown prince stated that he is sick and tired of the lies and cover up.
"My argument is that, we should not come out with a statement blaming the players. On the contrary, we big people in football clubs, associations and coaches should take responsibility and say that it's our fault.
"That is called taking responsibility, and not just running away from one, blaming players, FAM, football associations and clubs," he said.
Tunku Ismail: "That's why I say the best way is to put me on live television so the whole country can know what is the actual problem. Enough with the cover up. Be transparent".
He added, as the people's prince; he said that the people's voices must be heard and their voices are his priority.
This program, they should allow the fans to voice out their opinions and ask any questions they want," he said.
He added that it is time to be transparent on whom and what is the actual cause of the decline in the football teams quality.
"Look, I agree that they lack quality. But my statement was who's at fault?
"I'm transparent and honest. This is a challenge from me. I'm not a politician and I don't need votes. I have no intention of being FAM president and as I have said before, football is not my bread and butter," said the military man.
"So now I ask the same question. If our footballers lack quality, whose fault is that? It's the system in our football associations and our coaches' training. Simple," said Tunku Ismail.
He said that he is surprised that FAM and other affiliates are not interested to fix the problem by having a meeting when they already know what the problem is.
http://www.themalaysiantimes.com.my/tmj-sick-and-tired-of-cover-ups-dares-kj-to-debate/?utm_source=twitterfeed&utm_medium=twitter
—