—
5 December 2015
Majlis ROSMAH ALOHA…Apa komen Mufti?
—
4 December 2015
…
"Pfft! Why would I organise a silly Aloha party in here when I can actually fly all my guests in private jet to Hawaii?" – Birthday Girl
…
No 'Aloha' themed party for Rosmah, aide says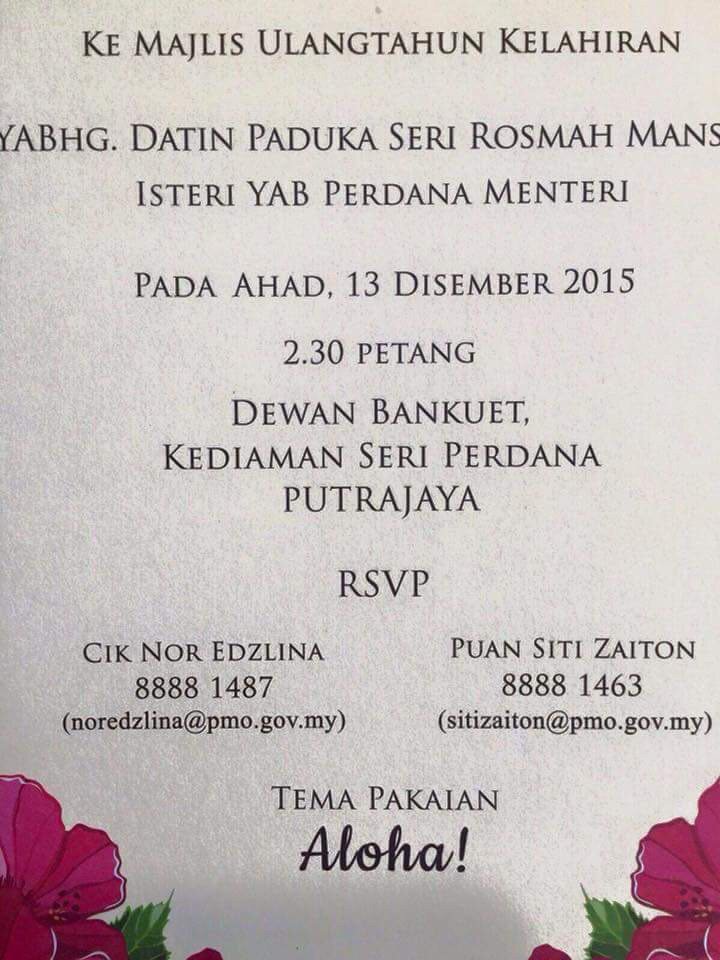 …
KUALA LUMPUR, Dec 4 — The invitation to an "Aloha" themed birthday party by Datin Seri Rosmah Mansor that has been making its rounds on social media is fake, her aide Datuk Rizal Mansor said.
In a Facebook post, Rizal said there was no such event planned for December 13 at the prime minister's official residence in Putrajaya.
"There is no such event like what has been spread. Please take note," he wrote.
According to the invite, the event is scheduled to start at 2.30pm at the Banquet Hall of the prime minister's Seri Perdana Residence.
Guests were also asked to RSVP their attendance to two individuals believed to be attached with the Prime Minister's Office.
A screenshot of the invite has been circulated across various social media platforms including WhatsApp, Facebook and Twitter.
– See more at: http://www.themalaymailonline.com/malaysia/article/no-aloha-themed-party-for-rosmah-aide-says#sthash.6y5zxb9I.dpuf
—
Nur Fathiah ‏@fathiahrosli 5h5 hours ago
Boleh lahhh Dina pergi birthday party Tok Mah. Baju baru kena dengan tema 'Aloha'. Hahaha

Translated from
Indonesian
by
Bing
Be lahhh Dina go birthday party Tok Mah. Got a new dress with the theme of ' Aloha '. Hahaha 😅
—