—
—
#ForumKini | People's Protest or Dewan Rakyat? Wed, 26 August 2015, 8.30pm. At Malaysiakini Building.
—
#ForumKini | People's Protest or Dewan Rakyat? Join us in a forum this Wednesday, Aug 26th! https://www.facebook.com/events/1035518963134702/ …

Fokus topik: Mengulas perbincangan umum tentang keberkesanan Bersih 4 dan kemungkinan "undi tidak percaya" di Dewan Rakyat.
Forum akan membahaskan dua isu ini, dan juga isu-isu yang berkaitan dengannya, menjelang perhimpunan Bersih pada hujung minggu depan.
Program ini akan dirakam dan juga disiarkan secara langsung daripada pejabat Malaysiakini di Jalan Tandang, Petaling Jaya.
Pembicara:
– Datuk A Kadir Jasin, pengulas politik
– Datuk Saifuddin Abdullah, mantan timbalan menteri
– Gan Ping Sieu, mantan timbalan menteri
– Maria Chin Abdullah, pengerusi Bersih 2.0
Moderator: Fathi Aris Omar
Tarikh: 26 Ogos (Rabu)
Jam: 8.30pm
Lokasi: @KINI No. 9, Jalan 51/205A, Off Jalan Tandang, 46050 Petaling Jaya, Selangor.
Peta: http://about.malaysiakini.com/contact/
—
RM1.5m for Bersih? Find out how at Mkini forum
RM1.5m for #Bersih4? Find out how at Mkini forum https://www.malaysiakini.com/news/309906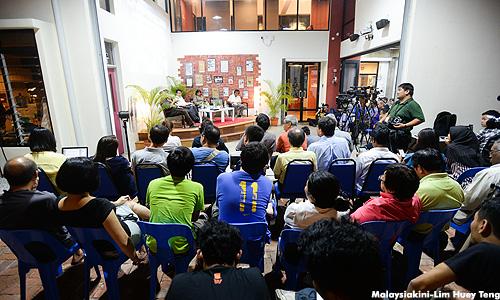 Many people may find it hard to believe how election pressure group Bersih managed to collect RM1.5 million for the mammoth rally it will hold this weekend.
There is also a question of whether the strong financial backing will translate into people coming out to paint the town yellow, perhaps in larger numbers than in the previous Bersih rallies.
Another hot topic is the effort to table a vote of no confidence against Prime Minister Najib Abdul Razak at the next session of the Dewan Rakyat. A mere talk or will it happen?
People also want to know who the opposition MPs will support as Najib's successor – the sacked Muhyiddin Yassin or veteran leader Tengku Razaleigh Hamzah?
All these questions, and many more on related issues, will be answered in a forum titled '1MDB: People's Protest or Dewan Rakyat?' which will take place at the Malaysiakini office in Petaling Jaya tonight.
https://www.malaysiakini.com/news/309906
—