—
—
Mukhriz: I know who recorded 'RM2.6bil and PM' video http://www.malaysiakini.com/news/306744  @MukhrizMahathir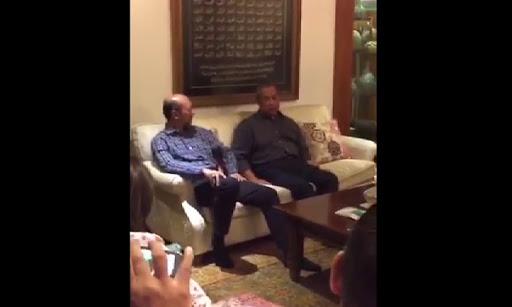 Mukhriz Mahathir has revealed that he knows who recorded the conversation between former deputy premier Muhyiddin Yassin and him, as well as several other guests on Tuesday night.
https://www.malaysiakini.com/news/306744
—
#Malaysia's Mukhriz ready to face consequences over appearance in leaked viral video http://bit.ly/1INvHFW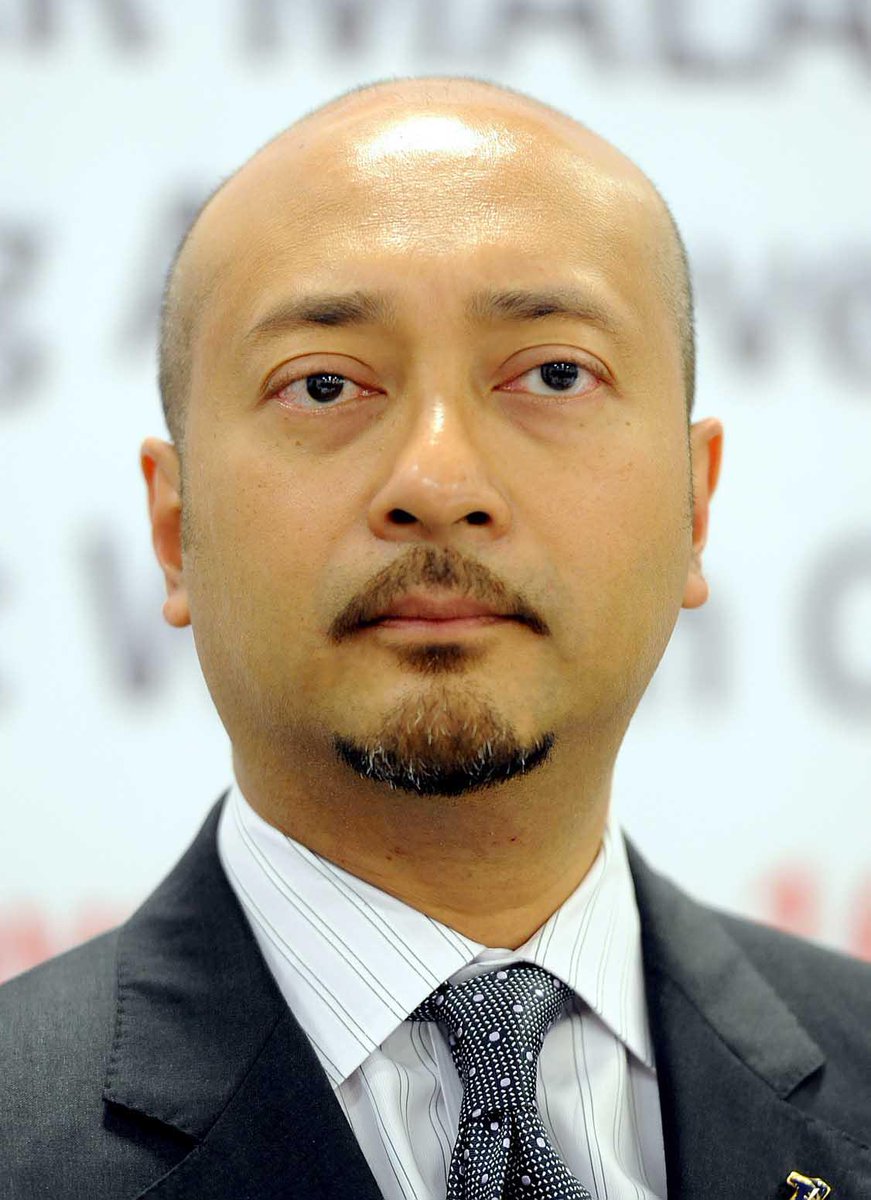 LOR SETAR (THE STAR/ASIA NEWS NETWORK) – Kedah Menteri Besar Mukhriz Mahathir has said he is prepared to face any possibilities over his appearance in a leaked video showing former Deputy Prime Minister Muhyiddin Yassin purportedly recounting a conversation with Prime Minister Najib Razak on the 1Malaysia Development Berhad (1MDB) controversy.
"I am ready to face any possibilities and there is no need for speculations on the matter," said Datuk Seri Mukhriz, referring to the viral video clip, that appeared to be recorded on a mobile device.
…
"I visited Muhyiddin to say thank you to him. He had done many good things for Kedah during his term as deputy prime minister and education minister. He is Umno's deputy president, so I think it's not wrong for me to pay him a visit," he said.
He added that those who recorded the purported conversation had to be questioned.
When asked if his position as Kedah Mentri Besar would be affected over the video clip, Mukhriz said, "I do not see what I had done was wrong."
"The power in my hand was given by Allah, it can be taken away anytime," he added.
http://www.straitstimes.com/asia/se-asia/malaysias-mukhriz-ready-to-face-consequences-over-appearance-in-leaked-viral-video
—
Free Malaysia Today
Ahmad Maslan does double talk about money in PM's account
He rejects Muhyiddin's allegation, but talks about Najib not using the 'money in his account'.
KUALA LUMPUR: Deputy Minister of International Trade and Industry Ahmad Maslan last night sought to dispute Muhyiddin Yassin's allegation about money being transferred into Prime Minister Najib Razak's personal account with a curiously ambiguous denial.
Referring to Muhyiddin's allegation, which can be heard in a surreptitiously recorded video, Ahmad said it was not true that Najib had told the former deputy prime minister that "a lot" of money had gone into his account, and then he said: "He has never used 1MDB money that went into his account."
Speaking to reporters at Menara Matrade, where he attended a dinner with an association of manufacturers, Ahmad also said Najib had briefed the Umno Supreme Council on the issue, which has been given a new twist with the emergence of the video that recorded Muhyiddin's conversation with guests at his house.
http://www.freemalaysiatoday.com/category/nation/2015/07/30/ahmad-maslan-does-double-talk-about-money-in-pms-account/
—
Najib's accounts is not your concern, ex-DPM told http://twib.in/l/p45G6zoBG75  | https://twibble.io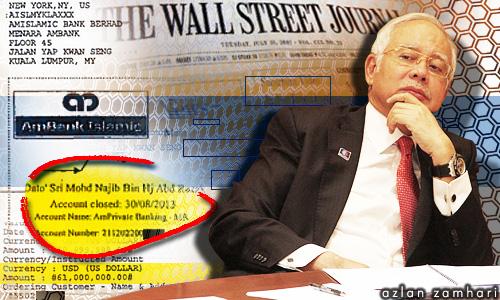 What goes into Prime Minister Najib Abdul Razak's private bank accounts is not the business of sacked deputy prime minister Muhyiddin Yassin, says Department of Special Affairs (Jasa) adviser Tun Faisal Ismail Aziz.
This was after it was revealed in a leaked video clip that Muhyiddin had confronted Najib about the RM2.6 billion deposited into the prime minister's personal bank accounts.
"Money that goes into private accounts, that is the right and privacy of the individual and does not need to be announced to the public.
"It's the same when money is deposited into our own private accounts," Tun Faisal said in a blog posting today.
The former Umno Youth exco member added that it would only be an issue if the money came from an illegal source. Only then would it be necessary for the money to be declared to investigators.
In the video recording, Muhyiddin said Najib admitted that the money went into his account and that it came from the Middle East.
"When there are quarters that want to contribute a sum of money to someone's private account as political donation, then it belongs to the individual.
"It is up to the individual on how to use the money, as long as it is not for illegal purposes as it is a private donation.
"Whether it is used to help people or to fund (campaign) machinery, that is their right," Tun Faisal said.
—
In leaked video, Muhyiddin alleges Najib admitted transferring S$956m into personal accounts http://tdy.sg/1ezYxLU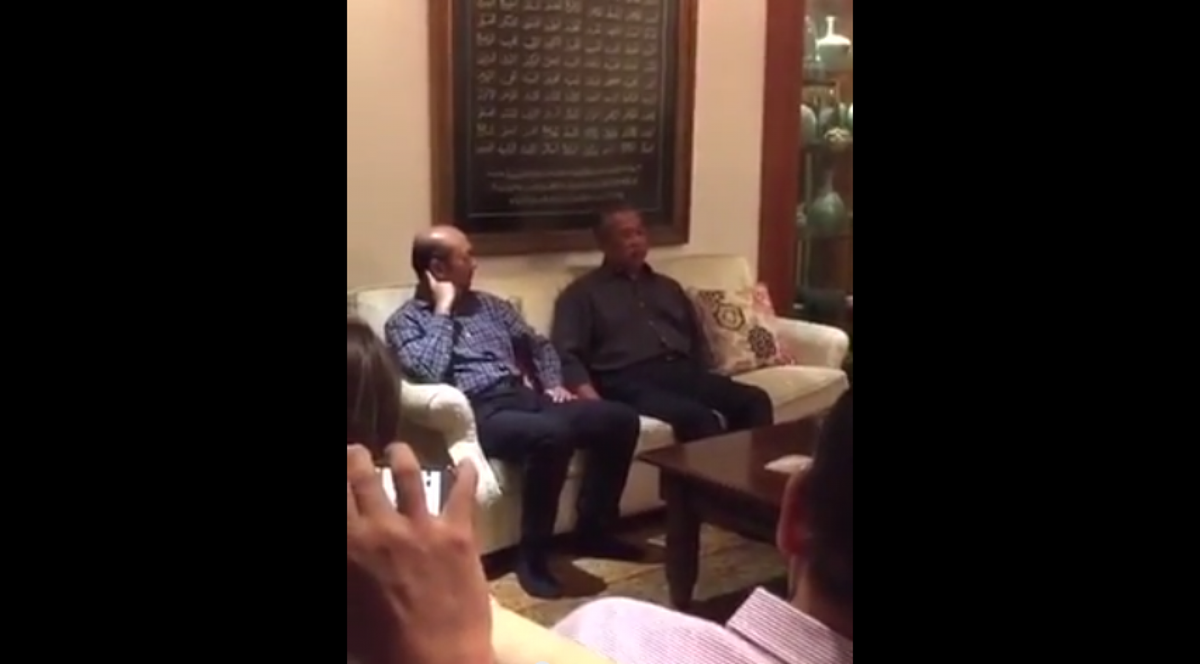 Screenshot of video showing Mr Muhyiddin alleging that Mr Najib admitted to US$700 million being transferred to the latter's personal accounts. Source: Anand K.Pillai/Youtube
KUALA LUMPUR — A video leaked online shows former deputy prime minister Mr Muhyiddin Yassin alleging that Prime Minister Najib Razak had admitted to transferring US$700 million (S$956 million) into the latter's accounts.
In the video, Mr Muhyiddin appeared to be informing his guests at his home last night (July 28) that he had confronted Mr Najib on The Wall Street Journal's report that US$700 million of funds from 1Malaysia Development Bhd (1MDB)-linked firms were deposited into Mr Najib's personal accounts.
TODAY is unable to independently verify the authenticity of the video.
In the video, Kedah Menteri Besar Mukhriz Mahathir could be seen seated beside a man believed to be Mr Muhyiddin. The video ends abruptly after Mr Muhyiddin said: "So I said why did you put into your personal account".
Mr Mukhriz's visit to the former deputy prime minister's house took place yesterday, the same day Mr Najib reshuffled the Cabinet, dropping Mr Muhyiddin as his deputy. THE MALAYSIAN INSIDER
http://www.todayonline.com/world/asia/leaked-video-muhyiddin-alleges-najib-admitted-transferring-s956m-personal-accounts
—
Umno leader says #Najib told Supreme Council he never took #1MDB money http://str.sg/ZsH8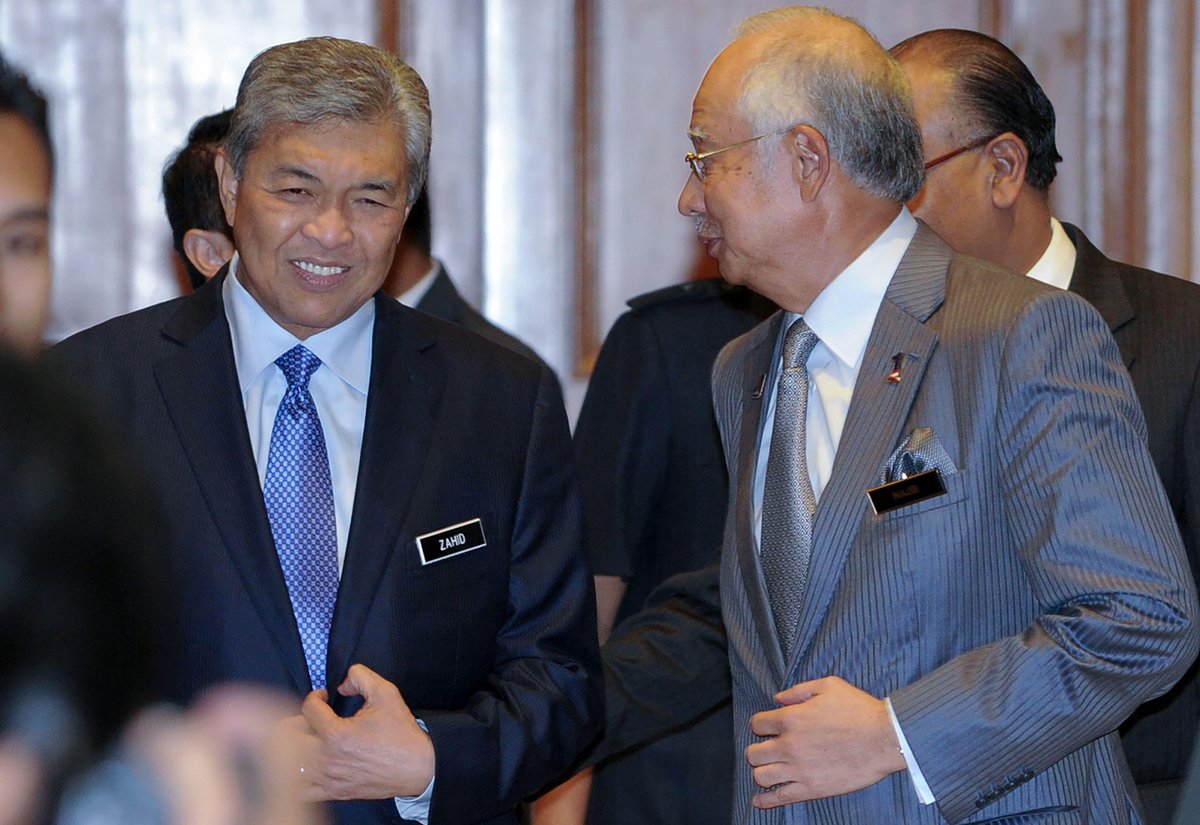 KUALA LUMPUR – Malaysian Prime Minister Najib Razak has explained to Umno Supreme Council members that he never took money from state investor 1Malaysia Development Berhad (1MDB).
Newly-appointed deputy minister Ahmad Maslan, who is a Supreme Counil member, said Najib had explained to the council about allegations of billions of ringgit from 1MDB going into his personal accounts, the Malaysian Insider reported.
The deputy minister rejected claims made by former deputy prime minister Muhyiddin Yassin in a leaked video clip that Najib had admitted to receiving US$700 million (S$956 billion) in his bank accounts, said the news portal.
http://www.straitstimes.com/asia/se-asia/umno-leader-says-najib-told-supreme-council-he-never-took-1mdb-money
—
Jul 29, 2015

Malaysiakini
Leaked video: Muhyiddin says PM admitted RM2.6b in account
A leaked video clip depicting Muhyiddin Yassin talking about allegations that millions were transferred into Prime Minister Najib Abdul Razak's private accounts is currently making rounds.
The grainy video clip, which appears to be recorded using a mobile phone, depicts Muhyiddin addressing several guests at his home on the topic last night.
Among those present were Kedah Menteri Besar Mukhriz Mohamad and former Umno supreme council member Kadir Sheikh Fadzir.
Although certain parts of the 53-second video clip was inaudible, Muhyiddin appeared to be suggesting he had confronted Najib on the allegation.
The allegation, made by the Wall Street Journal in a July 3 article, said Malaysian investigators found that nearly US$700 million (RM2.6 billion) was transferred into Najib's private accounts.
Muhyiddin had told his guests that he asked about the source of the money and the reply was that it came from someone in the Middle East.
"Then saya kata apa masuk account you? [inaudible] Kenapa masuk account Najib Razak? (Then I asked what was in your account? [inaudible] Why was it in Najib Razak's account)," said Muhyiddin.
"He admitted. So I said: Why did you put (it) into your personal account?"
…
Commenting on the video, Abdul Kadir confirmed the conversation took place but declined to comment further.
"I don't want to comment on it.
"It was a private conversation. It wasn't supposed to be recorded. Mukhriz had asked people not to record it," he told Malaysiakini.
Despite numerous attempts, Malaysiakini could not reach Muhyiddin's aides for comment.
http://www.malaysiakini.com/news/306629
—