—
21 June 2015
BABIES FOR SALE? On Instagram!
Pengguna Instagram lagi heboh nih gara-gara ada akun @jualbayimurah yg masang foto-foto bayi buat dijual #JUSTHITS
 —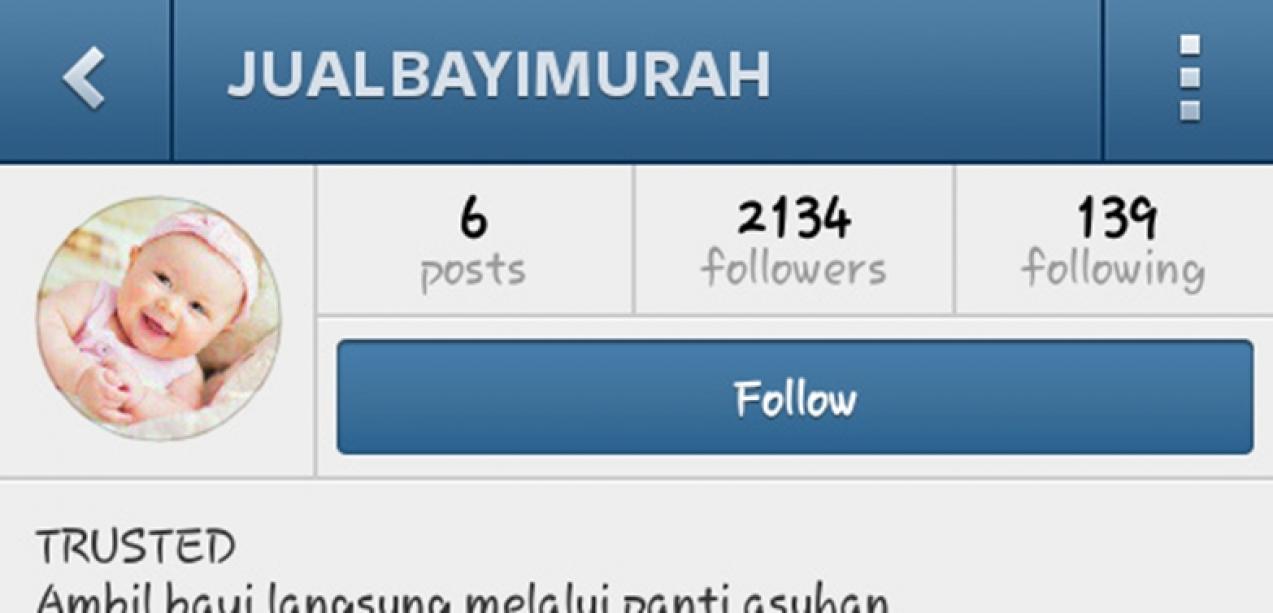 —
—
The foundation, Yayasan Gembala Anak, denied that it was behind the Instagram advertisement. It also told the police that it was not involved in baby buying and selling practices as advertised on the social media account, Mr Iqbal said.
#jakarta police say they are investigating an #Instagram account advertising babies for sale http://str.sg/w5d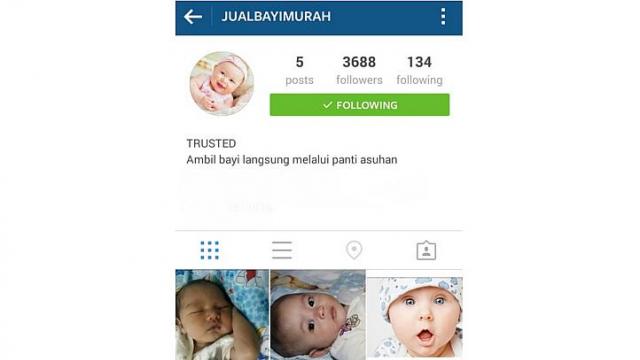 JAKARTA (THE JAKARTA POST/ASIA NEWS NETWORK) – Police in Indonesia are investigating an Instagram account that offered babies for sale, Jakarta Police spokesperson Senior Commander Muhammad Iqbal said on Sunday.
Police officers, along with a special team from the Social Affairs Ministry and the Indonesian Child Protection Commission or KPAI, had visited a location that was mentioned on the account, he said.
"When we arrived at the location, we found an office of a Catholic foundation that provides shelter for teenagers. We found no babies there and they could provide all legal documents related to the foundation," Mr Iqbal told The Jakarta Post on Sunday.
– See more at: http://www.straitstimes.com/news/asia/south-east-asia/story/jakarta-police-investigate-instagram-account-advertising-babies-2015#sthash.ak7wEmZD.dpuf
—
Saturday, 20 June, 2015 | 16:26 WIB
Instagram Account Posts Babies for Sale
TEMPO.CO, Jakarta – Netizens were shocked with an information of baby trafficking via social media. An Instagram account @jualbayimurah posted six photos of babies for sale.
The account information also displays an address, Jalan Jatinegara Barat Nomor 122, East Jakarta, where transactions can be conducted. Tempo traced the address and found a foundation called Santa Maria.
The foundation roofs learning activities for elementary school and junior high school students. There was nothing irregular during the day since parents and students were seen at the building.
Tempo has yet managed to contact any representatives to get confirmation related to the photos posted by @jualbayimurah. An official from the Social Ministry was seen at the foundation's office to verify the information.
http://en.tempo.co/read/news/2015/06/20/057676841/Instagram-Account-Posts-Babies-for-Sale?utm_source=twitterfeed&utm_medium=twitter
—