—
Video: Tun Cabar Najib Soal Jawab / Tun Tak Layan Kucing Kurap
—
Malaysian Insider
Dr M challenges Najib to live debate
Tun Dr Mahathir Mohamad has challenged Prime Minister Datuk Seri Najib Razak to a live debate on television, saying he was prepared to answer questions about his 22 years as prime minister.
In a closed-door meeting with Umno-linked non-governmental organisations yesterday, Dr Mahathir was recorded in a video saying that Najib could ask him anything about his tenure as Malaysia's longest-serving prime minister, and that he could also ask Najib about anything.
"I want to ask Datuk Seri Najib, together with me to be on stage in front of television (cameras)," Dr Mahathir said to loud cheers from the group that attended yesterday's meeting with the retired statesman at Perdana Leadership Foundation in Putrajaya.
"Najib can ask what I have done in the past, (claims) that I too had lost some money, he can ask (me) and I can ask him too," he said in a video that was uploaded on YouTube yesterday by a user "Minaq Jinggo".
http://www.themalaysianinsider.com/malaysia/article/dr-m-challenges-najib-to-live-debate?utm_source=twitterfeed&utm_medium=twitter#sthash.zkwaollH.dpbs
—
Free Malaysia Today
Mahathir accepts Nothing2Hide II challenge
He wants Prime Minister Najib Abdul Razak to appear on stage with him for the Forum to be telecast live.
KUALA LUMPUR: Former Prime Minister Mahathir Mohamad has no issues appearing at another Nothing2Hide Forum to answer any question related to his 22 years in public office but on two conditions.
Firstly, Prime Minister Najib Abdul Razak must appear as well on the same stage as him. He has questions to ask Najib just as he's open to being asked any question on his administration by Najib or others from the floor.
Secondly, the Forum must be telecast live so that the entire nation can watch it and decide for themselves.
The former Prime Minister made his statement at the Perdana Leadership Foundation on Wednesday evening during a gathering on the social media, according to blogger Din Turtle.
http://www.freemalaysiatoday.com/category/nation/2015/06/18/mahathir-accepts-nothing2hide-ii-challenge/
—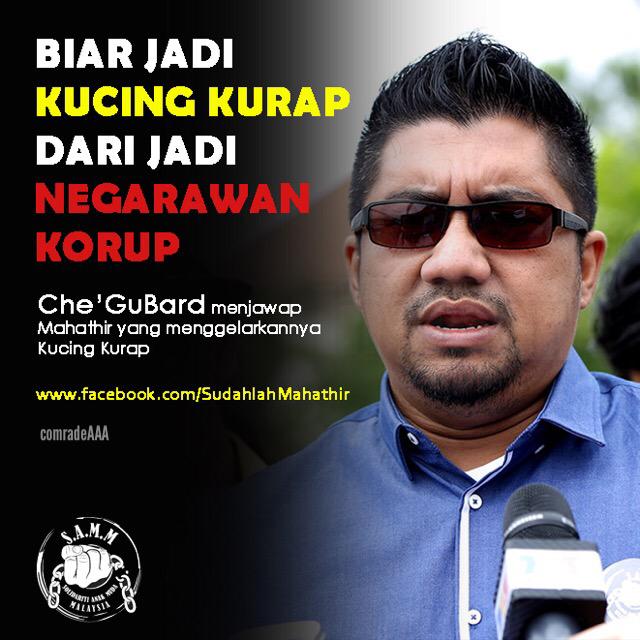 —
Jun 18, 2015
Malaysiakini
Badrul: Dr M's 'kucing kurap' stems from fear
Solidariti Anak Muda Malaysia (SAMM) chairperson Badrul Hisham Shaharin believes that Dr Mahathir Mohamad is afraid of the criticisms towards the latter.
According to him, this is the reason the former premier labelled him a "kucing kurap (insignificant)".
"He insulted me, but I don't feel insulted. He panicked, he is pressured by our campaign and therefore has to resort to harsh language.
"This means, Mahathir embarrassed himself," the suspended PKR member told a press conference in Petaling Jaya today.
http://www.malaysiakini.com/news/302339
—
Free Malaysia Today
Chegubard kucing kurap-Tun M
Dr Mahathir panggil Chegubard kucing kurap daripada PKR dan enggan jawab soalan yang dibangkitkannya.
Bagaimanapun ketika nama Chegubard disebut, dengan nada sinis bekas Perdana Menteri Keempat itu berkata beliau tidak akan melayan kucing kurap.
"Itu kucing kurap daripada PKR ni ….. bagi tahu kepada dia, saya tak jawab soalan kucing kurap," kata Dr Mahathir.
Kenyataan itu merujuk kepada Pengasas Solidariti Anak Muda Malaysia (SAMM), Badrul Hisham Shaharin.
http://www.freemalaysiatoday.com/category/bahasa/2015/06/18/chegubard-kucing-kurap-tun-m/
—
In response to a question on Chegubard, Mahathir responded: "Tell him that I don't answer questions from stray cats."
http://www.freemalaysiatoday.com/category/nation/2015/06/18/mahathir-accepts-nothing2hide-ii-challenge/
—
—
Malaysian Insider
Group wants Dr M to take lie-detector test before debating Najib
A civil society group, which grabbed headlines recently with a RM1 million reward offer to anyone willing to expose Tun Dr Mahathir Mohamad's hidden wealth, now wants the former prime minister to undergo a polygraph test, as he seemed to "exhibit traits of a compulsive liar".
The Citizens for Accountable Governance Malaysia (CAGM) said that Dr Mahathir has to take the lie detector test before his proposed debate with Prime Minister Datuk Seri Najib Razak.
"Only by undergoing a polygraph test and passing it can Dr Mahathir make the public trust his words," CAGM chairman Md Zainal Abidin said in a statement today.
"CAGM has studied dozens of video footage on Dr Mahathir and concludes that he clearly exhibits the traits of a 'compulsive liar' when answering the media on sensitive and delicate questions."
Zainal also claimed that the retired statesman also exhibited "selective amnesia", as was seen during the Royal Commission of Inquiry into lawyer V.K. Lingam's video clip scandal, adding that it was willing to pay for the test.
"CAGM is willing to bear the cost of acquiring a polygraph test machine and is prepared to pay the fees for a local or foreign expert in this field to carry out the test on Dr Mahathir at a time and date that is convenient for him," he added.
"Only if Dr Mahathir passes this test can the public trust him and only then he will have the credibility to take on Najib Razak in a televised debate. We hope Dr Mahathir will accept our humble request."
http://www.themalaysianinsider.com/malaysia/article/group-wants-dr-m-to-take-lie-detector-test-before-debating-najib?utm_source=twitterfeed&utm_medium=twitter#sthash.y8VkeIj9.dpbs
—–
—