—
It's just a spring roll, you may think but some people are DEAD serious about its origins.
Malaysians and Indonesians still quarrel over the origins of traditional food and items like the song Rasa Sayang, batik, wayang kulit, the keris and rendang.
—
Where did lumpia or popiah come from? Indonesia or Malaysia?
—
PETALING JAYA (THE STAR/ASIA NEWS NETWORK) – A group of Indonesians protested in front of the Malaysian Embassy in Jakarta over ownership of popiah, the spring roll delicacy widely eaten in both countries.
Malaysian Ambassador to Indonesia Zahrain Mohamed Hashim uploaded two images of the protest on his official Twitter account on Friday, which showed a crowd of demonstrators holding up placards and calling for the "lumpia", which is the Indonesian version of the popiah, to be "saved".
A banner held by the protestors from the group Forum Masyarakat Peduli Budaya Indonesia claimed that the lumpia is an Indonesian national cultural heritage.
According to Indonesian news portal www.mereka.com, the protestors are from Semarang, Central Jawa, where they claim the popiah originates from.
http://www.straitstimes.com/news/asia/south-east-asia/story/indonesian-group-protests-save-popiah-20150221#2
—
My popiah is better than your lumpia – – – > Popiah is Indonesia's heritage, claims group http://www.thestar.com.my/News/Nation/2015/02/21/Popiah-protest-Indonesia-Malaysia/ …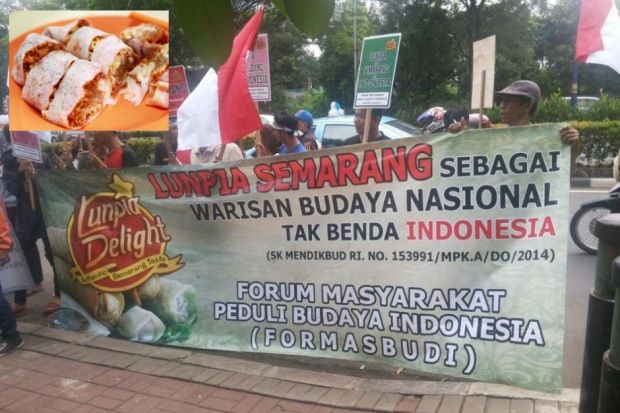 —
Dynamite: potatoes, carrots & sayote stuffed in green bellpeppers wrapped in lumpia wrapper ❤
—
Amran Fansuri wrote: "China punya popia, Malaysia dengan Indonesia bergaduh." ("Indonesia and Malaysia are fighting over China's spring roll.")
Twitter user @ejatt_ramone also pointed out the same.
"Asalnya dr Fujian China dan tersebar di Taiwan, Spore n Malaysia. So yg berhak klaim ialah China," he wrote. ("It originated in Fujian, China and spread across Taiwan, Singapore and Malaysia. So the one that can rightfully claim it is China.")
Rakyat Post

Social media users jump in on claims of Lumpia's origins
Debate on the origins of 'Lumpia Semarang', a vegetable wrap, has created a stir on social media. — File pic from pixabay.com
KUALA LUMPUR, Feb 20, 2015:
The claim that Malaysia had sought ownership of Lumpia Semarang, a popiah (spring roll) dish, has created quite a stir on social media.
The matter, which was brought to light by Indonesian media today, saw many debating the origins of Lumpia Semarang.
Many also took Malaysia to task for allegedly claiming ownership of the dish.
…
Adlisti Fadillah wrote: "Lumpia hanya milik Indonesia." ("Lumpia only belongs to Indonesia.")
Another Twitter user Dhini Kristy also criticised Malaysia for the alleged claim.
"Negara tetangga yang nakal," she wrote. ("Mischievous neighbouring country.")
Those who criticised Indonesia in return were also aplenty.
Abir Aman took to Twitter and wrote, "I rasa orang Indonesia yang kecoh pasal popiah Lumpia dorang tu, jenis yang tak pernah keluar daerah kot g holiday."
("I think those Indonesians who created a commotion over their Lumpia popiah are the type who have never left their district to go on a holiday.")
http://www.therakyatpost.com/news/2015/02/20/social-media-users-jump-claims-lumpias-origins/
—
————————————————————————————————————-