—
In a recently released video that showed the killing of 21 Christians in Libya, all but one of them Egyptian, the Islamic State issued an ominous warning: "Today we are south of Rome," one masked militant said. "We will conquer Rome with Allah's permission."
Supporters of the Islamic State have begun using a hashtag to warn of their plan to reach "Rome": #We_Are_Coming_O_Rome
#ISIS linked accounts warn, "#ISIS to Rome, God willing"; create hashtags: #We_Are_Coming_O_Rome;
—
 —
When ISIS said they are coming to Rome.. Italians gave travel advice LMAO | http://www.smh.com.au/world/the-isla
http://linkis.com/www.youtube.com/VxTVo
—
—
ISIS is sending 72 virgins to Rome. Italian girls are not impressed. #We_Are_Coming_O_Rome
—
CBS News
Twitter users laugh off ISIS threat to invade Rome
ISIS threatened Rome. At least some Italians responded with Twitter jokes.
In its videotaped killing of Coptic Christians earlier this month, the Islamic State in Libya showed a masked fighter pointing across the Mediterranean towards Europe. "We will conquer Rome, God willing," he said.
That threat was echoed in social media accounts of the extremist group and its sympathizers, and flagged by a group that monitors terrorist activity online. Rita Katz, who heads SITE Intelligence Group, posted on Twitter that ISIS militants and their allies were tweeting threats to invade Rome under the hashtag #We_Are_Coming_O_Rome. (No word on why it's "O" instead of "To").
#ISIS linked accounts warn, "#ISIS to Rome, God willing"; create hashtags: #We_Are_Coming_O_Rome; pic.twitter.com/VjxSf93oHZ

— Rita Katz (@Rita_Katz) February 19, 2015
The chaos in Libya has allowed ISIS to gain a foothold in the country, raising international alarm and real concern in Italy's government that violence in the former Italian colony could spill over the Mediterranean.
But online, Twitter users inside and outside Italy weren't impressed with the threats of an actual invasion of Rome. Many responded with humor, and satirical warnings to ISIS fighters about the city's notorious transportation woes.
#We_Are_Coming_O_Rome are you sure? pic.twitter.com/yNPVEO8Gzc

— Mauro Giulivi (@Giulivello) February 20, 2015
Tomorrow is strike of public transport. Good luck. #We_Are_Coming_O_Rome

— Alessandro Cocco (@AleCocco84) February 19, 2015
http://www.cbsnews.com/news/twitter-users-laugh-off-isis-threat-to-invade-rome/?utm_medium=twitter&utm_source=twitterfeed
—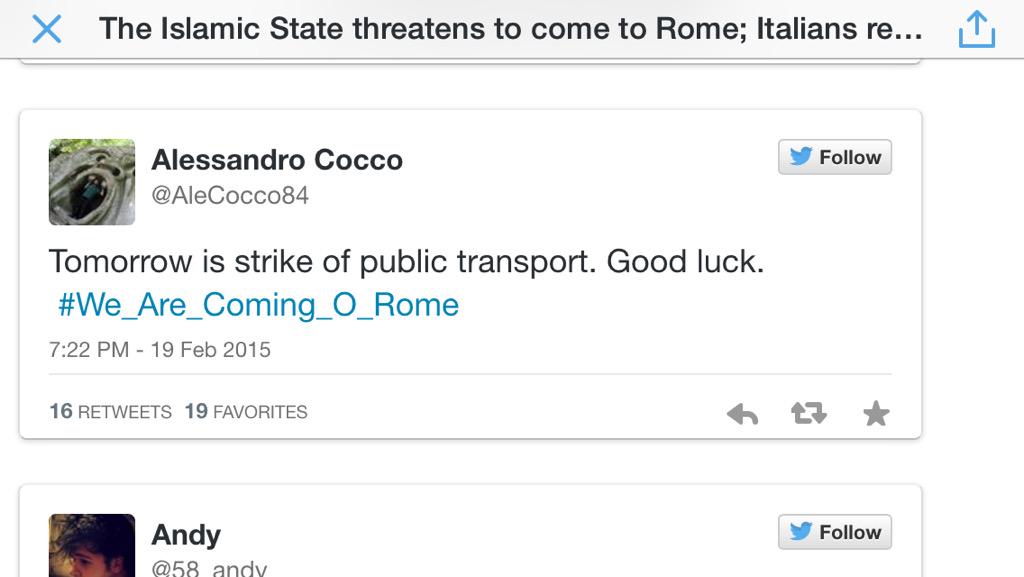 ————————————————————————————————————–