..
Defibrillators in telephone booths long preceded COVID
By ALI SWENSON yesterday
CLAIM: British telephone booths are being retrofitted with defibrillators because the COVID-19 vaccines are causing more cardiac arrests.
AP'S ASSESSMENT: False. A movement to install defibrillators in telephone kiosks across the U.K. is more than a decade old and didn't result from the coronavirus or vaccines, according to Community Heartbeat Trust, the charity that originated the idea. One of the lifesaving devices featured in many recent posts was installed in the U.K. in 2017, years before the pandemic. Cardiologists say there's no evidence to suggest COVID-19 vaccines are causing an increased rate of cardiac arrests.
THE FACTS: A video of a telephone booth-turned-defibrillator in the British countryside amassed millions of views on Twitter this week, alongside suggestions that it symbolized a new movement to mitigate vaccine-related deaths by installing the tool in public spaces.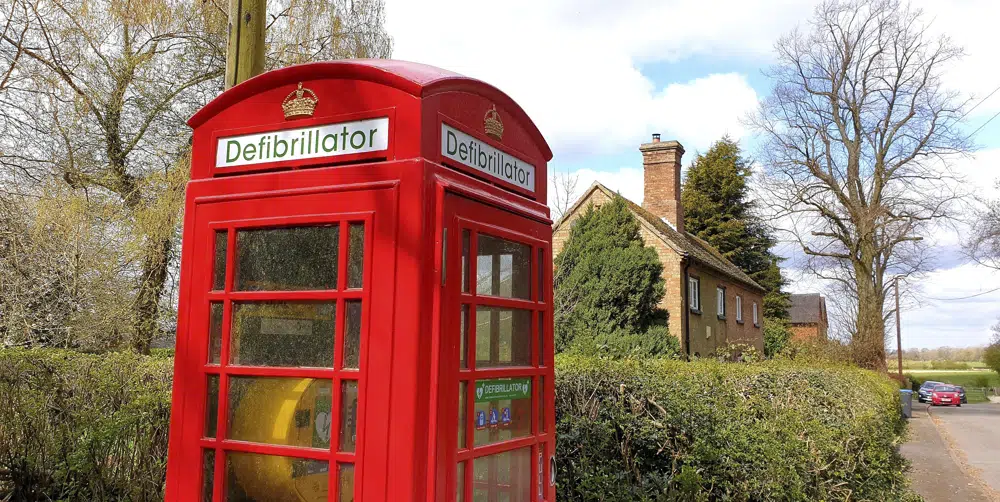 This handout photo provided by Community Heartbeat Trust shows a telephone booth converted into a defibrillator in Shenton, England, on April 16, 2021. On Jan. 18, 2023, The Associated Press reported on online claims that used videos of a similar defibrillator to falsely claim the devices were installed as a result of COVID-19 vaccines. (Community Heartbeat Trust via AP)
"I can categorically state that these are NOT appearing as a result of COVID," Community Heartbeat Trust National Secretary Martin Fagan wrote in an email to The Associated Press, calling the claims "misinformation."
A cabinet number on the device that is visible in the video reveals it is in Corfe Castle, a village in Dorset, England. It was installed in June 2017 after a fundraising campaign by the wife of a man who died cycling, Fagan wrote. The man led a specialized food company, and to raise funds, the company sold a special yogurt, Fagan said.
"In total, 17 locations were installed across the UK in his memory, at locations that meant something to him," Fagan wrote. "It is a great story and case history."
..
..