..
..
..
..
..
..
..
..
..
..
..
WTA chairman willing to pull out of China if tennis star Peng Shuai not fully accounted for
By Erin Burnett, Rhea Mogul, Helen Regan and Nectar Gan, CNN
Updated 0824 GMT (1624 HKT) November 19, 2021
Hong Kong (CNN)The head of the Women's Tennis Association (WTA) Steve Simon has said he is willing to lose hundreds of millions of dollars worth of business in China if tennis player Peng Shuai is not fully accounted for and her allegations are not properly investigated. "We're definitely willing to pull our business and deal with all the complications that come with it," Simon said in an interview Thursday with CNN. "Because this is certainly, this is bigger than the business," added Simon."Women need to be respected and not censored," said Simon.
Peng, who is one of China's most recognizable sports stars, has not been seen in public since she accused former Vice Premier Zhang Gaoli of coercing her into sex at his home, according to screenshots of a since-deleted social media post dated November 2.
Her post on Weibo, China's Twitter-like platform, was deleted within 30 minutes of publication, with Chinese censors moving swiftly to wipe out any mention of the accusation online. Her Weibo account, which has more than half a million followers, is still blocked from searchers on the platform.The forceful intervention from Simon puts the tennis chief on a likely collision course with authorities in China, which have so far refused to publicly acknowledge Peng's allegations. Perceived criticisms of China, which is also due to host the 2022 Winter Olympics in February, have previously resulted in significant public and political backlash, as well as loss of access.
Simon said the WTA had been in conversation with counterparts at the Chinese Tennis Association, who had provided assurances Peng was unharmed in Beijing. However,attempts to reach Peng directly had proved unsuccessful. "We have reached out to her on every phone number and email address and other forms of contact," he said. "There's so many digital approaches to contact people these days that we have, and to date we still have not been able to get a response."Earlier this week, Chinese state-media released an email, purportedly sent to Simon from Peng, walking back her allegations and claiming she is fine.The alleged email was released only on English-language platforms and domestic Chinese media have not reported on its contents, despite Peng being a household name in China.
https://edition.cnn.com/2021/11/18/china/wta-ceo-peng-shuai-steve-simon-intl-hnk/index.html
..
..
..
https://twitter.com/Quicktake/status/1461098068049379330?s=20
..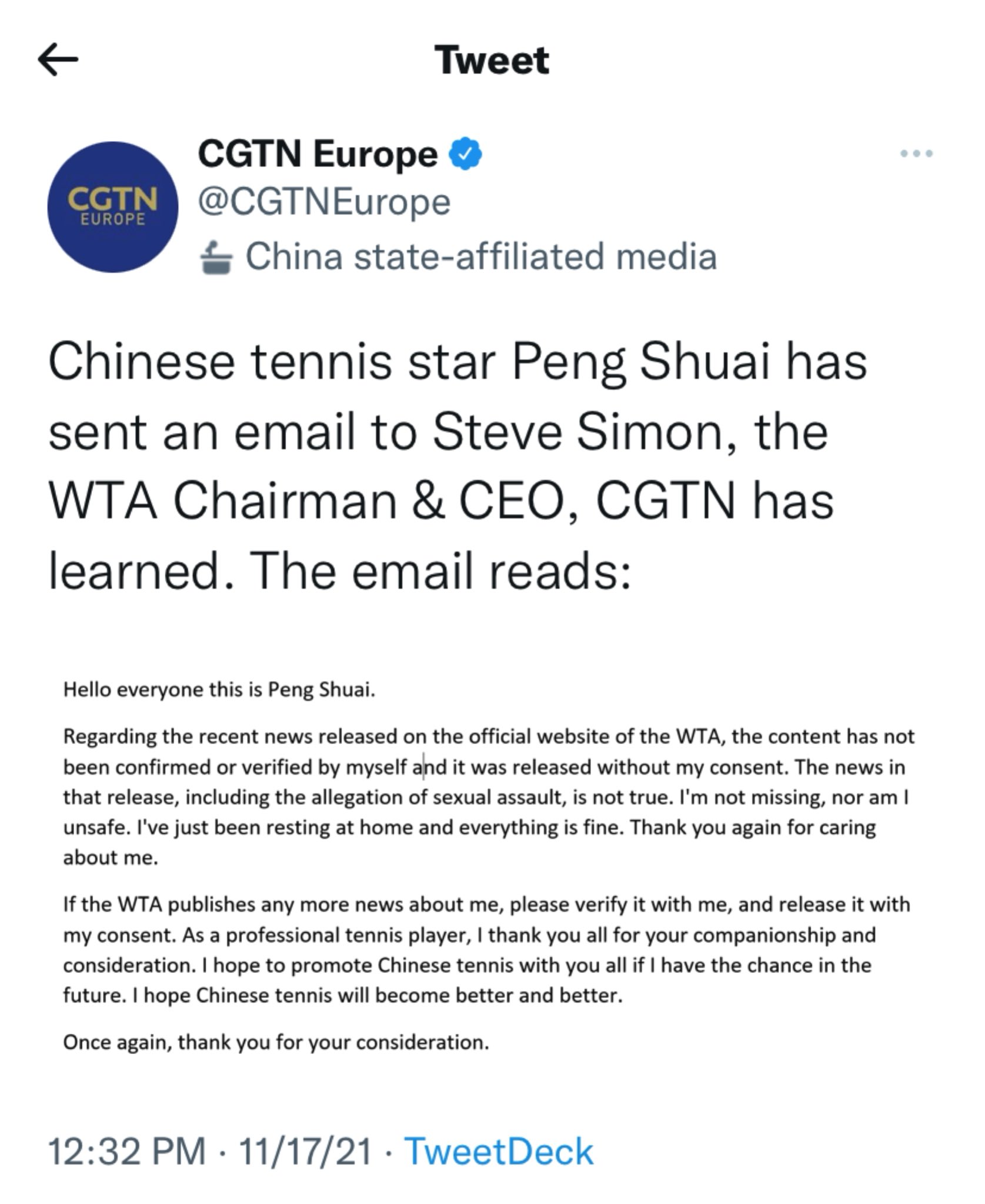 ..
..
..
..
..
..
..