..
..
..
..
Honda Malaysia apologises after executive posts rape joke online
Published 1 Feb 2021, 5:44 pm
Modified 7:01 pm
Honda Malaysia has apologised after a top executive at the firm posted a joke which made light of rape and AIDS on a professional networking site.
The firm said the post on LinkedIn was "inappropriate and insensitive" and it had commenced an internal investigation on the matter.
"His post does not represent the view of Honda on the matter and it is against Honda's values.
"We do not condone, nor will tolerate such behaviour online or offline," it said in a statement today.
The LinkedIn account is no longer accessible.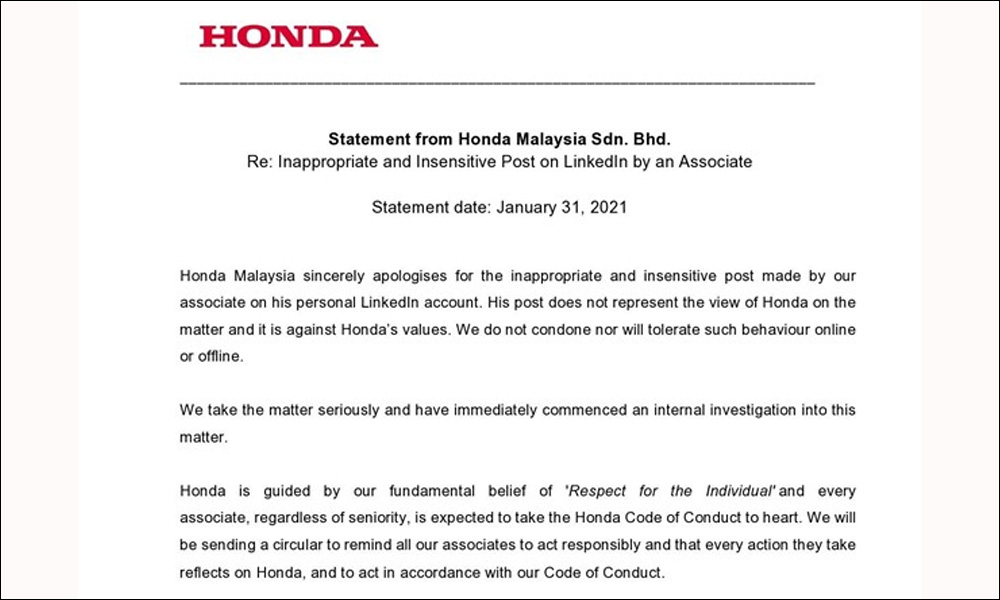 Over the weekend, former Honda Malaysia employee Nicholas Gomez had circulated screenshots of the executive's post on Twitter and tagged Honda's official Twitter account.
"Unbelievable. A Datuk-titled C-suited leader at a Japanese auto multinational company in Malaysia can post a joke about rape and AIDS and herpes and no one says a thing?
https://www.malaysiakini.com/news/561246
..
..
..