…
troll
In Scandinavian mythology, trolls are creatures who look like ugly people. They live
in caves or on mountains and steal children.
4. countable noun
A troll is someone who posts unkind or offensive messages on social media sites, and
often tries to start arguments with other users.
https://comicvine.gamespot.com/forums/off-topic-5/has-the-meaning-of-internet-troll-been-lost-1909815/
…
29 April 2019
..
..
KUALA LUMPUR, April 29 — Datuk Seri Najib Razak's Malu apa bossku phenomenon was generated by a public relations machinery, which might have taken advantage of dissatisfaction with the ruling Pakatan Harapan (PH), political analysts said.
Universiti Kebangsaan Malaysia political scientist Kartini Aboo Talib said the Malay phrase, which roughly translates to "What's there to be ashamed of my boss", was first uttered by the Pekan MP and former prime minister in a video clip with a youth as part of a well-planned online campaign.
"The support for Malu apa bossku has gone viral and is gaining momentum due to the powerful cyber troopers that simply inculcate good image, taglines, catchy phrases to people in all layers of society," she told Malay Mail.
The tagline has become popular with various communities, especially Malay youths, spawning videos, memes, t-shirts, caps, vehicle stickers and a music video.
Kartini noted that youths tend to become easily excited over the ever-changing political issues in Malaysia, resulting in the popularity of the bossku moniker.
She expects the hype to be temporary, likening it to the K-pop fad, where the fans' favourite choice of artistes often change as new idols emerge.
However, Kartini also believed that certain achievements made during Najib's administration were still fresh in the younger generations' minds, like the Malaysian Youth Policy and National Transformation 2050, which she said was supposed to provide youths with opportunities, funding and advice to be successful entrepreneurs.
The academic also said the seeming surge in support for Najib could be an "alarm clock" to remind PH that the people are not happy with various aspects of the PH government's performance, citing some controversial actions by ministers and an unfulfilled PH manifesto.
Penang Institute political analyst Wong Chin Huat highlighted the possibility of subsidised merchandise playing a role behind the "bossku" hype.
"In Rantau, I came across various bossku t-shirts sold at the price of RM5 or RM6. The vendor told me his cost price from supplier in Selangor was RM1.
"For the quality, the real cost might be around RM7 to RM8. So, someone was heavily subsidising these merchandise to create the sensation," he said.
The analyst also questioned the composition and motivation of supporters behind Najib's resurgence in popularity, noting that no research has been conducted on the matter.
If most of the bossku supporters were voters with no fixed party loyalty in the last general election, then their actions might be an expression of protest against the PH administration for not performing satisfactorily, he indicated.
Azlan Zainal from research firm Ilham Centre believes the bossku movement was orchestrated by a special campaign team and had morphed from its initial effectiveness in reigniting support for Najib into a thing of mockery among Malaysians.
He said youth support for the bossku tagline can be fragile.
"It's undeniable that Malaysians are only interested in anything that is currently 'trending', viral and unique," he said.
But he also said the motto can be turned around into a rallying cry for the Opposition over time if the government failed to address public expectation.
"So, if people have started to become angry with Pakatan Harapan over many issues, then this campaign is easily embraced," Azlan said.
https://www.malaymail.com/news/malaysia/2019/04/29/the-najib-bossku-hype-chance-on-speed-or-planned-campaign/1747928
…
15 February 2019
..
Ada lagi boRosmah ni rupanya. Tapi dalam gambar najib post takde pulak dia. Jamal Jamban dgn lobakman pun ada. Sampah sampah masyarakat semuanya.
.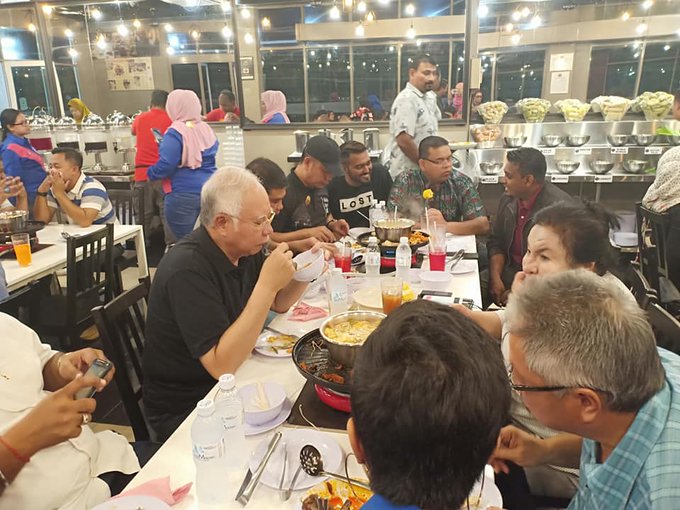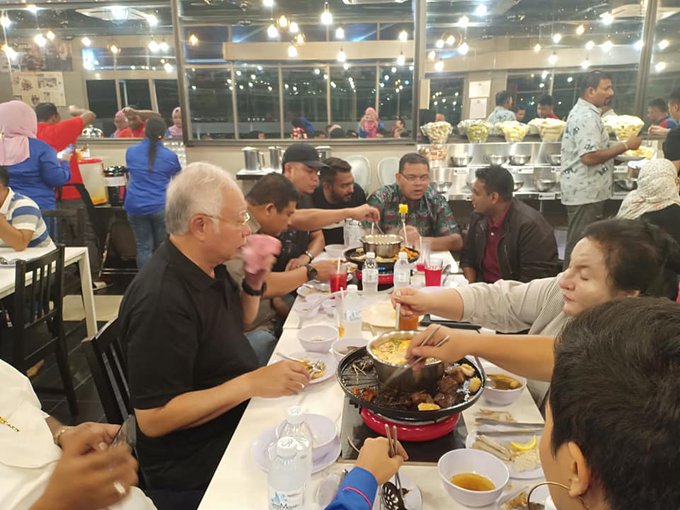 ..
It was staged, a prearrangement to get Umno members and sympathizers there. And we thought it was spontaneous on the part of the crowd!
..
Takde sape ikut kau bodoh. Kau yang muka tak malu jemput orang datang.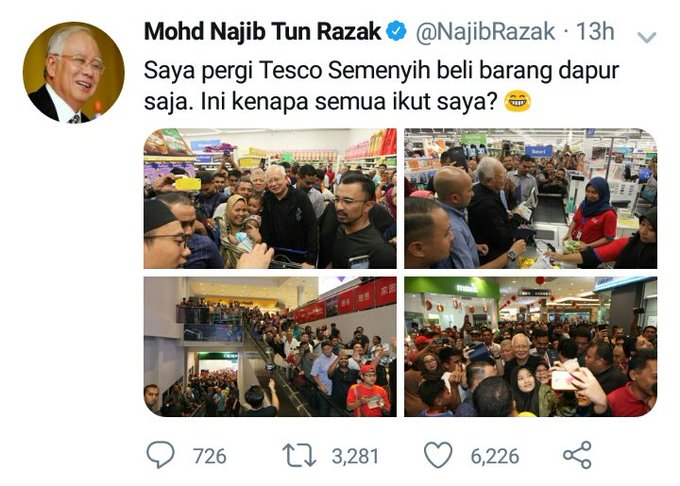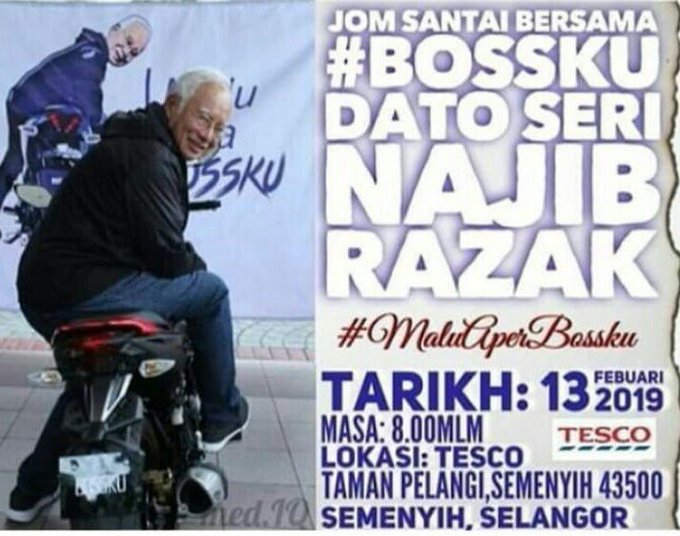 …
4 February 2019
..
Najib should troll these…
Yvonne 284Hdbgs 

@yvonneAPY
Ya, setuju. Kalau dulu pun hidup simple. Tak payah kalah sampai Umno pun jatuh
…
The following piece comes from the Star, mouth piece of The MCA which is solidly behind Najib who gave them RM16.5 million. The writer gives the impression that Mahathir is helpless before the onslaught of Najib.
..

Malaysia Chronicle 
@MsiaChronicle
WHO IS NOW THE REAL BOSS IN MALAYSIA – MAHATHIR OR NAJIB? IS NAJIB DAYDREAMING OR IS MAHATHIR GIVING HIM ROPE TO HANG HIMSELF?
THERE has been quite a bit of self-denial coming from Pakatan Harapan leaders in recent weeks. But one thing they cannot deny is that Datuk Seri Najib Tun Razak, the man that Pakatan leaders are trying to send to prison, has made waves wherever he goes.
Najib and his Bossku tagline have gained amazing momentum on social media.
His Facebook postings on his Langkawi visit have drawn likes touching six digits.
A picture of him eating nasi lemak bungkus with some locals at a warung in Langkawi received a mind-boggling 104,000 likes.
The Facebook picture was accompanied by what seemed like an innocuous comment: "Have you had breakfast? Life can be simple. If hungry, eat. If thirsty, drink. If missing someone, say it. If liking someone, let it be known. Why be so complicated?"
The likes could not stop pouring in.
It was quite daring of Najib to head for Langkawi last Friday or as they say, to enter the lion's den. He caused ripples from the moment he landed at the airport – people there could hardly believe their eyes.
And business almost came to a standstill when he visited the pasar malam in Kuah, the island's town centre, looking for apam balik.
.
Former Jelutong MP Jeff Ooi, a forerunner in the use of social media, has been watching the Najib gameplay.
"He has time on his hands, and he is playing the disrupter role. He has an audience in the Malay heartland where Pakatan is weak, and he is trying to lock up the Malay ground for Umno.
"He has little to lose. If he fails, he takes the blame, if he succeeds, his party shares the credit," said Ooi.
Najib has also emerged as a key opposition voice, tapping into the growing Malay discontent about the government.
"Najib is now a polar attraction to Tun Dr Mahathir Mohamad. One is asking Malays to abandon Umno, the other is telling them to stay with Umno," said former Umno MP Tawfik Ismail.
At the same time, said Tawfik, Najib is trying to regain his image, to show that he is down but not out.
"Pakatan came in with so many promises and he whittled it down, one by one, from the shrinking Ringgit to the national debt.
"He also has a better grasp of issues than the current crop of Umno leaders. He sees the big picture," said Tawfik.
According to political commentator Khaw Veon Szu, many are seeing another side of the former prime minister.
"I don't think people miss him, it's just that he has captured the imagination of those who find that life has become tougher than before.
"They can see he has many flaws. But he also understands their problems and he has become their voice," said Khaw.
It is possible that his growing social media fan base likes the way he pokes and nudges the ruling coalition.
He uses contemporary language, and it is possible that he has eclipsed even Khairy Jamaluddin among the Gen X and Y.
.
A new and fascinating form of political warfare is going on in social media between Najib and Pakatan leaders.
It is something Dr Mahathir is unable to match. He has too much on his plate and he is too old to master the new art of warfare.
The Prime Minister still depends on the traditional media of print and online portals whose audience has been outclassed by the power of social media.
But will the Bossku trend come to an end when Najib's court case begins in April?
"A lot of incriminating evidence will be aired, the media will play it up and the trial will be watched globally," said Khaw.
Dr Mahathir is probably hoping that the trial will stop the Bossku phenomenon in its tracks.
THE STAR
https://www.malaysia-chronicle.com/?p=155601
…
3 February 2019
…
25 January 2019
..
..
NAJIB Razak's campaign for Barisan Nasional in the Cameron Highlands by-election is aimed at getting sympathy for himself, Dr Mahathir Mohamad said today of the former prime minister.Dr Mahathir, who is Pakatan Harapan chairman and prime minister, said Najib is acting as if he is being oppressed and is trying to burnish his image after having to quit as Umno president and BN chairman following the coalition's loss in GE14.https://www.themalaysianinsight.com/s/128487
..
…
24 January 2019
…
19 January 2019
..
..
PETALING JAYA: Former prime minister Datuk Seri Najib Tun Razak has become a sensation with his arty trolling of people on the Internet, but social media and political analysts say his efforts will not change the public's perception of him.
Universiti Sains Malaysia political analyst Prof Dr Sivamurugan Pandian said he did not think Najib was able to change people's perception.
However, he warned that if the government failed to address issues close to the public's heart, then there's a chance people could look at Najib's arguments or his points as an alternative.
"But to say that following whatever he addresses on his Facebook page is an endorsement of his leadership, I don't see that," he told The Star on Saturday (Jan 19).
Dr Sivamurugan said Najib's posts were now interesting as he could attract those he previously failed to attract.
"Certainly, he feels that by being labelled the King of Trolls that somehow people do read and observe what is going on," he said.
Dr Sivamurugan added that Facebook and Instagram might be the best platforms for Najib to express whatever he wanted as it was widely used by certain quarters of society.
Universiti Utara Malaysia political lecturer Prof Dr Mohd Azizuddin Mohd Sani also doubted Najib would be able to change the public's perception of him despite all the engagements on his Facebook page.
He said Najib was trying to change the perception that he had nothing to do with the 1Malaysia Development Bhd (1MDB) scandal, and that he was just a product of the system.
"He is trying to convince the people to not believe that assumption, so he is trying his best to use social media to change that perception. Whether he is successful… I doubt it, but maybe some people will be persuaded by him,"  he said.
Read more at https://www.thestar.com.my/news/nation/2019/01/19/analysts-yes-najib-a-social-media-hit-but-public-perception-unchanged/#ZQMBKLYeIXd4l1Vo.99
…
18 January 2019
CAMERON POLLS | Since leading the BN coalition to its first ever election defeat in six decades, former premier Najib Abdul Razak has become active on social media.
His regular counters and digs against the Pakatan Harapan government and its leaders on Facebook and Twitter have earned him the title "King of Trolls".
Speaking at a Felda Sungai Koyan village in the BN stronghold of Jelai today, Najib explained how he had ascended the throne.
"I have been crowned the 'King of Trolls'.
"What is the reason for this? It is because I fight them everyday with facts, not with lies," he added.
Najib, who continued to maintain his innocence despite the barrage of charges against him, said he stood for the truth and is against all forms of slander.
"I don't go looking for sin. Only people who do not fear death do that. I do not only fear the court of man, but also the court of Allah.
"That is why we do not slander. Umno does not conjure lies and will not make false promises which it knows it cannot fulfil," he added in an obvious swipe at the Pakatan Harapan federal government.
https://www.malaysiakini.com/news/460805
…
16 January 2019
..
..
..
Check your facts, Mat Sabu tells Najib; denies using army heli to campaign in Cameron Highlands
KUALA LUMPUR: Defence Minister Mohamad Sabu has dismissed an allegation that he used an Armed Forces helicopter to campaign in the Cameron Highlands by-election.
The Amanah president told former prime minister Datuk Seri Najib Razak to check his facts before making such an allegation.
He said the photograph of him standing in front of a helicopter was taken during his official visit to Kem Slim in Cameron Highlands on Jan 9, three days before nomination for the parliamentary by-election.
Mohamad said that he drove his own car to Cameron Highlands on nomination day last Saturday.
"I am surprised that a former prime minister thinks like any ordinary person when he should have checked his facts. As a former prime minister, we should have respect for him. But if he is just like any other person, then I think it does not matter. It's sad to see someone of that status not verifying his information," he told Bernama after appearing on the 'Ruang Bicara' talk show on Bernama News Channel (BNC) last night.
He was commenting on the posting of the photograph on Najib's Facebook account that went viral, linking Mohamad to the use of the Armed Forces helicopter to campaign in the by-election.
Mohamad said the people he met at Kem Slim were also not Cameron Highlands voters but those from Sungai Petani, Kedah.
Meanwhile, the Defence Ministry issued a statement last night saying that the two photographs that had gone viral on social media were of different dates and days.
"The first photograph, with the helicopter in the background, was of an official visit by the Defence Minister to Kem Slim, Cameron Highlands, on Wednesday, Jan 9, 2019. He returned to Kuala Lumpur on the same day.
"The second one shows him at the Cameron Highlands nomination day on Saturday, Jan 12, 2019. He left for Cameron Highlands on Jan 11 by road using his personal vehicle and returned to Kuala Lumpur after the nomination," said the statement.
It added that the allegation that Mohamad had used an official government vehicle to campaign in Cameron Highlands recently was not true and urged people to verify their facts first.– Bernama
https://www.nst.com.my/news/nation/2019/01/451012/check-your-facts-mat-sabu-tells-najib-denies-using-army-heli-campaign
..
..
…
15 January 2019
..
..
..
..
..
..
..
…
…
7 January 2019
..
..
..
Rather than admiring the view from afar, Deputy International Trade and Industry Minister Ong Kian Ming has urged former premier Najib Abdul Razak to take a closer look at the progress of efforts to clean up several main rivers that flow through Kuala Lumpur.
"How he (Najib) wants to do it is up to him.
"I have done it several times but always on a kayak, not go swimming in the river," the Bangi MP told Malaysiakini when contacted today.
In an earlier tweet, Ong had challenged Najib to "get in" the Gombak and Klang rivers to get a personal feel on the actual progress of ongoing clean-up efforts.
His challenge was issued in response to Najib's Facebook post yesterday touching on various developments in Kuala Lumpur, and how the River of Life project launched by his BN administration is now a major attraction for city dwellers.
During his walkabout in Kuala Lumpur yesterday, Najib reportedly made a stop at the confluence of Sungai Gombak and Sungai Klang – near Masjid Jamek – which also featured the Blue Pool project designed to visually transform the rivers into a stunning, sensory experience.
"When the project is completed, Insya Allah by 2020, if it has not been cancelled by the present government, it would be a national pride for all Malaysians," Najib was quoted as saying to about 100 supporters who joined him.
BN had launched the RM4.4 billion River of Life project in 2011 to improve water quality at eight main rivers in the Klang Valley for recreational purposes.
The River of Life is also a startup project under the Greater Kuala Lumpur/Klang Valley city plan.
The Pakatan Harapan government had previously announced that the project will be continued, with a targeted completion date of late 2020.
https://www.malaysiakini.com/news/459191
..
..
…
…
6 January 2019
..
..
..
..
..
..
..
..
..