—
MAS: The only thing we are good at is 'sleeping on the job' and the bl**dy foreigner has to criticize us for it!
—
25 June 2016
…
MaranMatters Retweeted KiniTV
WHY MALAYS? Malaysia Airlines employs Malaysians but its UMNO linked mgmt screwed the company & led to disaster.
MaranMatters added,
Perkasa: Sack Mueller for implying Malays are lazy
Published on 25 June 2016 21:6
150 views
Perkasa chief Ibrahim Ali says Malays are insulted by comments made by Malaysia Airlines Berhad (MAB) CEO Christoph Mueller that MAB staff are lazy.
…
Flight in 1 hr. Queue up to the airport entrance! Inefficient Malaysia Airlines staff @MAS @MY_Airports
…
50 mins @ #MalaysiaAirlines trnsfer desk & Mgr is "missing". Isnt even answering mobile ph. Happens only with @MAS

—
Profit
MYR 14 million (2016 Q1)
https://en.wikipedia.org/wiki/Malaysia_Airlines
—
24 June 2016
…
…
'You made profits? Show proof, Malaysia Airlines'
While profitability is a priority, former MAS CEO says it is not the No. 1 priority in a government business, as opposed to performing a service to the community and creating jobs for locals.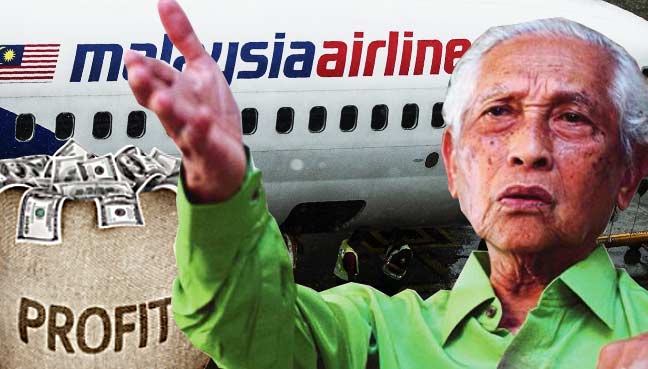 …
KUALA LUMPUR: The Malay Consultative Council (MPM) today urged Malaysia Airlines to show the public its accounting documents to prove the airline's first-quarter profitability.
Former Malaysia Airlines Managing Director Abdul Aziz Abdul Rahman, who is also MPM's Special Committee to Save Malaysia Airlines chairman, doubted the accuracy of the profitability.
"These things can be put in many forms … I want to see, where do they put Malaysia Airlines' liability of RM12 billion and the expenditure for the staff retrenchment package?
"We want to see all of these first.
"The public has the right because public funds are involved," he told a press conference here.
Abdul Aziz was referring to reports saying that Malaysia Airlines recorded an improved revenue for the first quarter of this year on the back of low jet fuel prices.
While profitability is a priority, he said, it was not number one in the government business as opposed to performing a service to the community and creating job opportunities for the locals.
…
The MPM said the retrenchment of 6,000 jobs, as part of the airline's turnaround plan, was a waste considering the government had invested heavily in the local talent pool.
Abdul Aziz said the airline had been doing badly over the last 15 years and the government should establish a commission of inquiry to identify the responsible party for the losses.
This way, he said, the committee could come up with proper recommendations and should there be any act of mismanagement, the guilty party must be punished.
Abdul Aziz, a lawyer by profession, was appointed managing director and chief executive officer of Malaysia Airlines in 1982. When he retired in 1991, he left the company with RM5 billion in cash reserves.
http://www.freemalaysiatoday.com/category/nation/2016/06/24/you-made-profits-show-proof-malaysia-airlines/
—
FMT
First monthly profit for Malaysia Airlines
Group CEO Christoph Mueller confident airline is on track to return to profitability by 2018.
..
…
PETALING JAYA: Malaysia Airlines Bhd has posted a profit in February, it was reported today.
This is its maiden positive monthly result and its Group Chief Executive Officer Christoph Mueller is confident it is on track to return to full profitability by 2018.
"For a company that lost RM2 billion just last year, if you are able to break even for a month or so, it means the financial gap between revenue and cost has significantly closed, and that is good news that tells us that we are on the right trajectory," he said in an interview with AP.
"Malaysia Airlines has been operating for six months now and although we have a long way to go and areas for improvement, we are making steady progress in the restructuring."
The carrier said revenue per available seat kilometre for the quarter improved 10% year-on-year on the back of the route optimisation exercise conducted earlier.
German-born Mueller is the first non-Malaysian at the helm of the national carrier.
http://www.freemalaysiatoday.com/category/nation/2016/04/06/first-monthly-profit-for-malaysia-airlines/
—