—
Shame! Shame!
All the Singaporeans know our name!
7 October 2015
Tuition centre apologises over banner shaming children for unpaid fees
Tuition centre apologises over banner shaming children for unpaid fees http://ebx.sh/1Rtgz0I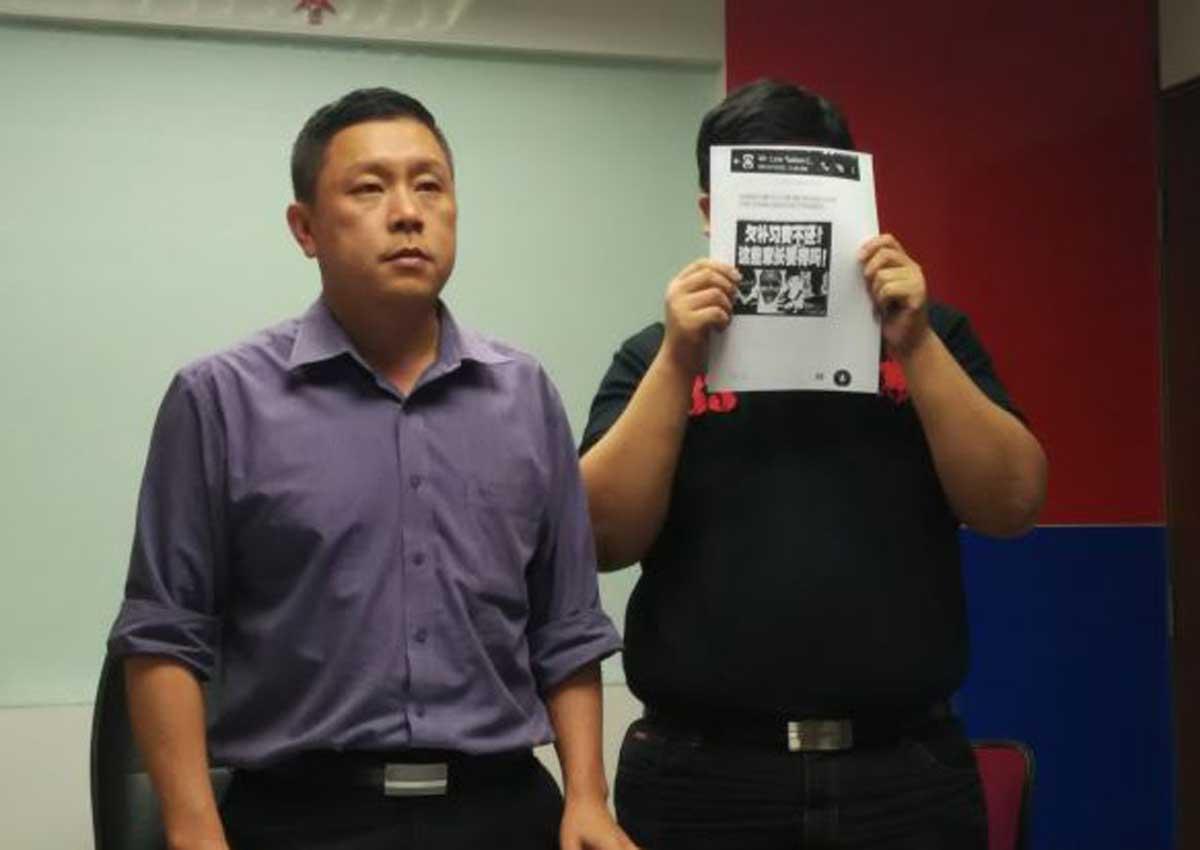 Balakong assemblyman Eddie Ng (left) with the operating manager of the tuition centre.
Photo: The Star/ANN
CHERAS – A tuition centre in Sungai Long has apologised after they put up posters in Cheras, Sungai Long and Kajang "shaming" parents for not paying up the fees.
The operating manager of the centre, who only wanted to be known as Low admitted that they went 'overboard' but stressed that the public apology is only for the kids and not their parents.
"We took such an action because we wanted the parents to pay or at least explain why they cannot pay.
"One week before we posted the banners, we warned them via calls and SMS but the parents did not respond," he said to reporters at DAP's Balakong Service Centre in Cheras on Tuesday.
…
—
Tuition centre shames kids publicly over unpaid fees
A tuition centre in M'sia shames kids & parents publicly over unpaid fees. http://ebx.sh/1Z6W1QJ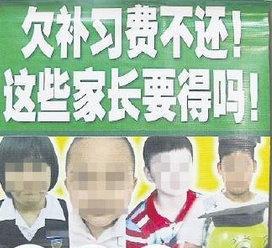 A tuition centre in Selangor allegedly posted banners of four children whose parents did not pay fees.
Major Chinese newspapers in Malaysia reported that the banners were spotted around Sungai Long and Cheras last Friday (Oct 2).
Parent Vinne Chin said she stopped sending her son to the centre in Kajang after five months as he was not improving academically and paid up after he left.
But the centre's management claimed she did not settle her May payment.
The property agent, 39, told The Star:
 "I paid his fees on May 12. Suddenly in July, they called and said I did not pay.

"I was shocked and they resorted to humiliating my son by posting a banner in his school."
Ms Chin said she received a warning on Sept 12 in a text message in Mandarin stating that if she does not pay her tuition fees immediately, they will take drastic measures.
She added: "I saw a banner of the four kids including my son on Oct 3. We took it down immediately."
The banner, captioned in Mandarin, read: "Owe tuition fees but refuse to pay up! Do they deserve such parents!"
– See more at: http://www.tnp.sg/news/world-news/tuition-centre-shames-kids-publicly-over-unpaid-fees?utm_campaign=Echobox&utm_medium=Social&utm_source=Twitter#link_time=1444135398
—
他坦承下指令掛上學生肖像的海報,如今他了解到此做法是錯誤及過分,但他掛上海報的初衷並非要羞辱學生,而是… http://bit.ly/1jaJtYj
He admitted students under the directive of the portrait hang up posters, but now he is aware of this practice is error and excessive, but he hang up posters of the original intention was not to humiliate the students, but… http://bit.ly/1jaJtYj
—
Malaysian Insider
Kids publicly shamed in Sungai Long over unpaid tuition fees
Social media users have slammed a tuition centre in Sungai Long, Kajang, in Selangor, for allegedly putting up banners with pictures of four pupils whose parents had apparently failed to pay their fees, reported major Chinese dailies.
Several of the banners with Chinese words were spotted around Sungai Long and Cheras on Friday evening.
Many netizens slammed the tuition centre after pictures of the banners were posted on social media.
They said the tuition centre had acted like a loan shark in shaming the students in public.
—
Tuition centre: No, we didn't do this!
theSundaily
Press Digest: Tuition centre draws flak after going down the 'ah long' route
Posted on 4 October 2015 – 05:39pm
Last updated on 4 October 2015 – 06:10pm
PETALING JAYA: A tuition centre drew flak trying to collect tuition fees from errant parents the "ah long" way – putting up banners of the pupils concerned in the town.
The story of the name-and-shame banners was highlighted by China Press today after pictures of the banners, which bear the faces of four pupils and the message "Not paying tuition fees owed; how can we have this kind of parents!" in Chinese, was posted on Facebook by a resident.
However, the centre concerned cried foul, saying it has no knowledge of the banners and believed it was the work of a business rival.
The banners, which appeared in Cheras and Sungai Long on Friday evening, drew the ire of public members who said the action of displaying profile pictures of the pupils was unethical.
Balakong assemblyman Eddie Ng Tien Chi said the centre's action to shame the pupils was similar to the tactic use by loan sharks going after loan defaulters.
"The pupils may be ridiculed by their peers and suffer psychological trauma," he said.
…
Contacted by the daily, the tuition centre said there were indeed parents who owed tuition fees for months but denied putting up the banners.
The centre's spokesman, who did not want to be identified, did not discount the likelihood that it was done by someone out to tarnish its name.
A check on Saturday morning showed that the banners had been removed.
http://www.thesundaily.my/news/1571067
—
(加影3日迅)補習中心仿傚大耳窿追債手法,在住宅花園區張掛附上學生肖像的"追討補習費"條幅,試圖逼學生家長攤還拖欠的學費!
—
蕉賴雙溪龍鎮的一家補習中心涉嫌仿效大耳窿追債手法,在當地到處掛上印有4名學生的肖像橫幅並寫上"欠補習費不還,這些家長要得嗎?",引起民眾嘩然與憤怒。
Banana Lai Double Creek Dragon in the town of a tutorial centre suspected 窿 大耳 emulate the debt collection practices, in the local hang around with 4 pupils portrait banners and write " owe tuition fees, these parents don't return it to you?", China cause people with anger.
—