—
SOME OF THE RUMOURS FLYING AROUND MAY BE HARMLESS BUT OTHERS COULD 'DONATE' A VIRUS OR TWO TO YOU!
—
THIS HAS NOW BEEN DISCOUNTED AS A HOAX:
Sementara itu di Kampung Buntal Kuching, seorang penduduk kampung terkejut bila melihat kapal terbang air asia terbang rendah. Menurut beliau, ruang udara kampung itu bukanlah laluan kapal terbang.
…
KUCHING: Rumours circulating in the social media that the missing AirAsia Indonesia flight QZ8501 was sighted flying low in Kuching last Sunday are not true, said Kuching district police chief ACP Roslan Bek Ahmad.
In a media statement yesterday, Roslan said he had verified the matter with Department of Civil Aviation (DCA) which confirmed there were no signs of the ill-fated flight in the radar on that day.
…
"(According to DCA officer Haidi Ramelan), there was no sign in the radar indicating the aircraft was the ill-fated
QZ8501. It was just an aircraft operating on schedule plying the usual route in and out of Kuching," said Roslan.
He was responding to a report lodged at Santubong Police Station on Sunday afternoon by a man who claimed that he and his wife saw an aircraft bearing the same colours as AirAsia flying low near Gunung Sejinjang, heading to the sea off Tanjung Po at 11.20am, that day.
http://www.theborneopost.com/2014/12/30/police-chief-dismisses-reports-qz8501-flying-over-kuching/
—
INDONESIAN BOMOHS OFFER THEIR HELP!
Remember 1MalaysiaBomoh?
https://weehingthong.wordpress.com/2014/03/27/rajah-bomoh-man-who-put-malaysia-bomoh-not-malaysia-boleh-on-the-world-map/
…
Malay Mail Online
Bomohs offer expertise in QZ8501 hunt but Indonesia declines
KUALA LUMPUR, Dec 29 — Bomohs or witch doctors have offered their assistance in the hunt for missing Flight QZ8501, claiming that they have managed to track down the Indonesia AirAsia plane's location in the "supernatural" waters of Belitung.
Mukhti Maarif, the leader of shamans in Indonesia's Belitung, said the bomohs are merely waiting for the official invitation to start their "supernatural" search, confirming that no one has sought their assistance.
"Have to wait for official request to prevent biased opinions about dukun (shamans)," Mukhti was quoted telling Indonesian news site Tempo today.
"Until this moment, we have yet to be involved. We are ready to help," the bomoh said.
Mukhti claimed that a supernatural scouting by a number of bomohs has revealed the final resting place of the plane that went missing yesterday lies in the east Belitung area, but said specific rituals have to be performed to verify their discovery.
"The aircraft fell because there was mechanical failure. At this moment, the aircraft is in the ocean near the corals, in the eastern waters of Pulau Nangka," Mukhti was quoted saying by Tempo, reiterating that they were willing to work together with those equipped with advanced technology.
"The district of Belitung, whether it is on land, in the sea or air, is filled with supernatural matters," the bomoh added.
http://www.themalaymailonline.com/malaysia/article/bomohs-offer-expertise-in-qz8501-hunt-but-indonesia-declines
…
Indonesia has turned down shamans' offer of help in search for AirAsia flight QZ8501 http://ow.ly/Gxg8a 
Indonesia authorities have turned down an offer from shamans (also known as bomohs) to assist in the search for the missing aircraft, Tempo.co reported.
The director of communications of national search and rescue agency Basarnas, Mr Sutono, said it could not accept the offer as "it was not our standard".
Mr Mukhti Maarif, the leader of shamans in Indonesia's Belitung, said the shamans are awaiting a formal request from a government agency, Tempo.co reported.
http://www.tnp.sg/news/indonesia-declines-help-shamans-search-airasia-flight-qz8501
—
1. Nangka island, where fishermen reportedly heard a crash
2. Lung island, where fishermen reportedly saw a plane going down
3. Serutu island, where fishermen reportedly saw dead bodies
8.40am: Indonesian authorities are seen briefing search-and-rescue personnel before the mission takes place. Three areas will be searched around the islands and seas north and east of Belitung Island:
1. Nangka island, where fishermen reportedly heard a crash.
2. Lung island, where fishermen reportedly saw a plane going down.
3. Serutu island, where fishermen reportedly saw dead bodies.
http://www.todayonline.com/singapore/live-updates-airasia-flight-qz-8501-missing
—
THE SPECULATIONS OF VIPs.
Here is what Indonesian Vice-President Jusuf Kalla said: There is a "huge possibility" that the missing Indonesia AirAsia Flight QZ8501, carrying 162 on board, has been in an accident.
The Malaysian Prime Minister says: The plane disappearing from radar screens soon after departure "means the possibility of something untoward happening to the aircraft".
HERE IS A HOAX VIDEO.
Cette image circule depuis quelque minutes sur le web ,je ne sais pas si elle est vrai . mais je voulais vous la partager , j'espere que l'avion a bien été retrouvé et qu'il y a des survivants .Vous en pensé quoi ? s'il vous plait aimé la video merci
This picture has been circulating for a few minutes on the web, I do not know if it's true. but I wanted to share it, I hope that the plane had been found and that there are survivors
AirAsia Flight QZ8501 Missing-THE PLANE WAS FOUND! SURVIVORS?
—
THIS IS AN UNCONFIRMED REPORT…
Missing AirAsia flight with 162 people: Unconfirmed reports of wreckage found near Indonesian island
Posted on 28 December 2014
Missing AirAsia flight: Unconfirmed reports of wreckage found near Indonesian island http://bit.ly/1xrAKGt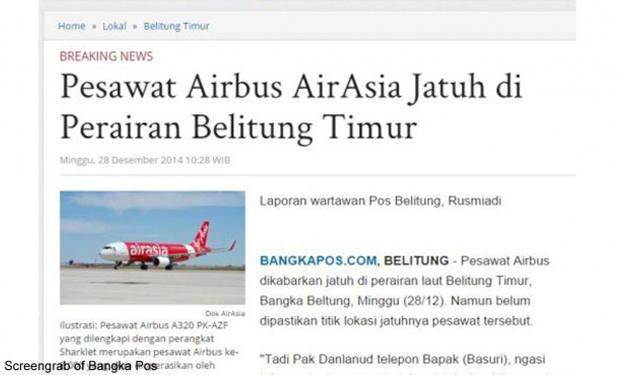 …
Unconfirmed reports have emerged online that wreckage, allegedly to be from the missing AirAsia Indonesia Flight QZ8501 has been found in the waters off East Belitung.
This was reported by the Bangka Pos, which however added that there was no confirmation that the purported wreckage is indeed from QZ8501, said The Star.
http://singaporeseen.stomp.com.sg/singaporeseen/this-urban-jungle/missing-airasia-flight-with-162-people-unconfirmed-reports-of-wreckage-found-near#xtor=CS2-4
—
…
Stomp
Missing AirAsia flight reportedly crashed in Belitung waters, says official
Posted on 28 December 2014
AirAsia flight QZ8501 from Surabaya to Singapore is believed to have crashed at the location 03.22.46 South and 108.50.07 East, in waters around 80-100 nautical miles from Belitung, a National Search and Rescue Agency (Basarnas) official has said.
According to The Jakarta Post via AsiaOne, Basarnas Pangkalpinang spokesperson Supriandi said, as reported by Antara news agency on Sunday, that it had dispatched a rescue team to Belitung.
It is believed that the Airbus A320 had circled over the sea near Belitung to avoid a storm before it experienced severe turbulence and crashed into the ocean.
http://singaporeseen.stomp.com.sg/singaporeseen/this-urban-jungle/missing-airasia-flight-reportedly-crashed-in-belitung-waters-says-official
————————————————————————————————————-