..
..
Hi –

It's an incredible day for Insider: We won our first Pulitzer — for a powerful illustrated report, "How I escaped a Chinese internment camp."

Here's the note our global editor in chief, Nicholas Carlson, just sent the Insider newsroom:
Insider just won the Pulitzer Prize. It is our first Pulitzer.
We won in the category of "Illustrated Reporting" for our story by Fahmida Azim, Anthony Del Col, and Josh Adams, called How I escaped a Chinese internment camp." This is a new category for the prizes, replacing Editorial Cartooning. We also join BuzzFeed News, ProPublica, and the Huffington Post as one of the few digital-only news organizations to claim a Pulitzer.
The story is based on interviews with and testimony by Zumrat Duwat.
Duwat is a mother of three from Ürümqi, the capital of the Xinjiang autonomous region in China. In 2018, she was arrested and sent to a detention facility for Uyghur women where she said she endured brutal living conditions and beatings. Eventually, Duwat left the camp and China. She now lives in the United States, where she says she is happy to spend time with her family, make art, and be free.
This peaceful ending makes her story very unusual. Estimates are that 1 million to 3 million Uyghurs have been placed in "reeducation centers" like the one Duwat escaped. As we celebrate today, let's be mindful of their suffering and remember our responsibility to continue bringing stories like theirs to light so that all of us can strive to make life better.
The story is told like a graphic novel, a comic book that you scroll through vertically on your phone. We embraced and adapted the format a few years ago as a part of our mission to tell stories in the way that the audience most wants them.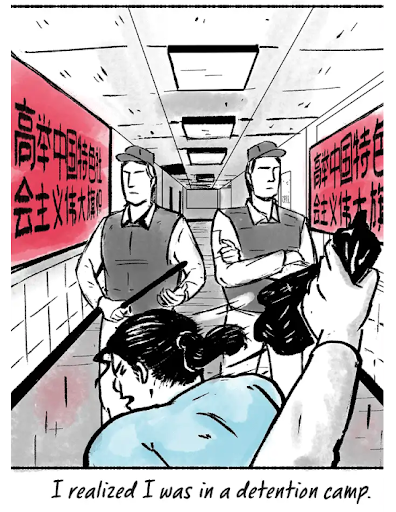 I have many thanks to give. Above all, I am most grateful to Duwat for sharing her story with us. She sat for hours of interviews with Anthony Del Col, who condensed and edited her words into a powerful script edited by Walt Hickey.
Josh Adams art-directed the story. Josh is a renowned comic book artist, and he has done lots of powerful award-winning illustration work for us over the years. This time, he made the fateful, brilliant decision to recruit Fahmida Azim to illustrate our story.
Fahmida's art is as haunting as Duwat's words. How she drew Duwat's face made the character as real as she is. Rebecca Good added the right amount of the right colors in the right places for each moment of the story. Taylor Esposito's letters conveyed the personal, painful feel of the tale.
I am so thankful to this team. Thank you one thousand times, Walt, Anthony, Josh, Fahmida, Rebecca, and Taylor.
We also couldn't have reached this moment without Jennifer Polland, Jacquelyn Smith, and the Awards Team's rigorous work in drafting a submission that really showed the impact of this project.
I'm also over-the-moon elated for all of us and incredibly proud of all of you. A newsroom cannot win a prize like this without a high degree of consistent quality from everyone in it. Take time to celebrate and share in the joy of today's news.
This is a historic win for our newsroom and company. It comes just one week before the 15th anniversary of our launch as a blog called "Silicon Alley Insider" on May 16, 2007.
Since that day, hundreds of journalists and Insider employees beyond the newsroom have worked to make us an impactful, sustainable, global news organization capable of the kind of work that can win awards like this.
I am grateful to every single one of them, and believe they all share in today's huge win. So many names and faces from a decade and a half of hard work, creativity, and persistence are zooming through my mind at this moment, and I am smiling with the thought of each.
Thank you all.
– Nicholas Carlson
..