..
AstraZeneca, Sinovac vaccines approved as booster shots

Published:  Nov 17, 2021 8:58 PM⋅Updated: 8:58 PM
The Drug Control Authority (DCA) has approved Covid-19 vaccines from AstraZeneca and Sinovac for use as booster shots, said Health Ministry director-general Dr Noor Hisham Abdullah.
The approval is for people aged 18 years and above who have previously received the same vaccine.
"The AstraZeneca booster shot will be given after an interval of six months following the second dose of the vaccine, while for (Sinovac's) Coronavac, the booster will be administered three to six months after the second dose is administered.
"The provision of both vaccine products to certain target groups will be detailed by the 'Covid-19 Immunisation Task Force – Booster' (CITF-B) and updated from time to time," he said in a statement today.
The decision was made during a DCA meeting today. During its last meeting on Oct 8, it granted a similar approval for the Pfizer vaccine to be used as a booster shot.
Noor Hisham said the approvals are on a conditional basis, which requires the vaccines' quality, safety, and efficacy data to be monitored closely.
"This is to ensure the benefit-over-risk ratio for the vaccines is always positive," he said.
In immediate response to the approval, Health Minister Khairy Jamaluddin said the approval will pave the way for the Vaccination Technical Working Group to make recommendations on who qualifies to receive the vaccines and the vaccines' inclusion in the heterologous booster program.
Heterologous boosters refer to a booster shot that is different than the vaccine previously administered, in contrast to homologous boosters where the same vaccine type is used as the booster shot.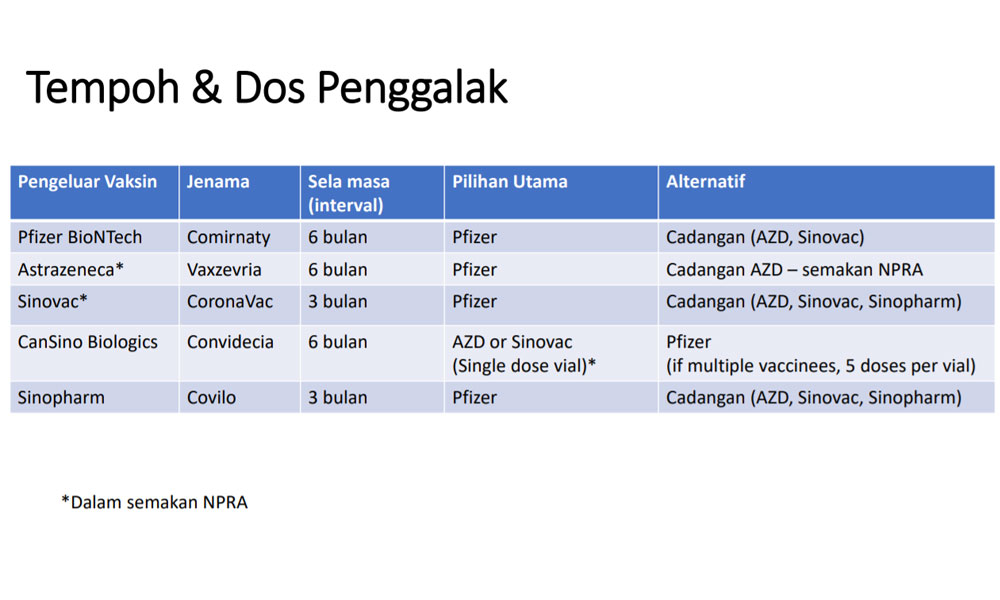 https://www.malaysiakini.com/news/599643
..